Many people think that human trafficking means kidnapping and moving victims across state or national borders.
After working with human trafficking victims as a forensic nurse and now while teaching at Texas A&M University's College of Nursing, I know that this often is not the case.
I have found that many perpetrators find, entice and sell their victims right in their own backyards.
Victims are often hidden in plain sight, leading everyone from police to health professionals to miss clues to their plight and vastly underestimate the scope and economics of human trafficking.
My colleagues and I once missed one of those victims. That led us to change the way we work.
Becoming aware
As the manager of a busy, urban forensic nursing program for 16 years, I oversaw the care and treatment of thousands of children annually who were suspected of being abused. I thought I understood the many intricacies of child abuse.
I was proven wrong when a Texas Child Protective Services caseworker told me we failed to identify a victim of human trafficking.
After taking a deep breath, I begged him to share what we missed and how we could improve the lives of these vulnerable and traumatized children.
The program in which I was then working consisted of extremely experienced and highly trained registered nurses who specialized in the care and treatment of children suspected of being sexually or physically abused or neglected.
We worked with children from over 20 Texas counties. Each nurse on the team routinely saw 200 children or more per year. We were one of the most experienced pediatric forensic nursing team in the state, with one of the best child abuse pediatricians as our medical director.
If we could miss the subtle signs of human trafficking, anyone could.
Trading in humans
Here is what happened: One of our expert forensic nurses examined "Zena," a very young teenage girl who was sexually assaulted by two men.
The nurse provided care, collected evidence and discharged Zena, sending her home with a parent. This forensic nurse made all of the mandated reports to Child Protective Services and law enforcement.
Several months later, Zena was back in our emergency department, accompanied by law enforcement and CPS. After they rescued Zena from a room where she was to perform sex acts on several adult men, she was identified as a victim of human trafficking.
Human trafficking, according to scholars Noël Bridget Busch-Armendariz, Maura Nsonwu and Laurie Cook Heffron, "includes the victimization of adults and children in the commercial sex industry and forced labor."
Trafficking's definition under federal law also includes the "recruitment, harboring, transportation, provision, obtaining, patronizing or soliciting a child under 18 years of age for the purpose of a commercial sex act."
Sex traffickers, formerly known as "pimps," use violence, or the threat of violence, lies and coercion to lure victims, especially children, into the commercial sex industry.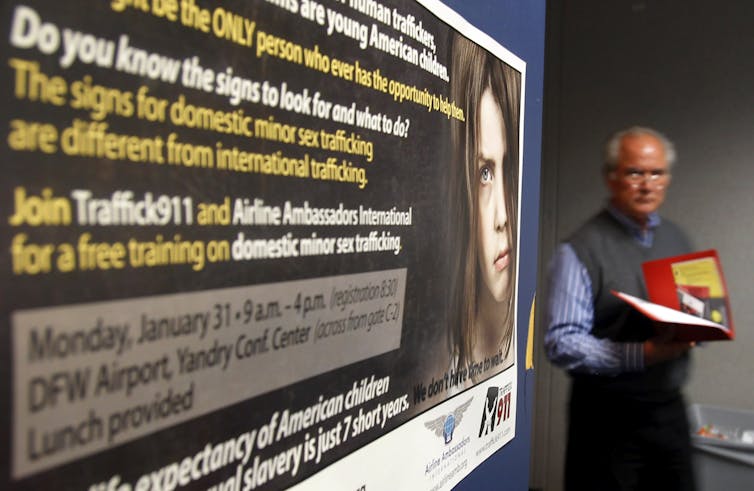 The Victims of Trafficking and Violence Protection Act of 2000 made the trafficking of persons a federal crime. The legislation enabled states to prosecute traffickers, buyers of sex – "johns" – and those who profit from the crime of trafficking, including businesses or people who facilitate the illegal process.
Men, women and children can be trafficked. But children are especially vulnerable, with those who run away or are thrown out of their home especially at risk.
The National Center for Missing and Exploited Children, a private, nonprofit group supported in part by the federal government, received more than 25,000 runaway reports in 2017 and estimate 3,500 were "likely victims of child sex trafficking."
Eyes opened
When I asked my CPS caseworker and friend to explain how we could have identified Zena on her first visit to our emergency department, he answered, "You should have asked how she met those two men."
It turns out that Zena's mother sold her.
If the forensic nurse would have asked her specifically how she met the men, I believe Zena would have shared her story.
The atrocities done to Zena shook our team to the core, but we felt we could learn from this and work to identify any future victims. We decided to educate ourselves.
We worked with our medical director and attended conferences and meetings with law enforcement, CPS, federal and state prosecutors, and nonprofit organizations.
The training worked: In the years before Zena, I cannot recall any trafficking victims who were identified by our team. The year after Zena, we saw 14 children suspected of, or identified as, trafficking victims.
Since then, Texas Gov. Greg Abbott created a child sex trafficking team within his office. Our forensic team was invited to assist the governor's child sex trafficking task force.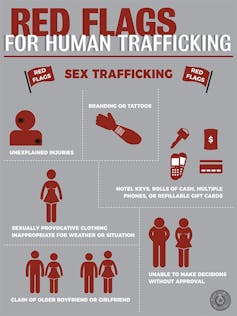 Health care for trafficked victims
Our hospital's work reflects the growing understanding that health care professionals can intervene and potentially rescue human trafficking victims.
Researchers Laura J. Lederer and Christopher A. Wetzel found that 88 percent of the human trafficking survivors interviewed had contact with a health care professional while they were being trafficked, mainly in emergency departments. That means emergency department physicians and nurses have a unique opportunity to intercede.
Health care professionals have the advantage of being able to speak with patients alone and not alert the trafficker. Asking non-leading questions and using trauma-informed techniques can create an environment where victims feel they can disclose the abuse they experienced at the hands of their buyers and traffickers.
Questions about the victim's safety, and that of other persons, should always be asked if health care professionals believe trafficking is happening.
Children who disclose having sex with multiple people over short periods of time, who are homeless or who show up with a non-relative that does not want to the leave the child alone should all be suspected of being trafficked.
Education helps identification
Zena will always be on my mind. My health care colleagues can learn from her. Early intervention can rescue children from chronic sexual assaults, physical abuse, prevent drug addiction, and lifelong mental health problems.
Health care facilities across the country should be aware that there can be remarkable results from education about trafficking. In the graduate human trafficking course I now offer, two students were able to identify two trafficking victims, who were subsequently rescued.
During a recent conference I host, a probation officer realized that one of her probationers was being trafficked. She was able to help her with the education she received at the conference.
This work can be emotionally exhausting. But my colleagues and I have seen immediate results for some trafficked victims and that keeps me working. I want to prevent further abuse like Zena suffered from occurring again – in my backyard and beyond.