When Australia kicks off the opening match of football's Asian Cup on Friday night against Kuwait at the Melbourne Rectangular Stadium (usually known as AAMI Park), it will begin its third campaign to win the second-oldest federation-wide trophy.
After a series of attempts since 1960, Australia finally joined the Asian Football Confederation (AFC) in 2006. The Socceroos participated for the first time in the Asian Cup in 2007. Australia was the most successful Asian team at the FIFA World Cup in Germany in 2006 and was expected to do well in the regional tournament.
Then-prime minister John Howard had even planned to be in Jakarta on the day of the final, hoping to be there when the cup was presented. Unfortunately, Japan eliminated Australia in the quarter-finals. To much surprise but equal delight the team from war-torn Iraq came through to win the trophy.
In 2011, Australia went all the way to the final and lost by only a single goal in extra-time to Japan. So a win in 2015 would be third time lucky.
What is the Asian Cup?
Though it began small – only eight countries took part in 1956 – the Asian Cup is now one of a group of Confederation tournaments that stand in a second tier only below the World Cup itself.
Given that more than half the world's population lives in Asia and virtually every Asian country competes in the Asian Cup, its catchment area exceeds that of any of the others. As Asia grows in wealth and economic importance, the markets for the world game have grown significantly. The Local Organising Committee (LOC) estimates the tournament will be broadcast to 80 countries with a potential television reach of 2.5 billion people.
Unlike many sports that Australia plays well, football has a deep resonance throughout Asia. AFC nations are trying to raise the standards of play so that they can match the Europeans and South Americans, the traditional powerhouses of football.
What are Australia's chances?
In 2006, Australia had a golden generation of players who turned out for the top clubs in Europe. Now Japan, ranked 54 in the world by FIFA, South Korea (69) and Iran (51) have gone ahead, while Australia (100) is in a transitional period.
While household names like Tim Cahill, Mark Bresciano and skipper Mile Jedinak represent experience at the top level, there are exciting youngsters coming through in coach Ange Postecoglou's selections. Look out for keeper Mat Ryan, wing-backs Ivan Franjic and Aziz Behich and strikers Robbie Kruse, Tomi Juric and Nathan Burns, who has forced his way into the squad thanks to his stunning run of goals in the A-League.
Australia has the immense advantage of playing at home in front of what will be passionate support. Its Group A includes Kuwait, Oman and South Korea. Australia should finish in the top two and proceed to the knock-out rounds with South Korea.
The qualifying teams from Group A meet those from Group B, likely to be Uzbekistan and North Korea. The two winners then meet the winners of similar matches in Groups C and D, possibly Iran from Group C and Japan from Group D. Many are predicting a repeat of the last final if Australia can come through this set of challenges and once again face Japan.
Tournament football always throws up surprises. Newcomer Palestine, an entity with a football team but whose bid for statehood was turned down by the United Nations Security Council only a couple of weeks ago, may cause one of the upsets in the early games. Iran might justify its FIFA ranking and live up to its long and successful history in the competition, which it has won three times.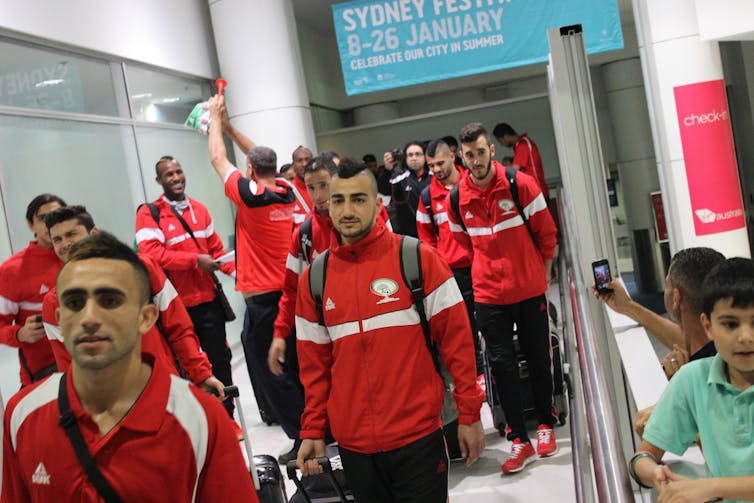 Impact on football in Australia
The Asian Cup is not a huge money-spinner or attendance-based phenomenon for host nations. Except when the host is playing, stadia are often well short of capacity during Asian Cup matches. The same may be true in Australia.
Through its ambassador and other programs, the LOC has done its best to involve the whole of Australia's diverse demography. It is putting a brave face on pre-sales data, with even Australia's matches not sold out yet. But Australia does have a significant advantage: its multicultural make-up and previously generous approach to migration has resulted in the formation of large communities of people from all the Asian countries taking part in the tournament.
These Australians will have the opportunity of supporting both their country of origin and the one in which they now live. Football Federation Australia has done a great deal to try to attract them to join in what should be a wonderful festival of football.
Even countries that are at loggerheads overseas can come together through football. While there will be security issues to test Australia's resources, there is strong evidence in support of the proposition that football provides a neutral ground where sport, not politics, prevails.
---
Roy Hay and Bill Murray's book A History of Football in Australia is published by Hardie Grant.