Timed to coincide with the 2014 World Cup, Nike's Risk Everything campaign has been spearheaded by their new advertisement, The Last Game. With elements of it playing in virtually every commercial break during Australian TV coverage of the World Cup the advert is hard to miss.
In addition to this, it has also (at the time of writing) been viewed around 46 million times on YouTube.
Lights Camera Action!
The Last Game features animated caricatures of Nike's flagship football players: Cristiano Ronaldo, Zlatan Ibrahimović, Wayne Rooney, Andrés Iniesta, Neymar da Silva Santos Júnior, David Luiz, Tim Howard, Franck Ribéry.
Many of these players will feature at the World Cup, however Ibrahimović and Iniesta are wearing their club colours as their national team shirts are manufactured by rival suppliers. Nike are much too savvy to market their rivals.
Starting against the backdrop of the iconic Cristo Redentor statue in Brazil, the advert first depicts youths trying to emulate the superhuman feats of their heroes. This idyllic scene is interrupted by a soulless presentation that suggests modern footballers are taking too many risks and are prone to mistakes. Gradually the 'real-life' players are replaced by faultless clones.
In this new 'perfect' world, life is dreary and dull, football matches have no excitement.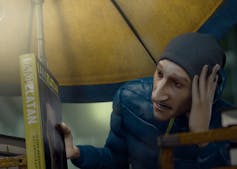 In these dark times Nike suggests alternative occupations for the players. Ibrahimović (or Zlatan as he is referred to) attempts to sell copies of his autobiography outside a stadium.
Cristiano Ronaldo has found work as a shop mannequin displaying his chiseled physique in just a pair of sport briefs. David Luiz and Neymar are working as hair stylists. Wayne Rooney is lugging fish around a dock.
Enter retired Brazilian player Ronaldo, the highest goalscorer in World Cup history. Ronaldo inspires the players to challenge a team of 'perfect' clones to "save football".
Truth or fiction
The modern professional game is increasingly commercialised, becoming more a product to be bought and sold than a game to be played and enjoyed. The Last Game touches on many characteristics of the players that are a result of this commodification.
These characteristics will be simultaneously appealing to some while appalling to others. While there may be a degree of tongue-in-cheek humour aimed at, or on behalf of the players, I wonder how close to the truth these caricatures are and what this reveals about football.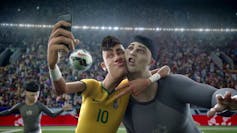 In the advert some players are shown to be obsessed with their own image, continually posing for selfies, or admiring statues of themselves. Others are portrayed posturing and posing, often without their shirt.
The players take great delight in humiliating and embarrassing their opponents, claiming that the task of defeating their clones is "too easy". There is a large element of truth in all of these behaviours.
Zlatan is renowned for his ego and for not giving "a damn about what people think". He frequently refers to himself in the third person and once suggested that he did not need to buy his wife a birthday present as "she already has Zlatan". Ronaldo has developed himself into a brand, trademarking his name and number, and promoting his own collection of underwear. Neymar's hairstyle is a frequent topic for forums, websites, and YouTube tutorial videos. The player himself regularly uses his social media accounts to post selfies.
Who cares?
In the advert, when asked what the original players are doing currently the mastermind behind the cloned players replies "Who cares!" The reality is that millions of people around the world care immensely about the minutest details in the lives of leading athletes.
Footballers are now celebrities and have become products constructed by the mass media. Society is increasingly enthralled by the private lives of the leading players who are idolised as heroes.
Observing the antics of some players it is questionable how heroic they are - and this is where the issue lies. Young people (and those not so young) will frequently look to emulate the behaviours of their idols and are easily influenced by their actions and words.
When these actions include feigning injury, belittling opponents, and attempting to influence match officials this is worrying.
Or perhaps these behaviours are all acceptable. Perhaps it is best to accept the example of these caricatured stars; to trademark our names, and to tell our loved ones not to expect a present on their birthdays as being with us is gift enough…