As we approach 2016, we look back at the big stories of The Conversation's politics and society desk over the past 12 months.
ISIS, Syria and the migrant crisis
Perhaps the biggest international story this year was the rise of the Islamic State, or ISIS; the war in Syria; and the resulting crisis that latest estimates say sent one million refugees fleeing into Europe.
Scholars writing for The Conversation added depth to our understanding of this important story by analyzing US strategies affecting the war and the ongoing peace negotiations. They suggested military and religious solutions, assessed US vulnerabilities and considered the Catch-22 of any attempt to defeat homegrown terrorists in open societies.
In one pair of interesting reports, Jeff Bachman of American University took a hard look at President Obama's military drone program in Pakistan and Yemen. He also criticized how casualties caused by US drones are being underreported by The New York Times and Washington Post.
Mass shootings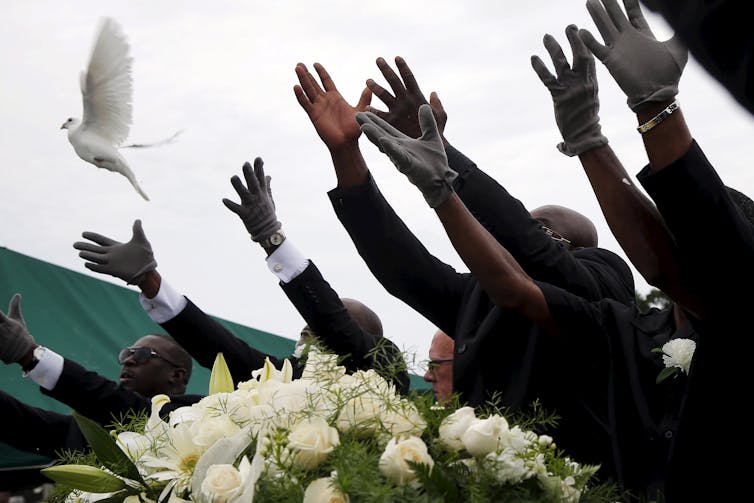 Both at home and abroad, one story kept repeating itself from the beginning of 2015 to the bitter end – a report of a mass shooting followed by a struggle to understand why these violent events happen over and over.
Mass shootings occurred in the Paris offices of the satirical magazine Charlie Hebdo, at a Planned Parenthood clinic in Colorado Springs, a community college in Oregon, and in Chattanooga, Charleston and San Bernardino.
The most popular politics story of the year focused on misconceptions people have following mass shootings. Other top stories looked at the impact of mass shootings on gun purchases, a case in Milwaukee that could make gun stores more careful about whom they sell to and a comparison of gun control in the US to the rest of the world.
Race, police and criminal justice
The summer of 2015 was the summer of Freddie Gray and Sandra Bland. Black people protested in the streets of Ferguson and Baltimore, forging a new civil rights movement called #BlackLivesMatter. In one widely read piece published in July, Alma Carten of New York University considered how the legacy of forgiveness may affect African Americans' mental health.
Our academics shared new insights on how – and how well – US police do their jobs, the equipment they carry and even cops' macho culture. We looked at campus police, the influence of big data on policing and how trouble in the New Orleans Police Department started long before Hurricane Katrina.
… and the election
Much of our attention has also been focused on a US presidential primary election that has repeatedly turned conventional wisdom on its head.
One debate after another drew millions of TV viewers. We covered five GOP debates, including the recent one focused on foreign policy, and three Democratic ones – including the so-called "eggnog debate" on December 19.
One of our most-read pieces of the year considered the voting patterns of the small but growing Asian-American population. Another gave us a view of the candidates' personal religious beliefs and how that may affect their policy positions.
Of course, we covered Donald Trump's surprising campaign from many angles – including his anti-Muslim sentiments, rhetorical strengths, lack of endorsements and even his trademarked slogan.
We added new columnists
Our coverage was also deepened by new columnists this year.
Christopher Parker of the University of Washington covers the politics of contention on both the right and the left. Read Parker on why black voters have mixed feelings about Ben Carson's candidacy, or the rest of his "Race and Rage" columns.
Anthony Gaughan of Drake University in Iowa covers breaking political news. Read Gaughan on why Ted Cruz can run for president even though he was born in Canada, or any of his "First Take" columns.
Most popular stories of the year