Whatever the result of the 2022 election, one thing is clear: many Australians are losing faith that their social institutions serve their interests.
Our annual survey of 4,000 Australians about leadership for the greater good shows the gulf between what the community expects and what they perceive.
Leaders and institutions are now widely seen as more concerned with their own interests, not the public interest.
The rise and fall of leadership for the good
We've been tracking public perceptions of leadership and integrity since 2018 to compile the Australian Leadership Index. It covers four major institutional sectors – the government, the public sector, private enterprise, and the non-government sector.
In 2020, with the pandemic, public perceptions of leadership across these sectors rose. In 2021, however, three sectors have declined significantly. Only the public sector has sustained favourable perceptions it serves the public interest, thanks largely to the performance of public health institutions throughout the pandemic.
---
---
Federal government has fallen furthest
The steepest falls in perceptions of leadership have been for the federal government. Its index score – a measure of overall leadership perceptions – fell from from a high of +17 in late 2020 to -15 in late 2021.
In essence, this score means most people by the end of last year didn't believe the government was committed to the public interest or showed leadership for the public good. That's a stunning shift from generally positive public perceptions in 2020.
---
---
Faith in public integrity has collapsed
The steep decline in perceptions of the federal government's leadership has been matched by the collapse of perceptions of public integrity.
As outlined by South Australia's Independent Commission Against Corruption, public integrity comprises several core themes: public trust, public interest, morality, impartiality, transparency and accountability.
---
Read more: Perceptions of corruption are growing in Australia, and it's costing the economy
---
Perceptions of government integrity fell sharply in 2021 across indicators such as morality and ethics, transparency and accountability. Expectations of public integrity also increased.
The following chart shows public perceptions and expectations of the federal government's morality and ethics since Scott Morrison became prime minister in August 2018. It is indicative of the trends observed for all other indicators of government integrity.
---
---
Given the corrosive effects of declining public trust in the institutions of democracy, reversing these perceptions should be a priority for whichever party is in government.
Most want environmental action
Action on environment and climate are becoming key drivers of public perceptions of institutional leadership across all sectors.
The following graph shows how institutions across all sectors perform in terms of creating positive environmental outcomes and the influence of their environmental performance on public perceptions of their leadership.
---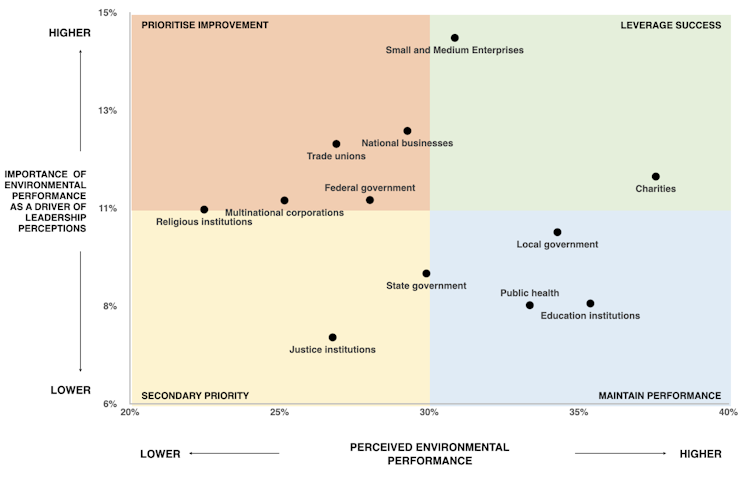 ---
Our results show national and multinational businesses, trade unions and the federal government are judged as very poor environmental performers. By contrast, small and medium enterprises, charities, education institutions and charities are perceived to be performing strongly.
Health workers still heroes
Since the Australian Leadership Index started collecting data in 2018, the public health sector has consistently rated positively. In 2020 these perceptions spiked even higher. They remained high throughout 2021.
Of all the institutions the index measures, only charities are on par in terms of perceived leadership for the public good.
---
---
Ideas of leadership have changed
Perceptions of what leadership for the greater good looks like appear to have shifted between 2020 and 2021.
In 2020, the focus was on security, protection and institutional responsiveness to the needs of society (health care, financial support and so on). In 2021, there was a much greater concern for the processes and principles that inform and govern the actions of authorities and institutions.
The principles of public integrity – morality and ethics, transparency, accountability and concern for the public interest – now trump security in community assessments of leadership for the greater good.
---
Read more: Equality and fairness: vaccines against this pandemic of mistrust
---
It is timely to reflect on the state of our social institutions and to have a national conversation about what our institutions could or should look like to promote flourishing and help rather than harm the public good.
Whoever forms government next week would do well to take note of community aspirations and expectations for social institutions that serve the interests of the many, not the few.