Iconic car brand Alfa Romeo could be making a return to Formula 1, Sergio Marchionne, chief executive of FCA, which includes Ferrari and Alfa Romeo under its umbrella, announced recently. It's all part of a big investment plan to turn Alfa Romeo into a global brand, but it could also pay dividends in bringing Ferrari back to pole position on the F1 circuit.
Alfa Romeo's last race in F1 was in 1985, but its motorsport myth goes back to the 1911 Targa Florio race, when F1 was in its embryonic stages and when cars were painted after their nation – red for Italians, green for British, blue for French and white for Germans (which later became silver when they scraped the paint off their cars to reduce their weight).
Alfa Romeo was the Italian red car, ruling the roads before Ferrari even existed. With the advent of F1, the Milanese outfit collected ten victories and the first two F1 drivers' titles in 1950 and 1951. But that was the height of its motorsport glory. Perhaps its most lasting achievement, however, was spawning the house of the prancing horse – Ferrari. In the 1920s it employed the talented technician Enzo Ferrari, whose spin-off became the world's most successful and iconic F1 team.
Ferrari now represents the FCA group's top brand and is its sole representative in F1 competitions. But Ferrari has been struggling of late. Its last world championship title dates back to 2007 and the driver Kimi Raikkonnen. There has even been talk from its president that it could leave the sport.
Though this was likely more of a threat geared towards leveraging his bargaining power in the sport's revenue distribution and regulation, the move now to invest in another team rather than focusing resources on Scuderia Ferrari is an interesting one that could pay dividends. Research I've done with my colleagues at Cass Business School, Santi Furnari and Stefan Haefliger, shows that investing in Alfa Romeo as an F1 team could prove profitable.
Our analysis of the different business models of F1 teams between 2005 and 2013 shows that alliances between larger teams and smaller satellites provide better chances of success in races. They also make sense financially. In fact, after decades of fierce all-against-all competition, F1 is progressively moving towards a battle between groups of allied teams. This offers multiple advantages.
If Alfa Romeo entered the F1 circus, beside the obvious visibility and technological advantages that Alfa Romeo could enjoy in the bid to make it a global brand, there are noteworthy benefits for Ferrari and the overall FCA group of which they are both part. With Alfa Romeo, Ferrari could have a guaranteed engine customer (and probably buyer of other parts, too). This would help the team cover some of its development costs, particularly when the F1 teams who buy Ferrari's engines are prone to easily switching suppliers.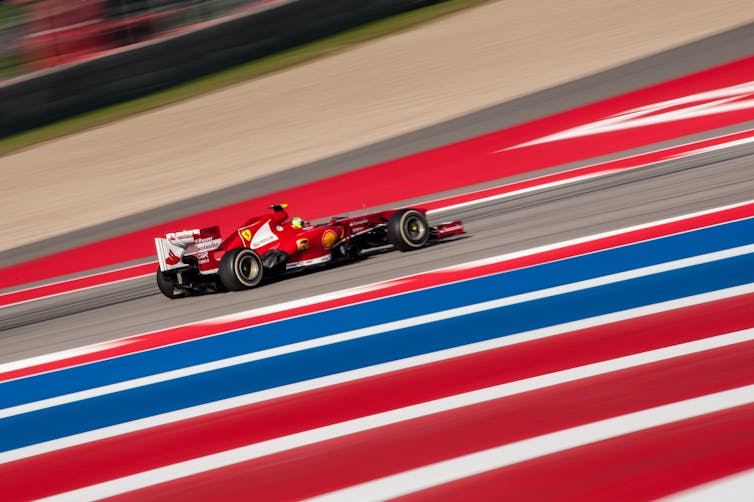 Alfa Romeo would most likely play the part of a junior team member to Ferrari. It could develop junior drivers and engineering talents that could be passed on to the senior partner in Maranello. Drivers would be bred in two similar organisational cultures and they would be racing with similar technologies, which reduces the risk of failure when switching between the two teams, as well as decreasing the costs of moving them. It would be more like an internal promotion than a market-based transaction.
Dream teams
Since in-season testing has been banned from F1, having more cars racing with the same engines means that the engine supplier can access more data for effective technological development. Also, Alfa Romeo could play as Ferrari's wing man during races, keeping competitors busy at the back of the field.
If Alfa Romeo proved to be successful, it could become the landing team for the rookies of Ferrari's driving academy, the talent schools that aim to create the next generation of F1 champions. And, in the unlikely scenario of Alfa Romeo outperforming Ferrari, this would be much better than an external competitor doing so – this is why Mercedes and Ferrari have declined supplying engines to Red Bull for next season.
There is significant precedent to show how the alliance would work. Not only does Ferrari already collaborate with Sauber and previously with Manor (before it switched engine providers), but Red Bull and Toro Rosso show how a successful partnership can work. They've managed to win four world championships, despite their mother company (the renowned Austrian energy drink) being not directly involved with cutting edge motorsport technology.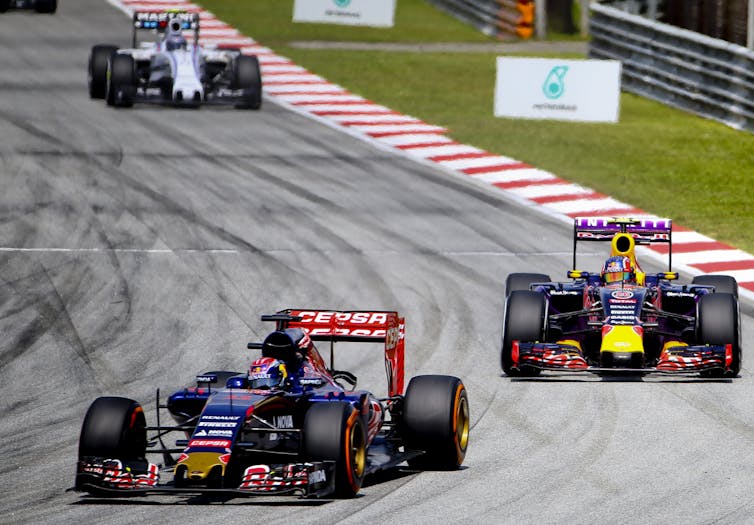 Our research shows how Red Bull created this successful alliance by buying out two failing teams – Jaguar, which became Red Bull, and Minardi, which became Toro Rosso. The dispute they have recently had over engine suppliers shows the technological Achilles heel of the Red Bull-Toro Rosso partnership. Neither team is an engine producer; they both rely on external suppliers and have had significant conflict as a result. Ultimately, they have ended up with different engine suppliers (Renault for Red Bull and Ferrari for Toro Rosso).
Ferrari and Alfa Romeo would be well positioned to avoid these kinds of issues. With Ferrari's technological expertise in engine manufacturing, their alliance would have a more solid basis and could therefore achieve a higher level of performance, perhaps even reshuffling the competition in years to come. This would please F1 fans who have complained of a lack of neck-and-neck spars for pole position. And it would truly mark the start of the F1 alliance era.