Unswayed by the estimated 2 million abortion rights activists gathered outside its doors, Argentina's conservative-leaning Senate on August 9 rejected a bill that would have made abortion legal up to 14 weeks of pregnancy.
The 38-31 vote keeps Argentina in the majority of Latin American countries. In this heavily Catholic region, all but two countries – Uruguay and Cuba, both secular – ban or severely restrict abortion access.
Since 1921 Argentine law has allowed women to end a pregnancy only if it is the product of rape or is a danger to the woman's life or health. An illegal abortion is punishable with one to four years in prison for both the woman and her doctor.
Argentina's abortion bill, which narrowly passed the lower Chamber of Deputies in June, arose from a grassroots effort to acknowledge that criminalizing the procedure has simply pushed abortion dangerously underground. Up to 450,000 illegal abortions happen in Argentina each year, and botched abortions kill between 50 and 94 women each year.
"If I knew with certainty that after voting [against the bill] there would be no more abortions in Argentina, I wouldn't hesitate to raise my hand," said Sen. Cristina Fernández de Kirchner, Argentina's former president, when the vote finally happened after a 16-hour debate.
But, she added, "We are rejecting a bill without proposing any alternative, so the situation will stay the same."
A public health problem, not a religious one
Kirchner, who is Catholic, voted for abortion. She said her view on the issue changed after "thousands and thousands of girls took to the street" and reframed abortion as women's rights and a public health issue. "The future will be … feminist," she said.
Other senators agreed that faith was not the topic at hand.
"I am a religious man," said Sen. Luis Naidenoff, from the province of Formosa. "But one's personal life should not decide state matters."
Naidoff was one of the 17 men and 14 women who voted to legalize abortion. Twenty-four men and 14 women opposed the bill.
Many anti-abortion lawmakers put their religion squarely at the center of their abortion stance. Sen. Esteban Bullrich, a former education minister, said that "as a practicing Catholic" his aim was to defend life.
The tension between women's rights and Catholic orthodoxy has for months put Argentina's Catholic Church – the subject of my academic research – in an awkward but familiar position. It is morally, theologically and doctrinally opposed to an incredibly popular social reform.
Argentina has no official religion. But the Catholic Church is a powerful social and political force in the South American country, where almost 80 percent of its 43 million people identify as Catholic. Pope Francis is from Argentina.
The Argentine Catholic Church's official stance is that abortion is murder, the position espoused by the most conservative faction of the Vatican.
The church has staunchly defended other conservative values in Argentina. It defines marriage as an indissoluble bond between a man and a woman, opposing the legalization of divorce in 1987 and of gay marriage in 2010.
The Catholic Church also fought laws that, in 2002, mandated sex education in schools and the distribution of contraception in public hospitals, even halting contraception distribution entirely in some provinces.
A groundswell of popular support for abortion
But the persistence and popularity of the Campaign for the Right to Legal, Safe and Free Abortion, which began in 2003, forced the church to rethink its approach – somewhat.
Abortion support has grown exponentially in Argentina, including among active Catholics. Many young women who are active churchgoers insist on their right to make decisions about their sexuality and when and how to become mothers.
On March 10, at least 500,000 people – mostly women and young people – rallied outside Congress in Buenos Aires, waving green bandannas, the symbol of their movement. Nationwide, an estimated 1 million marched to demand women's reproductive rights.
The overwhelming show of support evidently convinced some undecided congressional representatives to vote yes in June. The abortion bill eventually passed 129 to 125.
Catholicism is a diverse universe
Catholic leadership also took note of its members' stance.
Catholicism, generally speaking, is a more diverse religion than it often appears.
In Argentina, its members includes both anti-abortion factions and groups like Catholics for the Right to Decide. Most Catholics, in Argentina as across the world, increasingly seek the autonomy to make intimate life choices.
And, increasingly, they're finding priests – including, often, the pope himself – who hear and understand their demands.
In a statement on April 20, after the Chamber of Deputies announced it would draft an abortion bill, the Argentine Episcopal Conference clearly affirmed the Catholic Church's "defense of all life."
However, it continued, "it is not our way to condemn anyone, but to enter into a reasonable dialogue about the question of life. We have done little to protect women who find themselves in this situation."
The anti-abortion movement
A virulent anti-abortion movement did arise in Argentina in recent months. Protesters united under the color blue and the motto "Let's save both lives" have marched daily since March 25, brandishing a giant papier-mache fetus.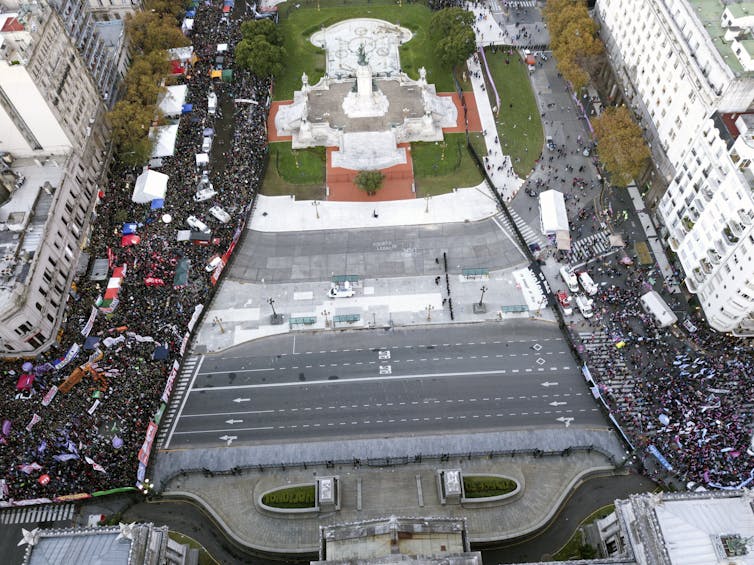 While Argentine church officials congratulated the "Catholics who fight for both lives," the anti-abortion groups had stronger support from Argentina's evangelical churches than from the Catholic Church, which did not institutionally endorse their marches.
Some within the church also took a harder line on abortion, though. At Mass in April, the bishop of Argentina's Tucuman province mentioned by name each of the province's congressional representatives, urging them to vote against the abortion bill.
Catholics for and against abortion
Catholic opposition to legal abortion grew stronger in the months leading up to the Senate vote.
A "sacred mass for life" was celebrated in the historic Metropolitan Cathedral of Buenos Aires, a short walk from Congress, as lawmakers debated. After the vote, the Episcopal Conference celebrated the bill's demise, calling for Argentina to focus on "responsible sexual education."
Abortion activists, for their part, say they will continue to fight for Argentine women's right to choose. For the first time ever, abortion will be an issue in the general election next year.
With abortion, the Catholic Church now confronts the same dilemma it faced with divorce, gay marriage, trans rights and other major social changes in Argentina. If it continues to espouse the extreme stance of its conservative leadership, it will alienate Argentina's increasingly moderate Catholic churchgoers.
Despite the Senate's recent vote, in my analysis, it's only a matter of time until Argentina legalizes abortion. And the Catholic Church, for its part, has been evolving to avoid obsolescence for over 20 centuries.