Editor's note: This article was written before the events of June 24, 2023, during which Wagner Group paramilitaries seized a town in southern Russia and headed towards Moscow before standing down. On June 25, The Conversation published this article – Wagner's mutiny punctured Putin's 'strongman' image and exposed cracks in his rule – analyzing how the short-lived mutiny will impact Russian President Vladimir Putin.
---
Whether or not the Ukraine counteroffensive that began in early June 2023 succeeds in dislodging Russian troops from occupied territory, there are growing signs that the push has prompted anxiety back in Moscow.
Such unease was, I believe, detectable in Russian President Vladimir Putin's meeting on June 13 with a group of influential military bloggers – people who support the war but have at times been critical of the way it is being fought. The meeting was unusual: In recent months, Putin has avoided public statements about the war and postponed his annual Russia Day phone-in show scheduled for June. He similarly canceled both the June call-in in 2022 as well as his annual news conference in December.
And the set-piece events he has attended have been less than convincing. At the June 13 meeting with military bloggers and war correspondents, Putin faced some pointed questions. In answering, he used the term "war" a number of times – deviating from his line that what is happening in Ukraine is a "special operation" – and conceded that Ukrainian attacks across the border into Russia had been damaging.
On the defensive?
The meeting was Putin's first public assessment of the conflict since Ukrainian forces took the war into Russian territory, with drone strikes on Moscow on May 1 and again on May 30 and shelling and forays across the border in the Belgorod region on May 22. The latter led to the evacuation of tens of thousands of Russian civilians.
These developments further undermine Putin's argument that this is a "special military operation" and not a war, and that life can continue as normal for ordinary Russians.
At the same time, Putin is facing a political challenge from Yevgeny Prigozhin, the erstwhile chef-turned-mercenary leader. Prigozhin heads the Wagner Group, a private company that has recruited some 50,000 fighters for the Ukraine war on behalf of Moscow. They played a key role in the capture of the Ukrainian city Bakhmut, which fell on May 20 after a 224-day siege. After the fall of Bakhmut, polling indicated that Prigozhin broke into the list of top 10 trusted officials as seen by ordinary Russians for the first time.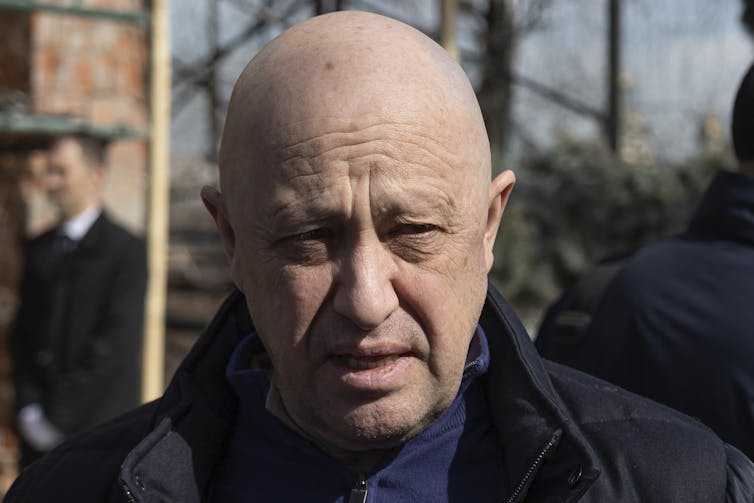 Prigozhin has been openly critical of the way Russian Minister of Defense Sergei Shoigu and head of the General Staff Valery Gerasimov are conducting the war. In May 2023, Prigozhin organized a series of town meetings across Russia laying out his demands. In an attempt to rein in Prigozhin, Shoigu ordered that all volunteer fighters must sign a contract with the defense ministry by July 1 – something Prigozhin refuses to do.
Prigozhin's business empire includes media outlets, the Internet Research Agency that the U.S. asserts interfered in the 2016 U.S. presidential elections, a movie series and social media channels that enable him to reach tens of millions of Russians. It forms what reporter Scott Johnson has dubbed the "Wagnerverse."
Facing questions
With the background of more open criticism of a war that has now blown back across the Russian border, Putin faced some tough questions at the meeting with war correspondents.
One asked why is it that private military companies are not legal in Russia. Putin merely said that it is time to change the law.
Another asked why different regions are allowed to pay different bonuses to contract soldiers from their area. In response, Putin could only offer that Russia is a federal system, and regions spend what they can afford. One blogger pointed out that the border districts inside Russia are not considered part of the "special military operation," which means that soldiers fighting there do not get combat pay. Another asked about troop rotation and when Russians will know that the war has been won. Putin's answers were equivocal on both points.
One participant asked Putin about the problem of "parquet generals," a term used by Prigozhin that refers to people sitting in comfortable offices far from the front line. Putin agreed that some generals are not up to the job, but he supported Shoigu's order that all volunteers should register with the defense ministry.
It wasn't a full-on grilling, but neither was it a cozy chat.
Desperate measures
Judging by opinion surveys, there are few signs as yet that the military setbacks have caused any decrease in popular support for the war in Russia. Many Russians seem to believe that even if it was wrong to start the war, it would be a mistake to allow Russia to be defeated.
However, members of the Russian elite seem to share the growing unease aired among the bloggers. On May 20-21, Russian officials and policy experts attended a meeting of the influential Council on Foreign and Security Policy think tank. Judging by reports from people who attended, such as State Duma Deputy Konstantin Zatulin, there was a clear sense that the war is going badly.
In a June 1 speech, Zatulin, a prominent nationalist lawmaker, noted that none of the initial goals of the "special operation" have been realized and admitted that "Ukrainians hate us because we are killing them."
Zatulin said that at the Council on Foreign and Security Policy meeting, one attendee suggested dropping a nuclear bomb on Rzeszow – the transport hub in southeastern Poland through which most of the West's weapons flow into Ukraine. Indeed, Sergei Karaganov, the head of the council, published an article on June 14 in which he argued for the demonstrative use of a nuclear weapon to force the West to stop supplying arms to Ukraine.
In the 1990s, Karaganov was seen as a liberal who supported Russia's integration with Europe. Now, he apparently believes that Russia's inability to defeat Ukraine poses a serious threat to its security. Moreover, his talk of deploying nuclear weapons hints at an increasing view among Russian elites that the country cannot win by conventional means alone. Indeed, on June 16, Putin announced that Russia has already started transferring some tactical nuclear weapons to Belarus.
In the meantime, mercenary leader Prigozhin remains a wild card. Rarely in history have mercenary generals been able to seize political power. Perhaps the most famous mercenary of all time, Albrecht Von Wallenstein, successfully commanded an army of 50,000 during the Thirty Years' War. He became so powerful that his Hapsburg paymasters had him assassinated.
In Russia's tightly controlled political landscape, there are no precedents for a figure such as Prigozhin. He seems to have few allies among the military establishment or regional governors. As such, it is hard to imagine a scenario where he would be allowed, for example, to create his own political party, still less run for the presidency in 2024.
Yet he is clearly proving to be a thorn in Putin's side. And the lack of progress toward victory over Ukraine is seemingly making the Russian elite increasingly nervous about how to maintain social stability and stave off political challenges from nationalists who are arguing for more aggressive prosecution of the war.