The 26th of January marks a somewhat controversial day on the Australian calendar. Should one celebrate a date that symbolises the invasion of a continent and the beginning of the decimation of its indigenous population? Should we mourn this date?
Does the date simply signify, for most people that call themselves "Australian" – that is, who have or would be eligible for an Australian passport as an Australian citizen – an excuse to get drunk and play an outdated gambling game?
A great deal of this controversy is generated by, as well as reflected in, popular media, and the inane confusion that often fails to separate facts from values in popular media. Of course Australia was invaded – this is the very nature of colonisation, and is a fact that is not debatable.
What is debatable – and, therefore, a matter of political struggle (or "culture war") – is whether this was good or bad, and for whom; that is, the ethical context and value of this fact.
One way of beginning to engage with and think through some of these complexities is through the popular culture that reflects them.
One could watch, of course, one of the many recent Australian films that have received international acclaim, including Oscar nominees for Best Picture from this year, Lion (see my review in The Conversation) and Mel Gibson's Hacksaw Ridge. Both movies have been nominated for six Oscars each, and it's the first time two Australian films have been up for Best Picture at the same time.
But Australian cinema frequently engages with and analyses the ramifications of post-colonial trauma, and, with this in mind, I've compiled a list of some of the best Australian films.
Those of us who feel like neither two-up nor beer-sodden hangovers might spend the 26th January watching some of them.
Snowtown, 2011
The first film by Justin Kurzel, Snowtown – though based on a "true crime" story – is one of the fiercest dissections of the Australian mythos to date, critically challenging those cherished phantoms of nationhood, "mateship," the obsession with masculinity, and the notion of classlessness that has falsely defined so much cultural discourse and promotional rhetoric about the "Lucky Country".
Snowtown extends Robin Boyd's aesthetic critique in The Australian Ugliness (1960) to the level of political economy, demonstrating – like The Boys (1998) before it – that crime is largely the product of the barren suburban geography in which these characters are imprisoned.
The speech in which Messianic killer John Bunting (Daniel Henshall) relates the violence undergirding that great Australian death cult, Anzac, to his gang's homophobic violence is one of the high points in Australian cinema – and seems particularly pertinent to the 26th January.
Razorback, 1984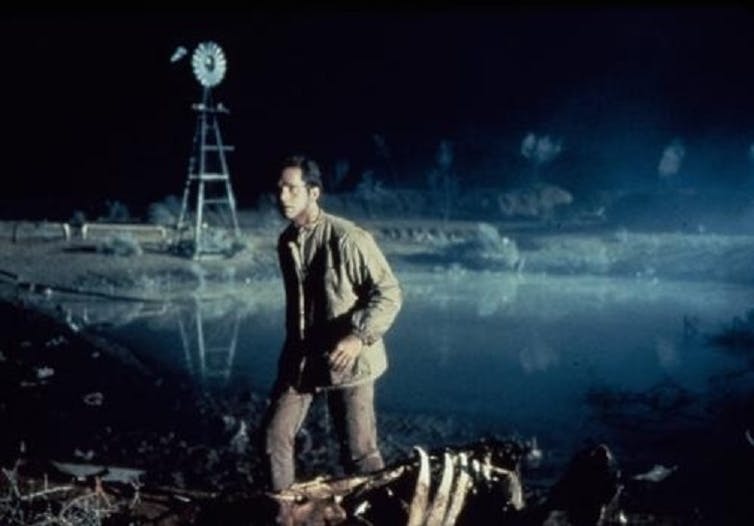 This "Jaws on land" trash epic was widely derided on its release, but it contains some of the most stylish, stunning depictions of the Australian landscape in cinema. It was filmed around Sofala in Western NSW, which becomes, before the eye of director Russell Mulcahy, a kind of surreal, neon-lit nightmare-scape.
The razorback – the killer pig itself – is pretty silly but, thankfully, seldom appears. The basic plot, following a Canadian man travelling to Australia to look for his animal activist wife who has disappeared, skilfully transposes the perennial Australian theme of the suave urbanite stuck in a repugnantly violent, misogynistic, and racist environment onto a transnational schema. Vincent Canby's contemporaneous review for The New York Times was right – the landscape is much more terrifying than the pig.
The Cars That Ate Paris, 1974
Peter Weir's first full length feature film remains his best. Its premise is thoroughly bizarre: a town of maniacs cause tourists to have car crashes in order to salvage the spare parts upon which the entire economy is built.
This satirical horror film contains some fantastic caricatures of small town Australian types – the megalomaniac mayor (John Meillon); Dr. Midland (Kevin Miles) who performs surgeries using unorthodox methods; Charlie (Bruce Spence), the local idiot who prowls around the outskirts of the town terrorising locals and tourists alike. It features in addition to this panoply of types one of the most inert protagonists in screen history in Arthur Waldo (Terry Camilleri) who basically drifts into Paris and then through the film without any capacity for action or reaction. Brilliant.
Backroads, 1977
Phillip Noyce's first significant feature film follows Gary (Gary Foley) and Jack (Bill Hunter) as they steal a car and drive cross-country, getting into various scrapes along the way.
The film seems as productive today as when it was released, with its irreverent dialogue and mutually affirming depiction of race relations not detracting from its dissection of the post-colonial condition for indigenous Australians. This is rough-hewn, Kamikaze film-making on a shoe string budget done with verve. A definite must for Australia Day!
Beneath Clouds, 2002
Ivan Sen's first (and best) film was released to much critical acclaim, and features two stunning lead performances by non-actors Dannielle Hall and Damian Pitt as a couple of indigenous kids who leave rural NSW together in search of a better life in Sydney.
This offers a slow, low-key – and immensely satisfying – experience, and is particularly strong in its depiction of the institutional violence underpinning policing (in particular white policing over indigenous communities). Both intelligent and moving.
Romper Stomper, 1992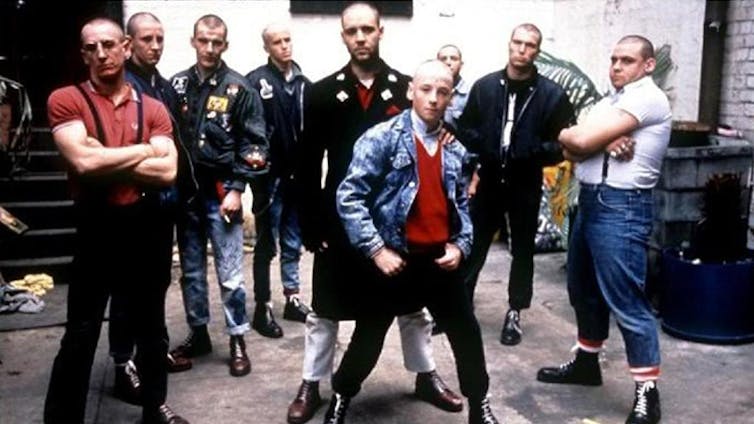 This nutty "romp" by Geoffrey Wright quickly gained notoriety for its depiction of neo-Nazi violence in Melbourne. The energy here is quite astonishing, and it's impossible not to be both magnetised and repulsed by the hypermasculine performance of Russell Crowe as Hando, leader of the skinhead gang who experiences everything at a heightened pitch.
The whole thing becomes increasingly odd as it develops, with what begins as a story about gang violence in the post-industrial wasteland becoming, by the end, a melodrama about a love triangle.
Muriel's Wedding, 1994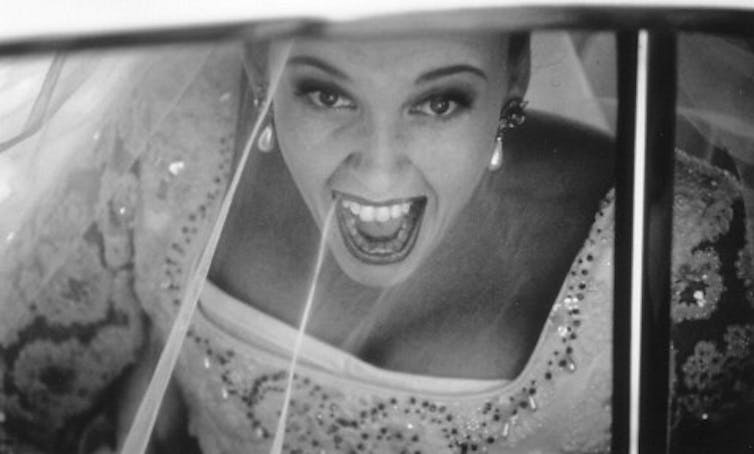 Everyone's seen it – but if you haven't seen it recently, watch it again. You may have forgotten that, far from (just) a daggy comedy about a loser who loves ABBA, Muriel's Wedding is an incredibly dark, savage assault on the banality of Australian suburbia, and of the popularity of myths of social mobility in the age of individualism. In the society of Muriel's Wedding, those at the bottom, despite their pretensions, never really go anywhere. The "happy" ending offers some hope, but an equal measure of despair, for heroine Muriel, whose coming to "independence" doesn't signify much, if anything at all.
The Boys, 1998
Based on the play by Gordon Graham (based around the Anita Cobby murder of 1986), Rowan Woods' The Boys, like Snowtown after it, remains one of the few Australian films to engage with class inequality in Australia in any meaningful way.
David Wenham's menacing portrayal as Brett Sprague, the leader of the muderous brothers, shot him to instant recognition. The Boys is a film about a crime that, in eliding the actual crime – both in detail and depiction – approached it in an incredibly nuanced fashion. Toni Collette as rough-as-guts Michelle is amazing.
Mad Max, 1979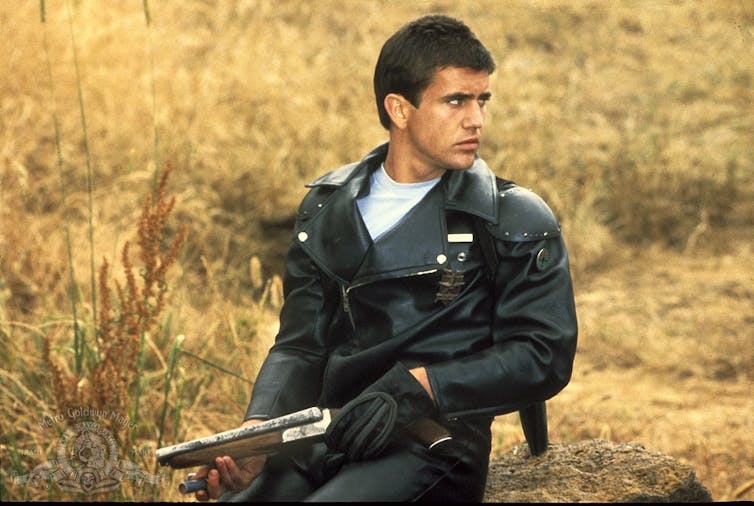 The first film in the series is by far the best, largely because its own shabbiness and makeshift quality as a low-budget Australian action film perfectly maps onto its narrative as a revenge tale "set in the near future." Director George Miller recognised the post-apocalyptic quality of large swathes of Australian territory – and is still successfully exploiting it to this day.
This zeitgeist-setting classic is a great example of a mediocre filmmaker being in the right place at the right time, with everything coming together to create an extraordinarily and effectively original (and disconcerting) experience for the viewer.
The Piano, 1993
The Piano raises excellent questions about the category "Australian film." It was made in New Zealand, is written and directed by a New Zealander, stars three Americans and a New Zealander in the lead roles… and yet it continues to be recognised as an Australian film, winning a tonne of AFI awards on its release.
Of course, the national origin of a production is really about the origin of its money. And in the case of The Piano, that includes Australia along with New Zealand and France. Regardless, The Piano is a riveting Gothic romance that manages to be erotically charged whilst critically reflecting on the depiction of men and women throughout cultural history. Maybe we can change the 26th January to New Zealand Day, and we can all watch The Piano.
Other excellent Australian films include: Phillip Noyce's engrossing thriller about the sleaze of Sydney property developers, Heatwave (1982); Everynight… Everynight (1994), a grim prison saga starring David Field; David Caesar's blueprint for many of the late 1990s and early 2000s Aussie gangster flicks, the daggy but intelligent Idiot Box (1996); Peter Weir's complex investigation of the Anzac myth, Gallipoli (1982), which in fact challenges many of the nationalist tropes of which it is often seen as being symptomatic; exploitation director – and hero of Tarantino – Brian Trenchard Smith's Dead End Drive-In (1986), a very underrated Australian thriller based on Peter Carey's short-story "Crabs;" The Last of the Knucklemen (1979), a study of Australian masculinity's response to increasing globalisation by Tim Burstall; and Wake in Fright (1971), based on Kenneth Cook's eponymous novel.
It has become something of a commonplace to claim that aesthetic criticism is merely a matter of opinion, the taste of the individual critic being the primary quality on display.
However, this ignores the fact that aesthetic merit is measurable in relation to objective criteria. A good artwork, in any medium, I would suggest, is determined through its unity of spirit (ethos, attitude, intention), design (realisation, technique) and effect (on the participant). A lesser artwork will often contain discontinuities between these elements – its intention may not be realised due to poor design, or may not have the desired effect on the viewer.
In any case, is the national origin of a film at all significant? Not in any essential way – for there are no "essential" national characteristics. "Nation," as Benedict Anderson shows, is an example of an "imagined community," a configuration that arose historically through the consolidation of dialects due to the spreading of communication through the printing press in the modern period.
Happy Australia / Invasion Day!