As the weather warms and days lengthen, your attention may be turning to that forgotten patch of your backyard. We've asked our experts to share the science behind gardening. So grab a trowel and your green thumbs, and dig in.
---
Bird baths are a familiar sight in Australian gardens but surprisingly little is known about the precise role they play in the lives of birds.
In a dry continent such as Australia, bird baths may be vital to supporting an otherwise stressed bird population. We wanted to find out more, so we enlisted the help of thousands of citizen scientists across Australia to gather as much data as we could on how birds use bird baths.
And so the Bathing Birds Study was born. Started by researchers at Deakin University and Griffith University in 2014, this study involved collecting data online from 2,500 citizen scientists on bathing birds all over Australia.
The study has revealed so far that bird baths are much more than just ornamental splash pools for feathered visitors. They're also a site where animals socialise and intense rivalries play out. Human choices – such as the design of the bird bath, where it is located and how often it is cleaned – can have a big impact on birds.
Different baths for different birds
The majority of participants in the Bathing Birds Study monitored the traditional pedestal or elevated bath type, as shown in the image below: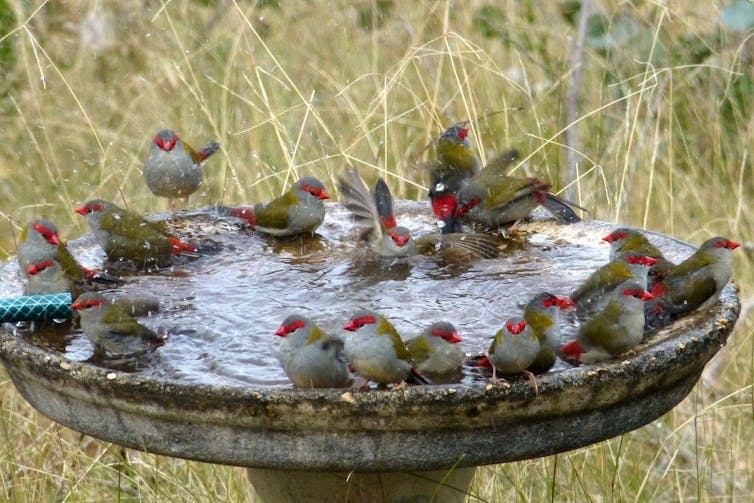 Cats are a big risk to garden birds, so elevated or pedestal baths are a good idea. They help keep birds safe from cats.
Baths should be situated near plants so smaller birds can have refuge if they are disturbed. Stones or rocks in the centre of the bath can give smaller birds a place to perch while bathing.
Birds need to groom their feathers daily, so don't assume they're only visiting bird baths on hot summer days. Birds need baths in winter too. We even had reports from some of our citizen scientists of birds trying to break ice in baths to access the water.
It can take time for birds to find a new water source but they will find it. Other types of baths, such as pots or saucers on the ground, can provide water for a range of wildlife species. We had records of koalas, foxes, snakes and even echidnas using baths – so consider having multiple types of water baths in your garden.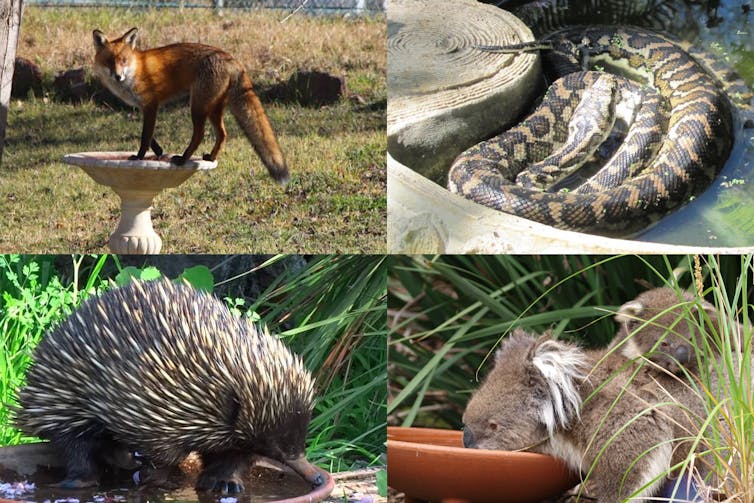 Bath bullies
The Bathing Birds Study found that different bird species dominated bird baths depending on state or region.
In South East Queensland and New South Wales, aggressive noisy miners and rainbow lorikeets were most frequently recorded at baths. Introduced birds and wattlebirds were more common in the cooler states of Victoria, South Australia and Tasmania.
The Bathing Bird Study also found that certain birds can act as bullies at baths and prevent other birds from using it by standing guard.
This type of behaviour can be directed toward smaller and/or less aggressive birds so having a range of bath types (such as a pot or saucer on the ground, hanging bath or multiple elevated baths) in your garden will give all birds a place to drink and bathe.
A clean bath is a good bath
Like all bathrooms, the garden bird bath needs regular cleaning. A dirty bath can spread disease and birds can be susceptible to infection where many species and individuals are congregated at communal watering stations.
For example, infected parrots can spread beak and feather disease to other parrots when they bathe and drink together.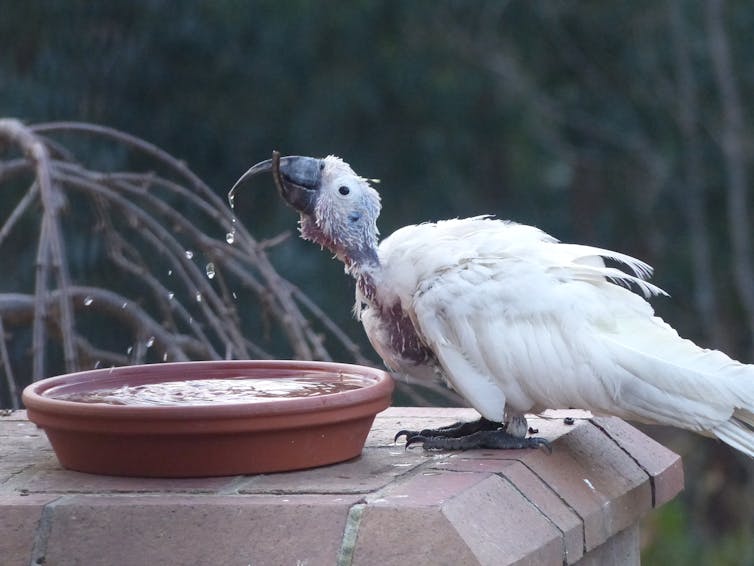 Another risk is that birds will, in time, grow too dependent on bird baths or feeding stations. How might they cope if the food and water is withdrawn during certain periods or not adjusted to reflect the prevailing need of birds?
The Bathing Birds Study also showed that many people refilled their bird baths more frequently in summer than in winter and regularly clean the baths.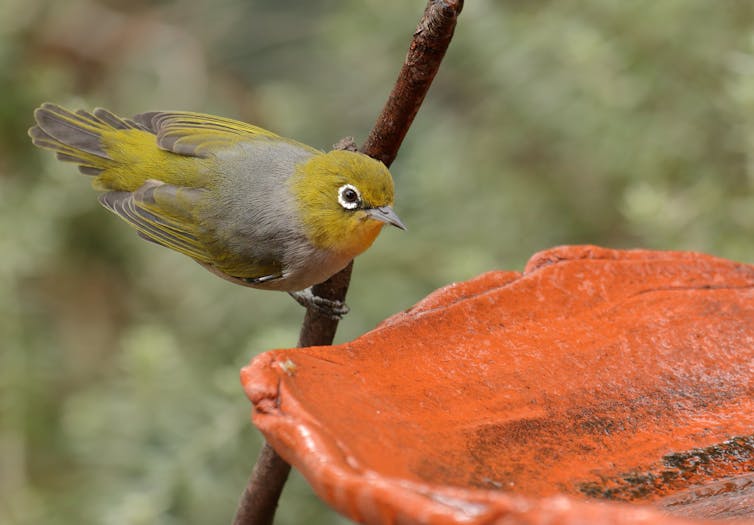 Is feeding birds good or bad? Let's find out!
Many people enjoy providing food for birds as well as water. At this stage, we do not know whether this has a positive or negative effect on birds.
It is important to understand the ecological and behavioural effects of feeding in Australia as almost all information from other countries regarding bird feeding simply does not apply here.
Feeding of wild birds is an important activity for large numbers of people. For many, it is a significant way of connecting with nature.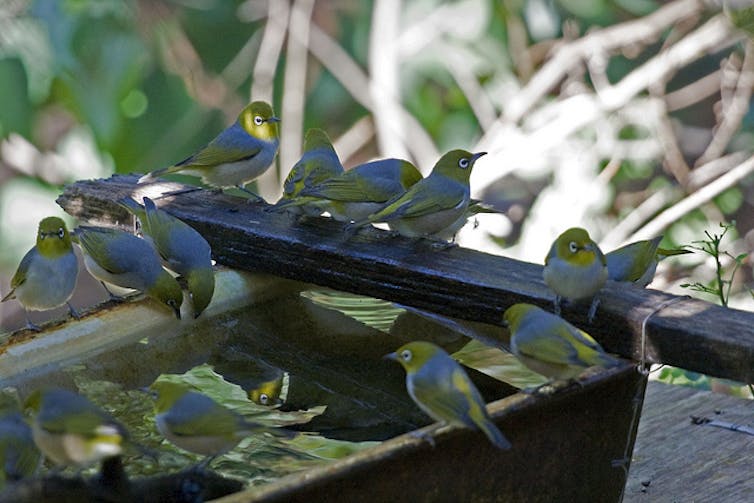 The Australian Bird Feeding and Watering Study, an extension of the Bathing Birds Study, aims to find out more about how exactly birds interact with feeders and bird baths – and how human choices can either help or hinder these feathered visitors.
We've just completed the winter stage of our research, which involved collecting responses online from 3,500 citizen scientist participants. Nearly 7,000 have signed up to take part in the feeding study so far, and we are now recruiting for the summer stage. If you provide food or water for birds and would like to get involved in the summer study, sign up at www.feedingbirds.org.au.
We hope to one day develop guidelines for people who feed and/or provide water for birds so they can do so with minimum risk to the birds.