Adam Goodes was again booed by Australian football fans at the weekend. While some misguided commentators have written this behaviour off as not being racially motivated, others are convinced that such abuse is a result of the Sydney Swans player's outspoken views on Aboriginal issues.
I would argue that racist behaviour and assumptions are woven into the fabric of Australian football, alongside historical assumptions about what constitutes "Australianness".
In 2005, Goodes was announced as a member of the Indigenous Team of the Century, a selection of Indigenous Australians that have proudly represented Australian Football League (AFL) teams. He is a two-time Brownlow Medalist (awarded to the Fairest and Best player of the season), a dual AFL premiership winner and was Australian of the Year in 2014. Only eight players have played more career AFL games than Goodes' current tally of 365. This is someone who should be regarded as one of the AFL's greatest players.
In recent months, some supporters have booed Goodes whenever he touches a ball. As a direct result of this abuse, a fatigued Goodes is taking time away from the sport and may not play in the Swans' upcoming fixtures.
While Swans' chairman Andrew Pridham has labelled the booing of Goodes as "100% racist", AFL CEO Gillon McLachlan has so far avoided describing the "sheep-like behaviour" of booing fans as racism.
A history of abuse
In 2013, a 13-year old girl, unaware that "ape" was a racist slur, abused Goodes during a match against Collingwood. He was also booed in the 2014 Grand Final against Hawthorn.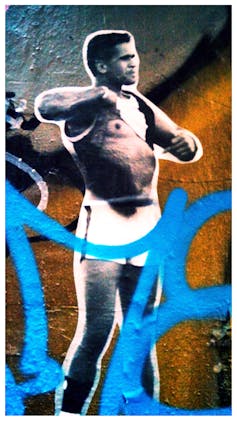 Another notable incident played out in 1993. The St Kilda player Nicky Winmar responded to racism from the stands by raising his shirt and pointing at his chest. Allegedly, the crowd had been "reminding" Winmar that, as an Indigenous footballer, "he was one of them rather than one of us". Faced with a sea of hostile "whiteness", Winmar effectively and eloquently displayed his pride in his skin colour.
Sadly, AFL supporters have a history of emphasising notions of "difference" by abusing Indigenous players. Yet it is only when Indigenous players refuse to accept such abuse and take a stand against it that the issue becomes highlighted and the players are criticised.
Although the AFL became the first major Australian sporting code to outlaw on-field racial sledging in 1995, there continues to be too many shameful incidents of racial vilification by fans towards Indigenous AFL players. That Goodes has now been consistently booed by a variety of opposition fans for a sustained period of time suggests racial abuse may be an endemic problem.
Australia's game
Australian rules football is feted as Australia's only Indigenous sporting code. In terms of Indigenous players, there is actually an over-representation in the AFL (10% of players are Indigenous, compared to 2% of the population).
That's partly because Indigenous Australian footballers have been portrayed as possessing "innate" ability or being "born to play" sport. In reality, such ability and skills are the result of overcoming unfavourable political and socioeconomic conditions, rather than some biological or mystical ability.
In addition, Indigenous players can often be marginalised and excluded from positions of influence on the pitch. Indigenous athletes are assigned positions that require speed and agility rather than leadership and intelligence. In this way, control over the game is retained by white athletes. Such marginalisation also indicates deeper racial ideologies that are based on social and historical events.
Australia has a sad history of systemic, widespread discrimination towards those from visible ethnic minority groups. This discrimination was embedded within national legislation up to the 1970s (when the Racial Discrimination Act was established) and was embodied by the White Australia policy.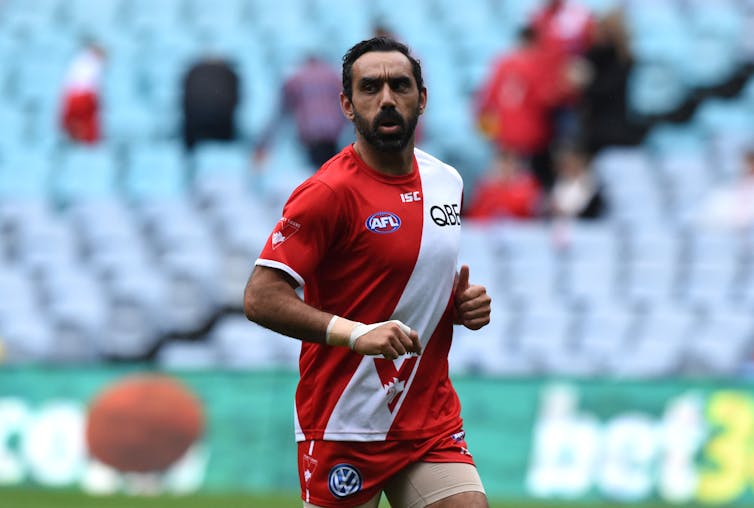 This policy was an overtly apparent form of racism and can be dubbed "old racism", in which incompatibility between groups was believed to be based on biological differences. This old racism has more recently been replaced by a "new racism" or a "cultural racism" that serves to highlight cultural differences.
AFL (along with cricket and rugby league) has historically been identified as an "Australian" sport. According to academics Chris Hallinan and Barry Judd, the Victorian Football League (the precursor of the AFL) was viewed as a signpost of Australian national (white) identity.
Australian football was championed by early-20th-century politicians, such as former Prime Minister Alfred Deakin, who believed that the sport could be used to maintain national values:
The game is Australian in its origin, Australian in its principle, and, I venture to say, essentially of Australian development.
Australia's problem
Sport is one of those rare constructs that causes some people to stop and consider their Australianness. But the notion of Australianness is deeply rooted in historical, often mythical, visions of Australia. The core culture remains an Anglo-Celtic one, based on British settler history and archetypal figures such as the bushman.
Athletes that most resemble these historical figures continue to be more easily accepted by fans of Australian football. Those that do not match this vision of Australianness may be ostracised or abused.
In 2003, politics professor Colin Tatz stated that fair and equal competition and opportunities in sport have not existed for Australia's Indigenous people, and argued that "racial equality in Australian sport remains disturbingly out of reach". Nonetheless, Australian sport remains one of the only avenues for Indigenous athletes to speak out about their off-field experiences in Australian society.
Adam Goodes was part of a 2013 TV campaign, run by the Australian Human Rights Commission, which stated that racism has no place in sport.