Prime Minister Malcolm Turnbull and Opposition Leader Bill Shorten have been criss-crossing the country for weeks to spruik their parties' candidates in Saturday's all-important byelections – a key test for both the Liberals and Labor ahead of the next federal election.
Here's what you need to know about the five electorates up for grabs and, with a federal election likely in the first half of 2019, what's at stake for Turnbull and Shorten.
---
---
Longman
Chris Salisbury, Research Associate, University of Queensland
Longman's very marginal status, held by Labor's Susan Lamb by a slim 0.8% prior to her High Court-enforced resignation, makes this race the most tightly contested on Saturday.
Seasoned observers expect this to go the way of most byelection contests – largely distanced from broader federal concerns. Local issues are at play, dominated by arguments over funding for the Caboolture hospital in the electorate north of Brisbane, as well as for local education and employment support services.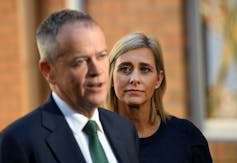 Yet, the race is also being touted by some as a judgement on the major parties' signature economic policies, and significantly on the performances of both party leaders. Labor has campaigned hard on the merits of the Coalition's proposed company tax cuts. The Liberals, meanwhile, have fanned fears among retirees about Labor's proposed investment savings changes.
Longman is a typical marginal seat in the outer suburban fringe, home to what a dozen years ago would have been called "Howard's battlers". The electorate provides a platform for the major parties to road-test policy differentiation and campaign messages on "average voters" ahead of the next federal election.
---
Read more: Grattan on Friday: 'Super Saturday' is not so super in Labor's eyes
---
It's also fertile ground for the growing distrust of mainstream politics. One Nation's Pauline Hanson has been prominent in the electorate, attempting to capitalise on negative voter sentiment toward the major parties. Her party even enlisted former Labor leader Mark Latham's support, voicing robocalls to local residents attacking Shorten.
Lamb is attempting to be re-elected to the seat she won unexpectedly from the LNP's Wyatt Roy in 2016. She benefits from recognition as the incumbent and has the strong backing of her party leader. Shorten made a beeline for Longman ahead of the announcement of the byelection date to spruik his candidate.
LNP's Trevor Ruthenburg also enjoys recognition of sorts as a previous state MP for nearby Kallangur. However, he might have spurned some conservative Longman voters with fresh revelations of an incorrectly claimed military service medal in his Queensland parliament biography.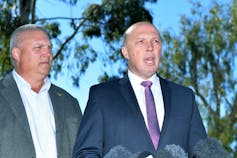 Among the minor party candidates, One Nation's Matthew Stephen will also need to overcome questions regarding his business dealings to build on his party's 9.4% primary vote in the 2016 election.
Labor's concerted campaigning has Lamb a slight favourite to be returned. However, a Coalition win might convince Turnbull to call an early election. This then raises the question: could a poor result for Labor put enough pressure on Shorten to prompt the party to change leaders to better combat the PM's standing?
---
Braddon
Michael Lester, PhD candidate, University of Tasmania
For an election that won't change the status quo in parliament, the Braddon byelection is getting a great deal of attention.
Both Turnbull and Shorten have made multiple visits to campaign for their candidates, with support also coming from of a host of their cabinet and shadow cabinet colleagues.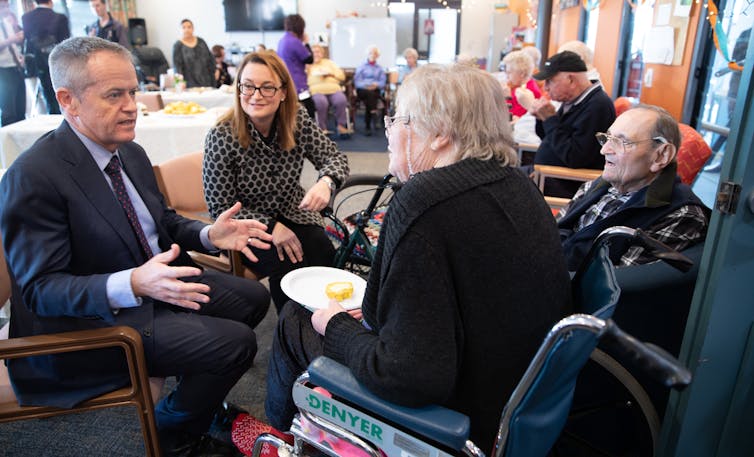 Braddon is a notoriously fickle electorate, having changed hands four times since 1996, and the margins are always tight. This election is no different. All the polls indicate it is a close race.
In 2016, Labor's Justine Keay won the seat with a 2.2% lead over then-sitting Liberal member Brett Whiteley. She was later forced to resign after her UK citizenship was revealed. Both candidates are standing again, but neither is considered to have strong personal followings.
Polls in the first week of July showed the gap between the parties has narrowed. This means the result will likely come down to the preferences of independents and minor parties, particularly the Greens' Jarrod Edwards, the Shooters, Fishers and Farmers Party candidate Brett Neal and independent Craig Garland. All three are likely to favour Labor.
---
Read more: VIDEO: Michelle Grattan on the federal government's tax package, the ABC and the 'Super Saturday' byelections
---
The differences between the campaign styles and tactics of the two major parties are striking.
The Liberals have used incumbency at both the state and federal level to frame their campaign around their economic records and budget infrastructure spending, holding photo opportunities around a series of project announcements.
Labor, meanwhile, is using the campaign to road-test a swag of policies and messages. Key among them are wage stagnation, the loss of penalty rates, the "scourge of labour hire companies", the bad behaviour of banks and the Liberals' support for corporate tax cuts.
Shorten took most by surprise by also promising an AU$25 million grant to support a Tasmanian AFL team at a time when the Aussie game is in crisis in one of its foundation states. However, Labor seems to be getting better traction with promises to restore funding for essential services like health care and education.
The real impact of the Braddon byelection is likely to be on the political future of the two party leaders, the timing of the next federal election and the choice of the policies they choose to run on.
---
Mayo
Rob Manwaring, Senior Lecturer, Politics and Public Policy, Flinders University
The campaign in Mayo is symptomatic of a wider problem that has beset Liberals in South Australia – a failure to lock in so-called blue-ribbon safe seats.
Mayo is now a straight two-way fight between the incumbent Centre Alliance's Rebekah Sharkie and Liberal Georgina Downer. Downer's success or failure could well be a strong signifier of the strength of Malcolm Turnbull's government.
Polling has Sharkie on track to hold onto the seat, despite her citizenship problems triggering the byelection. A late-June Reachtel poll had Sharkie leading Downer by 62% to 38% in two-candidate voting.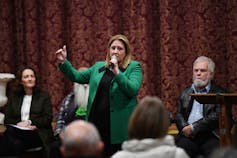 Sharkie's surge in the polls is striking, given that a large part of her win over then-Liberal Jamie Briggs in 2013 seemed to rest on the personal unpopularity of Briggs.
---
Read more: Grattan on Friday: Disillusioned voters find it easy to embrace a crossbencher like Rebekha Sharkie
---
Yet, as has been proven in state-level races in South Australia before, voters in notionally safe "non-Labor" seats are often reluctant to give up strong local independents. Despite its disappointing showing in the recent state election, the Xenophon team retains deep residual support in South Australia.
The Mayo campaign is an intriguing confluence of local and national issues. Sharkie is pushing hard on a range of local issues, and her support to have the Great Australian Bight listed for World Heritage status to safeguard it from oil drilling also targets a perceived weakness of Downer's - environment issues.
Downer, seeking to secure her family dynasty, is playing to different strengths – especially her close network with the Liberal hierarchy. (She is the daughter of former foreign minister Alexander.) Since announcing her candidacy, Downer has had notable visits from Turnbull and others. She boasts influence unavailable to her rivals, evidenced by her securing of federal funding for a new aquatic centre in Mount Barker.
Strikingly, immigration has become a new issue in the campaign. Downer's comments about immigration may stoke local fears that the Inverbrackie site will be re-opened for mainland asylum seeker detentions.
---
Perth and Fremantle
Ian Cook, Senior Lecturer of Australian Politics, Murdoch University
Labor will win both races being contested in Western Australia in Saturday's byelections. That's not a brave prediction. The Liberals aren't running candidates.
Some analysts believe it was the wrong decision by the Liberals, given that a minimal campaigning effort wouldn't have cost that much and it's unclear how voters will react when the Liberals do put up candidates in the federal election.
But the decision actually makes a lot of sense. Labor has held both seats – Perth and Fremantle – for much of their existence. (The electorates were created in 1901.) Labor even held on in Fremantle in the 1975 election, which was the last time it lost Perth.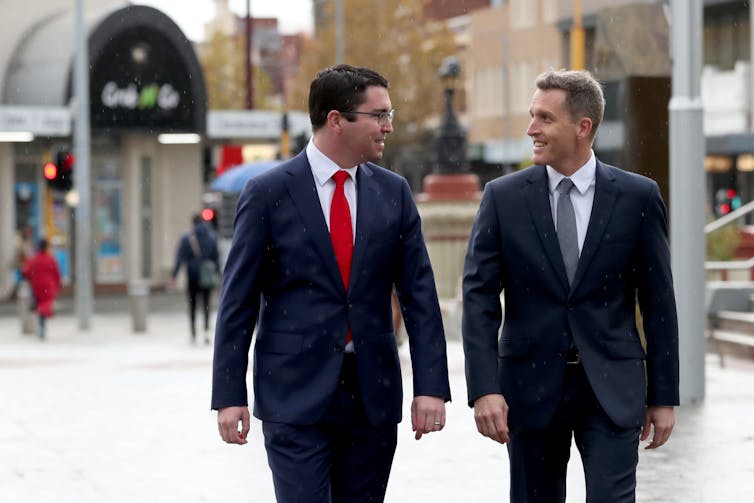 On top of this, the WA Liberals had been swept from government last year as a result of a 20% swing against them across the state. And there were no signs of the federal Liberals doing much to change anything.
So, while Perth's 3.3% margin looks close, the Liberals chose not to run a candidate there. Likewise in Fremantle, which is even less competitive, with a margin of 7.5%. The decision not only saves the Liberals money, it won't expose their weak support in WA.
---
Read more: Liberal rebel Dean Smith to fight party decision not to contest Perth byelection
---
Some Liberals may have regretted the move after the party won the byelection for the state seat of Darling Range last month, but Labor got a lot wrong in that campaign.
The Liberals' decision not to run in Perth and Fremantle has brought the Greens more into the spotlight. With no other seats to talk about and no major party competition to drown them out, the Greens should be able to do something meaningful in these byelections.
Perth and Fremantle are exactly the type of inner metropolitan seat the Greens should be favoured to win, but their candidates have never gained more than 18% of first-preference voting in previous contests in the electorates. And nothing looks likely to change this time around.
If Greens candidates can't put themselves in a position to win Perth and Fremantle in these byelections and demonstrate they are to be a meaningful political force, then they likely never will.