A little soupçon of beauty?
Joanna Mendelssohn, Associate Professor, Art & Design: UNSW Australia
There comes a time in the ancient Chinese lingering execution, lingchi or Death by a Thousand Cuts, when the prisoner begs for the final stroke to end the torture – and life.
The good news is that the latest round of Australia Council four year funding grants shows that it is not there yet. Some essential visual arts publications have had their four year funding renewed, as have some exhibition spaces with a fair national spread.
From looking at what has been funded (and from hearing the start of news of those who have been eliminated) there is a sense that the meeting of the board that signed off on these grants must have been a grim one indeed. The full list of grants as announced by the Australia Council also gives access to the names of the assessors. Unlike the Ministry's Catalyst program, decisions by the Australia Council are open and transparent.
There are some decisions that seem utterly inexplicable. Neither the Australian Centre for Photography (Sydney) nor the Centre for Contemporary Photography (Melbourne) have had funding renewed. Is there a bias against organisations concerned with one particular medium?
With two exceptions, exhibition spaces devoted to the broad spectrum of contemporary art have their funding continued, so Artpsace (Sydney), ACCA (Melbourne), the Institute of Modern Art (Brisbane), Perth's Institute of Contemporary Arts, Hobart's Salamanca Arts Centre are all safe.
The exceptions are both in Adelaide: the Contemporary Art Centre of South Australia and Australian Experimental Art Foundation. CACSA is the publisher of Broadsheet which is often the first place young art writers are published. Another outlet for young writers, Express Media, has also lost its funding.
It is not a good look that the national arts advocacy organisation, NAVA, which is also a significant source of information on artists' rights, has lost its funding. The Australian Design Centre has also lost funding.
The Australia Council's careful management of severely limited funding has meant that some of the essential engines that enable art to be exhibited, performed and published may well just die anyway. Those that survive will be increasingly dependent on private philanthropy.
This may well be in sympathy with a government that likes its arts to be delightfully subservient, existing only to add a little soupçon of beauty to an otherwise dull and corporate life.
However those who understand that the creative arts are at their essence intertwined with creating knowledge and understanding see this as a further degradation of Australia's intellectual capital.
It's hardly "the most exciting time" to be in an Australia run by a government that is deliberately dumbing down its people.
What is the rationale behind these cuts?
Jo Caust, associate professor of cultural policy and arts leadership, University of Melbourne
The arts sector in Australia is in turmoil and confusion. Early last week it was announced that 75 arts groups had received funding from the new Catalyst fund. Later, another 45 grants were announced. Some of the earlier recipients received two lots of funding for different projects.
Several recipients received more than the stated upper limit for grants (A$500,000), including Circa Contemporary Circus (A$840,000), The Australian Ballet (A$1,000,000), the National Library of Australia (A$660,000), and the Heysen House (A$1,000,000).
Companies such as Kage Theatre (A$130,000) in Victoria and Brink in South Australia (A$160,000) received money through the Catalyst Fund but have been defunded by the Australia Council. There are also Catalyst recipients who would not normally be included under this kind of funding – e.g. The Australian Ballet Centre. There is even the odd possibility that these groups received more than they actually applied for.
Early this week, the Australia Council released the results of a larger than normal project grant round. Several small to medium companies received project grants. There was, apparently, around a one in four chance of a company being funded.
But at the end of the week, the Australia Council informed numerous companies and organisations that they would no longer receive ongoing annual or triennial funding. It is amazing how quickly life can change. Eighteen months ago, these groups were being asked to apply for six year grants.
Some of those defunded organisations are of serious concern in terms of the intent of the cuts. For instance, funding was cut to both the National Association for the Visual Arts and the journal Meanjin – both places where alternative points of view to government policies have been expressed. NAVA has played a national leadership role in organising protests against the Australia Council changes. What does this say about democracy?
The South Australian theatre scene in particular has received a mortal blow. Three theatre companies that have been at the forefront of artistic innovation have been defunded: Brink, Slingsby and Vitalstatistix. The latter is a women's theatre company that promotes the work of female playwrights, actors, writers and directors.
Victoria's Next Wave festival has lost its organisational funding. And even Polyglot Theatre, which has secured core funding from both the Australia Council and Catalyst, expressed "deep concern" for the long-term viability and diversity of the Australian arts sector, saying many peer companies that lost funding would be forced to close.
While some arts organisations are winning the arts funding lottery through the Catalyst Fund, others have been defunded by the Australia Council, as a result of the establishment of Catalyst.
Is the Australia Council using the Catalyst Fund as an excuse to offload some of its less popular clients? More importantly, has the Council taken the wisest course of action in the circumstances? There is a sense of shock in the arts sector.
What does all this say about the government's approach to national arts policy? It appears there is no overall plan, vision, communication, transparency or fairness.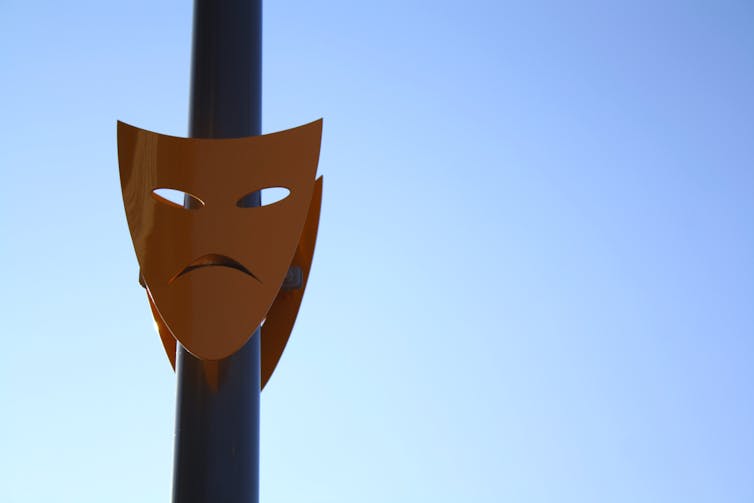 Policy confusion is destroying trust
Julian Meyrick, professor of creative arts, and Tully Barnett, research fellow, Flinders University
This is not about money it's about trust. The money is important, but in cultural policy, funding is first and foremost an expression of trust.
Because the arts don't stand apart from society but are an integral part of it, they aren't exempt from the political fluctuations that determine the allocation of public resources. Put brutally, sometimes companies lose their funding. Sometimes that has to be accepted.
But last year, the senate inquiry into the federal arts budget made it plain that the arts sector is an interdependent ecology. What we are seeing today goes far beyond the usual ups and downs of individual companies.
According to the Australia Council, 128 arts organisations have been notified of success in the recent grant round. They will share $28 million through a four-year funding program. Thirty three per cent of those are new companies. We do not yet know the total number who applied. ArtsHub estimates 62 companies have lost funding. The Age says up to 50.
The Australia Council have stretched their dollars as far as they can go. And they have listened to the sector's call to allow new arts companies into the funding pool.
But no amount of clearing out the spare change jar and reducing their own workforce can make up for the federal government's indifference to culture.
And while the Council seem to have instituted the cuts evenly across the nation, some of the decisions are truly dismaying: Meanjin, RedStitch, NAVA, Vitalstatistix, Brink, Arena Theatre, Slingsby … These are important names in the arts ecology and their demise will have a profound and long-lasting effect.
In his recent Platform Paper, Monash University academic Justin O'Connor, using a beautiful metaphor by the composer Brian Eno, likened culture to a dance. Regardless of who leads and who follows, the relationship between the arts sector and the government is one of hope and expectation, not rules and intimidation. It's one of trust.

Senator Brandis's evisceration of the Australia Council disturbed the agency's two-step with its clients. The A$90-plus million gouged out was an egregious smash-and-grab. But the real damage was done by the policy confusion that accompanied it and the manner in which the aftermath unfolded.
The Australia Council is the federal government's regiment of foot soldiers, used to mop up spills and disasters. Anyone who sheets the present cuts home to the agency needs to look at what's happening in the nation as a whole.
This is a government that right from the start has behaved like an opposition anomalously in power. Cultural policy is revealing in this respect. Expenditure-wise what's being saved is chump change. The amounts the Council doles out wouldn't buy a set of titanium-shafted golf clubs for the bonus-fat banking executives so loved by Liberal party stalwarts (or who are Liberal party stalwarts).
But cultural policy is where governments must show consideration and mindfulness. It's a tricky area. How you do things, not just what things you do, matters. Cut, cut, cut away, but if you have no end in view, then you're not instituting meaningful change. You're just a nutter with a knife.
Though it is hard to believe, the arts/government funding dance has stumbled along now for nearly 50 years, despite real problems which we've talked about before. In all that time, governments have sometimes acted unwisely, and sometimes not acted when they should.
But never have they acted as tactlessly, pointlessly and irresponsibly.
It took years to build arts companies such as Red Stitch, Slingsby and Arena. Cultural subsidy made them possible but was far from the whole story. Now the money's gone, but so has a sense that government and artists want the same thing. The trust has gone.
That's the first rule of dancing: don't break your partner's toes.
Restating the obvious: the arts matter
Maria Miranda, DECRA research fellow, University of Melbourne
The impact of the Australia Council funding cuts will be felt throughout the arts ecology in direct and indirect ways. In addition to those companies that have lost direct support – and the few that have gained it – there'll be hidden impacts on the small, artist-run organisations that support and produce some of Australia's most interesting art and artists.
Whether it's a gallery, interactive art or turning a whole street into an exhibition space, these small groups are often run without direct funding, through the efforts of volunteers. They provide a space for artists, especially – but not exclusively – for young people, to practise their craft, take risks, and build a community.
They won't disappear entirely, but the cuts will have negative impacts on the organisations' ability to mount specific projects. The volunteers who run these spaces are themselves working artists, who depend on funding (and, often, part-time jobs within the arts sector) to survive.
It's particularly disappointing because this is not expensive art, yet it provides so much. Small and medium arts organisations are outward looking and connected to their communities. They don't require expensive infrastructure and – to use the appropriate economic term – they're cost-effective. Small amounts of money make a huge difference.
It's sadly ironic that in 2014 the Australia Council itself released a report called Arts in Daily Life finding that 95% of Australians engaged with the arts in some way in the year before, and nearly half of Australians created art in some way themselves.
Australians understand that art is an important part of their lives and doesn't just happen in a museum. It's actually quite strange to have to be arguing the importance of the arts still, in 2016. Didn't we already have this conversation?