Climate change made some of Australia's 2015 extreme weather events more likely, according to research published today in the Bulletin of the American Meteorological Society.
As part of an annual review of global weather extremes, these studies focused on October 2015, which was the hottest on record for that month across Australia. It was also the hottest by the biggest margin for any month.
October 2015 was also the driest for that month on record in Tasmania, which contributed to the state's dry spring and summer, and its bad fire season.
El Niño events usually drive global temperatures higher, and 2015 had one of the strongest on record. So were these records due to El Niño, or climate change? The research shows that while El Niño had some influence on Australia's weather, it was not the only culprit.
El Niño packed a punch – or did it?
In 2015, a strong El Niño developed, with record high temperatures in the central equatorial Pacific Ocean contributing to 2015 being the hottest year on record globally (although 2016 will smash it). The Indian Ocean was also very warm.
El Niño is often associated with warm and dry conditions across eastern Australia, particularly in spring and summer. The new studies found that for Australia as a whole, while El Niño did make the continent warmer, its direct contribution to record temperatures was small.
Only in the Murray Darling Basin did El Niño make it more likely that the October 2015 heat would be a record. El Niño also played a small but notable role in the dry October in Tasmania.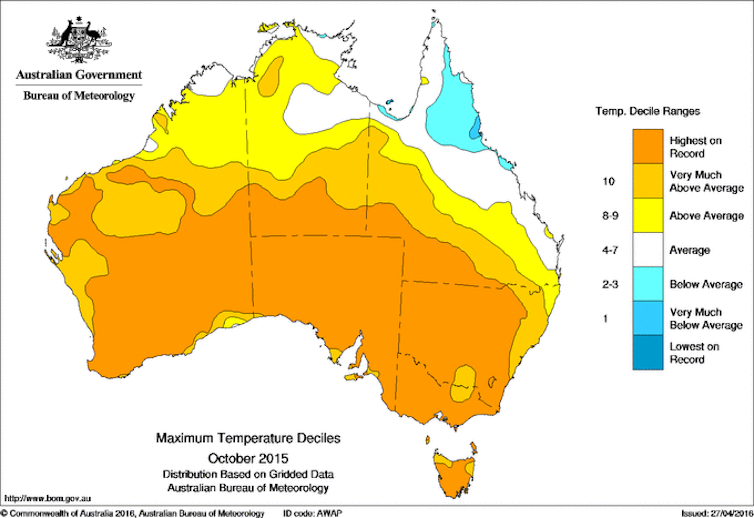 The hottest October
Although record-high spring temperatures might not make you sweat as much as a summer heatwave, ecosystems and agriculture can be susceptible. October 2015 was 2.89°C warmer than the previous hottest October in 2014, beating the margin set by September 2013, which was 2.75°C warmer than the previous hottest September.
Even before October 2015 was over, Mitchell Black and David Karoly at the University of Melbourne reported that human-induced climate change played a strong role in the excessive October heat.
The first paper (chapter 23 in the annual review) explains this further. Using the citizen science Weather@home ANZ system, the researchers analysed thousands of simulations of the world's climate of 2015, generated on home computers (you can donate your computer power here).
To find out whether climate change played a role, some of those simulations included the observed ocean temperatures of 2015, while some included ocean temperatures as if human-caused climate change had never occurred.
According to this method, climate change made breaking the October record four times more likely compared to a world without climate change.
The second paper (chapter 24 in the review) backed this up. This study used the Bureau of Meteorology's seasonal forecast system to compare the real world to a world with less carbon dioxide in the atmosphere. The researchers came to exactly the same conclusion: rising carbon dioxide levels made a record October four times more likely.
This second study also found that the atmospheric conditions – the series of high and low pressure systems that shift heat from inland Australia towards the south – were more important in driving the extra heat than the extreme global ocean temperatures.
If these weather systems had occurred in a low-CO₂ world, it would still have been an extremely warm month. But for October 2015, climate change increased the temperature by an extra 1 degree.
Driest October for Tasmania
In October 2015, Tasmania received only 21mm of rainfall, just 17% of its normal amount. It was much drier than the previous driest October in 1965 (in the era with reliable record, when the state received 56mm). This was part of the driest spring on record, and a dry and warm run of months through spring and summer.
This run of warm and dry months had major impacts on agriculture and hydroelectricity, and helped to set up a catastrophic fire season.
Rainfall extremes can be complex, and it is generally much harder to figure out what caused them than temperature extremes. So the third Australian study (ch. 25 in the review) used two different methods to compare October 2015 to the previous record.
The results showed that El Niño did affect the October climate, but human-caused climate change also played a small but significant role. Climate change probably increased the chances of Tasmania having its driest October by 25-50%.
The record-dry October appears to be linked to higher atmospheric pressure in a band around the whole southern hemisphere, which is consistent with trends over recent time.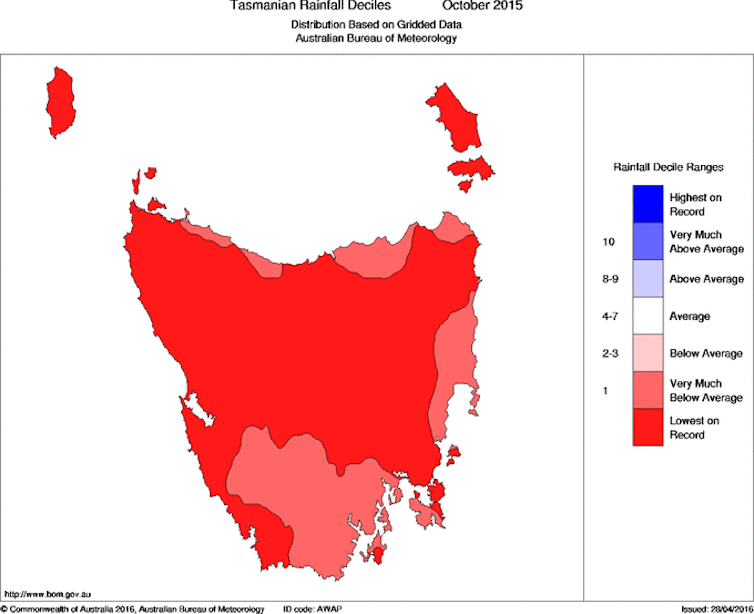 Climate change is altering our extremes
More extreme events and more broken climate records are causing many people to ask whether climate variability or climate change is to blame. But of course it is never just one of these; it is always a combination of both.
For the extreme October of 2015, while short-term weather patterns and the El Niño contributed to the extremes, breaking these climate records would have been substantially less likely without human-induced climate change.
Climate change has already altered the extreme weather we experience in Australia and will continue to do so over the coming years.
---
David Karoly, Mitchell Black, EunPa Lim and Harry Hendon all contributed to the research on which this article is based.