Winter hasn't felt too wintry yet in much of Australia. Most of us have have had more sunshine, higher temperatures, and less rainfall than is normal for the time of year. In fact, Australia just had its warmest average daytime maximum temperatures for July since records began in 1910.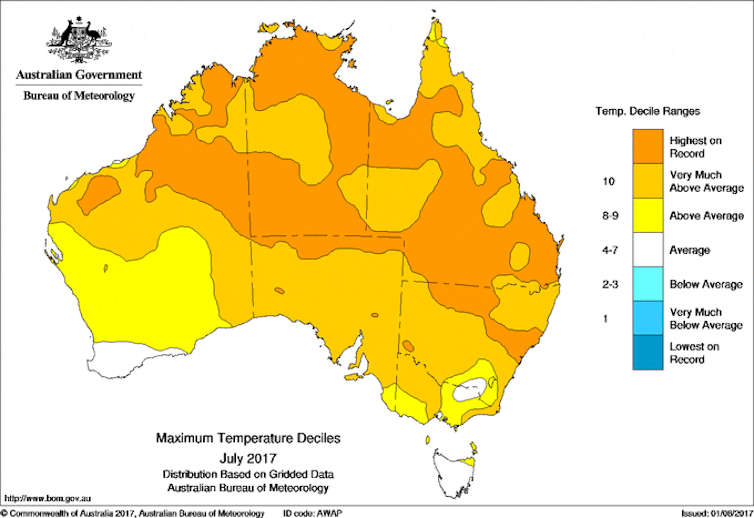 The north and centre of the continent saw the biggest temperature anomalies as Western Australia, the Northern Territory and Queensland experienced record warm daytime July temperatures. Only the southwestern tip of Western Australia and western Tasmania had slightly below-average daytime temperatures.
Southern Australia was again very dry as the frontal systems that usually bring rain remained further south than usual.
---
Read more: Winter heatwaves are nice ... as extreme weather events go
---
For most of us, warm and dry winter conditions are quite pleasant. But with drought starting to rear its head and a severe bushfire season on the cards, some cooler wetter weather would be helpful to farmers and fire services across the country.
What caused the unusual warmth?
Often when we have warmer winter weather in Australia it is linked to El Niño conditions in the Pacific or a positive Indian Ocean Dipole. Both of these Pacific and Indian Ocean patterns tend to shift atmospheric pressure patterns in a way that brings more stable conditions and warmer, drier weather to Australia.
This year, however, neither El Niño nor the Indian Ocean Dipole is playing a role in the warm weather. The sea surface temperature patterns in the Pacific and Indian Oceans are close to average, so neither of these factors is driving Australia's record warmth.
A clear human fingerprint
Another factor that might have influenced the July heat is human-caused climate change.
To assess the role of climate change in this event, I used climate model simulations and a standard event-attribution method. I first evaluated the climate models to gauge how well they capture the observed temperatures over Australia during July. I then computed the likelihood of unusually warm July average maximum temperatures across Australia in two groups of climate model simulations: one representing the world of today, and another representing a world without human influences on the climate.
I found a very clear signal that human-induced climate change has increased the likelihood of warm July temperatures such as the ones we've just experienced. My results suggest that climate change increased the chances of this record July warmth by at least a factor of 12.
July heat is on the rise
I also wanted to know if this kind of unusual July warmth over Australia will become more common in future.
I looked at climate model projections for the next century, and examined the chances of these warm conditions occurring in periods when global warming is at 1.5°C and 2°C above pre-industrial levels (we have had roughly 1°C of global warming above these levels so far).
The 1.5°C and 2°C global warming targets were decided in the Paris Agreement, brokered in December 2015. Given that we are aiming to limit global warming to these levels it is vital that we have a good idea of the climate we're likely to be living in at these levels of warming.
I found that even if we manage to limit global warming to 1.5°C we can expect to experience such July heat (which is record-breaking by today's standards) in about 28% of winters. At 2°C of global warming, the chances of warm July temperatures like 2017 are 43% for any given year.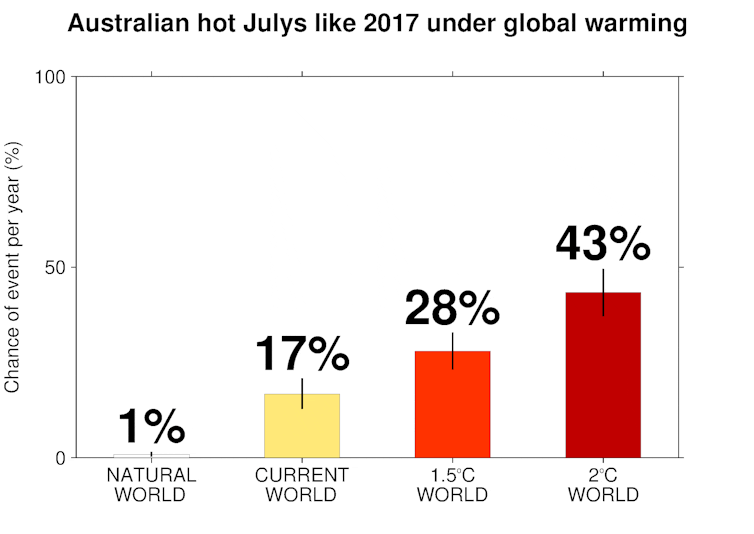 Given the benefits of fewer and less intense heat extremes over Australia at lower levels of global warming, there is a clear incentive to try and limit climate change as much as possible. If we can reduce our greenhouse gas emissions and hold global warming to the Paris target levels, we should be able to avoid the kind of unusual warmth we have seen this July becoming the new normal.