The article was co-written with Peter Borchers, founder Hub:raum, and Moyra Marval, PhD candidate at ESCP Europe.
---
Like start-ups and business incubators, corporate accelerators have had the wind in their sails. However, the vast differences between start-ups and larger corporations can make collaboration a challenge. In an article published in the Journal of Business Strategy, we examine the experience of one of the very first corporate accelerator programs in Europe to deduce potential success factors.
Accelerators have become key players, and companies are interested
According to the "Global Accelerator Report" by Gust, in 2016 $207 billion dollars ($192 in 2015) were injected in 11,305 start-ups (8,836 in 2015) by 579 accelerator programs (387 in 2015). While traditional business incubators generally take no equity, are often government-funded and focus on certain industries or technologies, start-up accelerators, also known as seed accelerators, are typically privately or publicly funded and focus on a wide range of industries. Unlike business incubators, the application process for start-up accelerators also is open to anyone, and is more competitive.
The report also pointed out the growing ties between accelerators and corporations, with now about 52.1% (53.7% in Europe) of all accelerator programs being at least partially funded by corporates. Furthermore, 67.2% (66.8% in Europe) of all accelerator programs hope to generate revenues by selling services to corporates. As writes report co-author Miklos Grof, the co-founder of Fundacity, Campus Inc and Nosso Capital:
"On the one hand, this is because corporations are discovering that accelerators are an efficient and effective way to engage with start-ups. On the other hand, accelerators understand that corporations can help them fund operations in the short-to-medium term (exits are often far out). They improve the prospects of their portfolio companies that can potentially sell to, raise funds from, or be acquired by these corporations."
As the accelerator industry matures, there is increased collaboration between accelerators and corporations, as indicated by a 2015 study, "Corporate Accelerators: A Study on Prevalence, Sponsorship, and Strategy":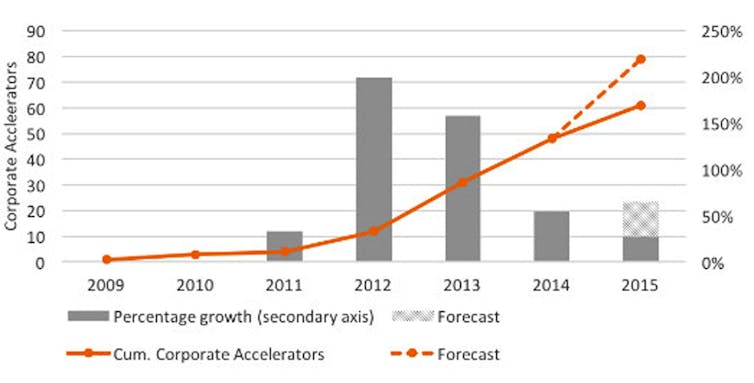 Corporate accelerators, one of a kind
This is all the more true for corporate accelerators, a specific form of seed accelerator which are often subsidiaries or programs of larger corporations that act like start-up accelerators. In contrast to regular seed accelerator programs, corporate accelerators derive their objectives from the sponsoring for-profit organisation(s). According to Corporate Accelerator DB, 105 corporate accelerators were launched globally between 2013 and 2015, 47 in 2015 alone. Half of corporate accelerators launched over these three years were outsourced to a partner such as Techstars, LMarks, or Nest. The other half were directly run by large, established companies like Orange, Microsoft, Axel Springer, Telefonica, Airbus, Wells Fargo, Samsung, Barclays, Citrix, Intel, Cisco, Google, Telstra, AT&T, Coca-Cola, La Poste, Walt Disney, Mondelez and Unilever.
As TechSpark/The Next Silicon Valley founder Nitin Dahad asserted in 2015, corporate accelerators were already taking the place of research and development:
"Orange Fab, Microsoft Ventures, Hub:raum and Wayra [editor's note: Telefonica's accelerator] are just few examples of a wider trend that has been shaping the industry in the last few years. Entrepreneurs and venture-capital firms have come to recognise that corporate accelerators are now beginning to provide a strong node in the overall start-up ecosystem. Corporations encourage entrepreneurship and innovation through the community of the accelerator, and filter the most viable and promising new ideas".
Maybe so, but why do companies do that and why do start-ups join them, as they might fear that their ideas get stolen or used by the company? Is the companies' main motivation really the threat of digital disruptors?
A match made in heaven – or in hell?
Corporate accelerators can clearly fulfil a purpose for both the corporate and the entrepreneur ecosystems, but it's not that simple: as Tobias Weiblen and Henry W. Chesbrough wrote in a 2015 article in the journal California Management:
"When it comes to agility, start-ups have an edge over large corporations – whereas large corporations sit on resources which start-ups can only dream of. The combination of entrepreneurial activity with corporate ability seems like a perfect match, but can be elusive to achieve."
Corporate accelerators have faced criticism, even been called an oxymoron, as they might be less effective as seed accelerators because of their "pernicious influence", as Canny Crichton wrote in a 2014 article in TechCrunch:
"Corporate accelerator programs have the ability to connect founders to interesting networks of customers, but they also have the potential to deeply harm the early product thinking of entrepreneurs. Care is needed to ensure that these programs are accelerating start-ups, and not the corporations themselves".
To Thomas Kohler, corporate accelerators offer a potent approach to nurturing innovations from entrepreneurial ventures. Writing in Business Horizons, he said:
"However, the vast differences between corporations and start-ups make collaboration a challenge. Corporate accelerators need to be designed effectively to add value for start-ups and create innovation benefits for the company."
For his work, Kohler interviewed 40 managers and participants of corporate accelerators. In our research, we describe one specific program in depth to understand its value-adding determinants to early stage ventures and deduct key success factors. For five years we worked closely with the management of Hub:raum, the first corporate accelerator in Germany and one of the pioneers in Europe. Founded in 2012, it enables and encourages the innovation transfer from start-up world to Deutsche Telekom, creating business opportunities for both sides. More than 200 start-ups at sites in Berlin, Krakow and Tel Aviv have been supported, and direct investments were made in more than 20 of them.

What the case study reveals
The example of Hub:raum is telling because of its success, and the research's main findings could help start-ups and large firms work better together and thereby enjoy more benefits:
First, while in the beginning these programs' objectives varied considerably (attracting talent, image, good place to work, PR, innovation), there now is a a growing focus on business development goals.
Second, several areas of conflict between the start-ups and the corporate sponsor can occur. They are mainly due to:
Different speeds in the decision-making process

Evolving strategy both at company level and start-ups level

Wrong expectations
Finally, to manage those challenges and avoid conflict, it is important to:
Set transparent goals with a long term focus: It is important that there is a large consensus within the established company on the overall objective of the initiative. At Deutsche Telekom, they decided to set up a set of different formats, as described in the JBS article, with the goal of evaluating ventures, for further investments and future partnerships as part of the process.
Moreover, focusing in a long-term time horizon is highly important. Everybody involved should be aware that a large number of startup projects fail and that a corporate accelerator program might not be able to reverse this. Counting the number of successful or failed startups will, therefore, always have the danger of misinterpreting the failure of one project with the failure of the initiative.
Recruit an independent accelerator team that views themselves as advocates for the start-ups: At hub:raum, many of the managers have a first-hand understanding of the specific issues associated with developing startup business. These corporate teams see themselves first and foremost as advocates of the startups and a neutral partner which goes as far as protecting the startup from the corporate if required

Secure a large and committed external network: Providing an easy and frictionless access to this expertise is, therefore, a key asset for a good acceleration program that is attractive for high-quality startupsAt hub:raum many mentors are from outside Deutsche Telekom and constitute successful founders themselves and valuable experts within their respective fields such as specific technologies, legal, human resource, online marketing and branding.

Set long-term objectives and performance indicators, and measure accordingly

Secure top-management backing
The Hub:raum case clearly shows that a fruitful coexistence and collaboration between the start-ups and the major business units can exist. While connecting the two worlds of start-ups and established large organisations is often tricky, the potential benefits are also big…