Fairfax Media reported today that 14 players from the Cronulla Sharks NRL club may be suspended by the Australian Anti-Doping Agency (ASADA) for the alleged use of a substance called thymosin beta-4 (TB-4), during the 2011 season.
At this stage, according to the media, it's believed the players' use of this substance (a naturally-occurring peptide) was inadvertent, and the players involved – who have not been named – may be offered reduced six-month bans (as opposed to two years) for their use of performance-enhancing drugs.
So what, exactly, is TB-4, and how does it tie into sports doping?
The beta-thymosins are a family of proteins, and there are currently 16 known versions in that class of compounds – among them TB-4.
TB-4 has been found naturally in human blood platelets, white blood cells, the thymus gland and the spleen. Because of its naturally high concentration in the human body and its ubiquitous distribution, it's believed to play an important role in cell survival, as well as in the repair and regeneration of damaged tissue.
Is it doping?
In last month's Australian Crime Commission report into organised crime and drugs in sport, thymosin was listed as a substance used in injury recovery, but the report seemed to be conflicted in terms of thymosin's legality in sport.
The ACC report listed it as an unregulated substance that is prohibited under section S2 of WADA's list of substances prohibited in-competition.
But the report also referred to it as a substance prohibited only if "subject to the form used" – a statement on legality which presumably (but not clearly) refers to how the substance is administered (intravenously, by intramuscular means, or orally).
TB-4 is not included as a specifically-named substance – in the same way as, say, growth hormone (GH), insulin-like growth factor-1 (IGF-1) and fibroblast growth factors (FGFs) – but would fall under the "catch-all" clause in the list that states:
as well as any other growth factor affecting muscle, tendon or ligament protein synthesis/degradation, vascularisation, energy utilisation, regenerative capacity or fibre type switching and other substances with similar chemical structure or similar biological effect(s) …
I have written previously on the issue of inadvertent doping and how many athletes often have very little knowledge of the legality of substances that they are using.
None of which is surprising, given the complexity of the guidelines.
Under the current World Anti-Doping Agency (WADA) Code, a substance or method is prohibited and considered doping if WADA determines it meets any two of the following three criteria:
Medical or other scientific evidence, pharmacological effect, or experience that the use of the substance or method represents an actual or potential health risk to the athlete.

Medical or other scientific evidence, pharmacological effect, or experience that the substance or method has the potential to enhance or enhances sport performance.

Determination by WADA that the use of the substance or method violates the spirit of sport.
So, to determine if TB-4 should fall under the list of prohibited substances, it can be evaluated here based on the following criteria: health, performance-enhancing and spirit of sport.
Health
Based on US Food and Drug Administration (FDA) recommendations and various guidance documents developed by the International Conference of Harmonisation, 23 nonclinical studies have been performed to date that demonstrate the safety of TB-4 for its current and planned uses in humans.
In addition, in the Phase 1 clinical trial in healthy volunteers using a randomised, double-blind, placebo-controlled single- and multiple-dose Phase 1 clinical trial, the safety and pharmacokinetics of the intravenous administration of TB-4 was evaluated. From this, intravenous administration of TB-4 appears to be safe and well-tolerated by all subjects with no dose limiting toxicity or serious adverse events reported.
Performance-enhancing
To date, TB-4 has not been evaluated in a sports-performance context. But this is not unusual since substances are often evaluated for clinical use and not for sports performance-enhancement per se.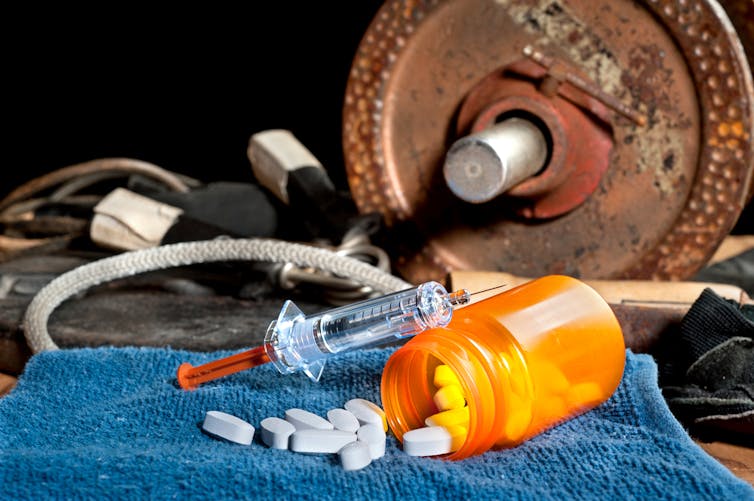 Recombinant EPO has allegedly been used in cycling for a long time, and only recently have there been more studies conducted on its sports performance-enhancing effects.
Even with some studies available in the sports context, most are still conducted on healthy, trained individuals and not on athletes, because of the ethical/legality issue of strict liability imposed on all athletes.
So any inference would have to be viewed from the perspective of how TB-4 affects clinical patients and how this can be extrapolated into the sports context.
TB-4 has so far shown promise in healing in patients with pressure ulcers and venous ulcers. It has also shown promise in patients with corneal wounds and heart attacks.
At this time, the use of TB-4 is definitely at the forefront of clinical medicine and touted for use in treating injurious diseases and conditions in humans, involving, among other things, those of the skin, eye, heart and brain/spinal cord.
Clinical trials have established TB-4's safety in humans but its use as a sports performance-enhancer in healthy (and injured) athletes is uncharted territory. Based on its biological function, it would certainly have the potential.
Spirit of sport
"Spirit of sport" is the most nebulous concept within the WADA Code and many academics disagree with its use in practice. Certainly there is a perceived inconsistency in its current application towards various substances and methods.
One potential precedent that can be used to judge TB-4 by this spirit of sport criterion is PRP (platelet rich plasma), which involves the injection of the patient's own platelets into areas of injury to assist in recovery.
This technique is currently not banned by WADA and this has been specifically addressed by the International Olympic Committee.
Given TB-4 is a component found in human platelets, it is conceivable that part of the healing process of PRP may be attributed to TB-4.
So based on the current WADA criteria, TB-4:
does not – currently – seem to have any major health effects to prevent its use in clinical trials

may have potential to be performance-enhancing but only through its healing/recovery properties

needs to be assessed – with regards to the spirit of sport – in relation to other similar substances, such as the current acceptance of PRP.
Again, one must consider the issue of inadvertent doping, and what athletes actually know, given many athletes may have had only a 15 minute Powerpoint presentation on the topic before signing a declaration saying they have been trained on anti-doping rules.
Also, could the the NRL use a similar "get-out clause" as is reported for the AFL clubs in this instance?
The clause may allow the players to escape punishment under "exceptional circumstances" if it can be proved they were given performance-enhancing drugs against their consent.
How ASADA interprets the specific "exceptional circumstances" examples given in WADA's code in Article 10.5.1 remains to be seen.
Further reading:
Essendon faces a doping investigation … but what are peptides?