Gay bars and clubs have been at the heart of LGBT culture in the modern era. But where chemsex has received much of the attention in recent months, voices within the LGBT community have also raised concerns about levels of alcohol consumption. Writing in the oldest and largest LGBT publication in the US, the journalist Tyler Curry has argued for a move away from this bar culture. He pointed out that LGBT people are more likely to drink, have higher rates of substance abuse and are more likely to continue drinking into later life than the general population.
Similar concerns have been raised in the UK. Lesbian, gay and bisexual populations are more likely to drink – and drink excessively – than the general population, according to research by gay rights group Stonewall. As many as 34% of gay and bisexual men in England reported binge drinking in the last week (more than eight units in a session), compared to around 18% of men in the general population. And 29% of lesbian and bisexual women reported drinking more than six units in a single session compared to around 12% of women in the general population.
In this context, we are presenting new research at the Scottish parliament on December 15 that explores how LGBT people perceive and experience drinking in the country. Scotland has a general reputation for excessive drinking, but we aimed to look at a group where surprisingly little is known about these issues. We asked groups of friends aged 18 to 51 to tell us about their experiences with alcohol, deliberately focusing on people who saw themselves as "normal" or "social" drinkers rather than those who thought they drank excessively.
'Get hammered and boogie'
Most participants agreed there was a heavy drinking culture on the gay scene, coupled with a lot of peer pressure. The reasons they gave included the expectation that everyone would be drinking heavily; that it was cheaper than straight venues; that it was associated with big nights out and celebrations; and the need to drink to have the confidence to go out on the scene.
Here are a few of their comments:
It's a culture thing to go on the gay scene [and] get drunk, so maybe people don't realise they have an issue with alcohol.

If (I think) about being gay and on the scene, I was always pissed.

It's a bit too manically drunk for my liking.

The only thing to do is get hammered and have a boogie.
The participants were wary of LGBT people as being branded as drinkers, though. They recognised they lived in a country with a heavy drinking culture which influenced people whatever their sexual orientation or gender identity. What many thought was different was that LGBT people were more likely to use bars and clubs because they had more limited options to socialise – and were less likely to have their drinking restricted by parenthood.
The drinks industry is well aware of links between drinking and identity. Many brands have become adept at positioning themselves as "gay friendly". Bud Light sponsors New York City Pride, for instance, while brewer SAB Miller has sponsored Pride in London. Smirnoff and Absolut vodka both ran social media campaigns supporting equal gay marriage. Our participants viewed drinks promotion on the LGBT scene as even heavier than elsewhere.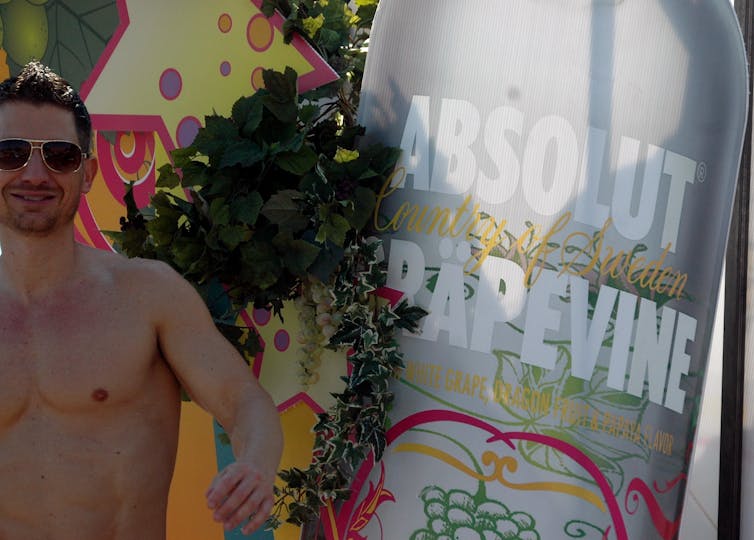 Service barriers
Our interviewees saw a number of barriers with alcohol support services. They thought the service providers tended to assume everyone was heterosexual and gender-assigned at birth. They saw the services as macho and intimidating for people who weren't heterosexual men, and didn't see self-help groups like Alcoholics Anonymous as safe spaces. None of our participants seemed to be aware of the existence of LGBT AA groups.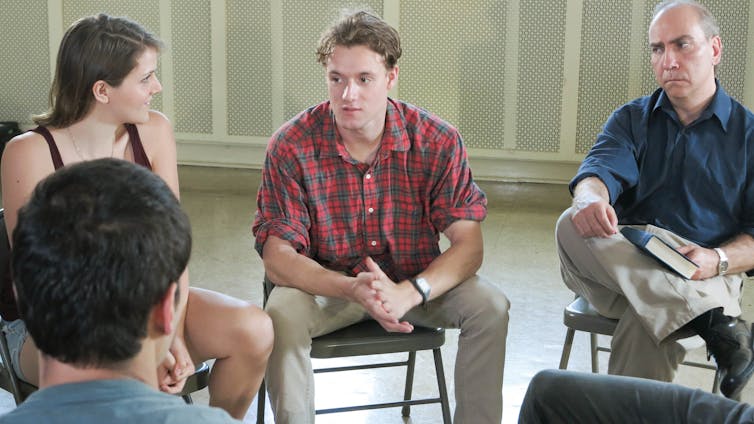 Our findings hopefully provide some useful background to drinking in the gay scene. If gay people are wary of alcohol services and AA groups, the providers need to look at how inclusive they are perhaps reconsider their approach. When it comes to making sure that there are places to socialise where it is acceptable to drink moderately or not drink at all – and it is vital that LGBT people are not left out of the equation.