All Australian residents have access to Medicare, so why do half the population also decide to take out private health insurance? And what do they get out of it?
The biggest users of private health insurance hospital benefits are 60- to 79-year-olds. Women in their 20s and 30s also have a higher claim rate for maternity care.
Payments for extras is spread across all age groups, with the biggest component going to dental care, followed by optical, physiotherapy and chiropractic.
Choice, cost and public service
Our research shows that some people purchase private health insurance because they want more control over their health care, choice about the services they use and choice of doctor.
They perceive that private health insurance gives them benefits including shorter wait times, choice of the timing of appointments, better quality of care and security or "peace of mind".
As one of our interviewees responded:
As a private patient I can … choose my treating specialist and I can say I'm available on these days, how does that work for you, rather than sitting on the wait list. I mean, it costs out of pocket, but I am lucky enough to be in a position that cost isn't a huge barrier for me.
Another reason Australians commonly take out private health insurance is to avoid financial penalties.
Australia's tax system encourages high-income earners to take out private health insurance as well as paying the 2% levy to help fund Medicare and the National Disability Insurance Scheme.
If they do not take out private health insurance, they pay a tax penalty called the Medicare Levy Surcharge: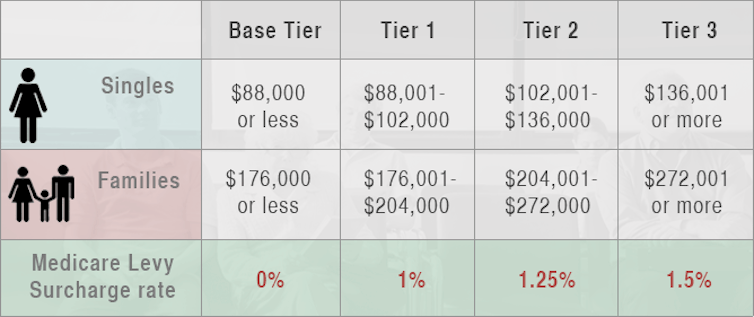 Some under-31-year-olds take out private health insurance to avoid paying a lifetime health cover loading which takes effect by July 1 following their 31st birthday. If they take out private health insurance after turning 31*, they pay an extra 2% for every year delay.
People also take out private health insurance to access subsidies for allied health services such as visits to the dentists and the cost of glasses, which are not covered under Medicare.
Finally, our research shows some Australians purchase private health insurance because they perceive that this will reduce the burden on the public system:
We used our health fund, because we wanted to help the hospital out.
Hidden costs and surprises
Having private health insurance does not necessarily give people greater choice or access to health care. Access may be limited by what is available in the local area, or the ability to pay additional out-of-pocket costs.
Our research indicates that some people don't know the type of policy they have, and what it covers. They may be paying too much or are not covered for procedures that they do need.
Consumers are also hit hard by the "unknown" or "hidden" costs of private services that are not covered in full by insurance. As one interviewee told us:
I probably didn't research it properly to know what I'd be covered for, so I was surprised that I wasn't covered, but I shouldn't have been … Yeah I paid around almost A$5,000 for the surgeon and surgeon's assistant and [am] only going to get the Medicare cover for that. Then also an anaesthetist … my private health insurance won't cover that either.
Gap payments may include costs for the hospital stay, doctor's fees, procedures, equipment and prosthesis. But there is very little information for consumers about the gap they're expected to pay. The onus is on the patient, before they go to hospital, to ask their surgeon to estimate what their charges will be, and ask their health fund how much is covered with their policy.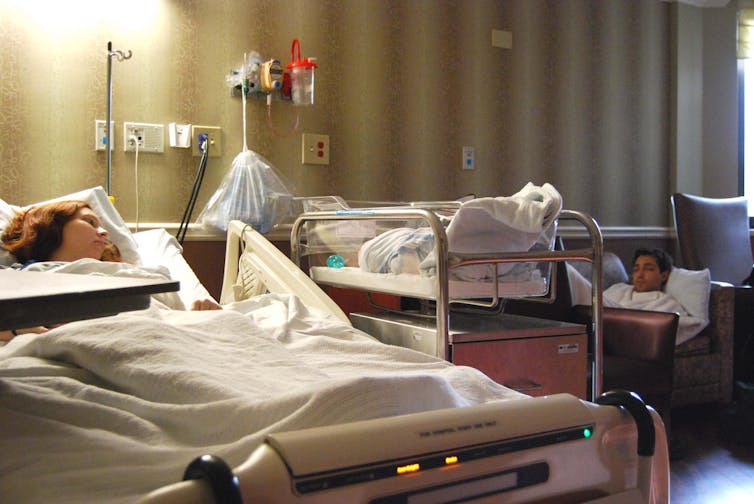 Out-of-pocket expenses for hospital benefits average A$285.27 per episode, and the average out of pocket cost per episode covered for ancillary benefits A$46.47 (in the quarter to September 2014).
Out-of-pocket costs will vary greatly depending on what hospital they choose, the specialist they see, and their policy and excess, as funds will have different arrangements with different hospitals. Doctors are free to set their own fees and decide on a case-by-case basis whether to use an insurer's gap cover arrangement.
This means some consumers feel that they pay more than once for their health care needs. As one respondent said:
I think sometimes it's unfair. Because we pay a Medicare levy, we pay private health insurance, and we pay a gap, so we pay three times.
Public or private?
Some people with private health insurance choose not use it, and instead access public services.
Many of our participants had positive experiences in the public system, particularly in emergency situations, for low-risk procedures or when there were no waiting periods.
Some thought the quality of care in both public and private hospitals was the same, or that choice of doctor or a private room was not certain.
Others, who accessed a public hospital as a private patient, were surprised that they did not receive a better level of care:
We were still in a mixed room, shared room. We had no choice about beds, we had no choice or any of those options. The level of care was the same.
Where people are able to choose – and are able to pay the out of pocket expenses – factors such as waiting periods influence their decision to have these procedures done privately.
People waiting for total knee replacements, for example, are likely to experience pain and restricted mobility, which can reduce their quality of life. But the procedure has one of the longest public hospital wait times: a median wait time of 196 days, with 12% of patients waiting over one year.
This drove a 41% increase in private knee replacement surgeries from 2011-12 to 2012-13.
Is it worth it?
Government rebates for private health insurance are now means tested. So, rather than everyone with private health insurance receiving the 30% rebate, the rebate is tiered: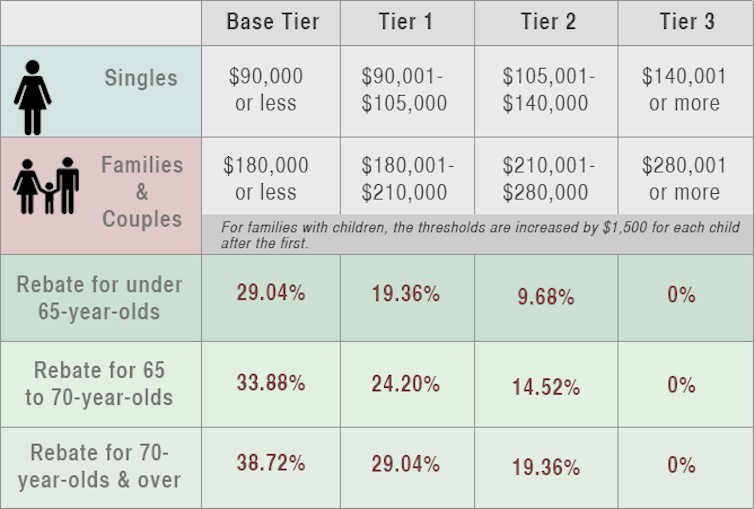 The mix of levies, surcharges and rebates can make it difficult for consumers to judge the true cost and value of their private health insurance policy or whether they may be better to rely on the public system to meet their health needs.
* This article has been updated to reflect that people pay the lifetime health cover loading when taking private health insurance out after their 31st birthday.
---
Click on the links below to read the other instalments of Private Health Insurance in Australia:
Can private health insurers justify a 6.2% premium increase?
INFOGRAPHIC: A snapshot of private health insurance in Australia
Private health insurance 'carrot and stick' reforms have failed – here's why
If the government wants price signals, it should stop supporting health insurance
Allow Aussies to opt out of Medicare and rely on private health insurance