Nico Rosberg's reign as Formula One world champion will be a short one. The German driver shocked the world with his decision to retire from the sport just after clinching the title at the season-ending Abu Dhabi Grand Prix. It was a jaw-dropping decision – but at its heart is a clear rationale that makes perfect sense.
It's not only the chance to defend his title that Rosberg is turning his back on. He also had the chance to outdo his father, Keke, who won his sole title in 1982. Rosberg also leaves open a seat in undoubtedly the best performing car on the grid. German marque Mercedes was no doubt looking forward to placing the champion's race number on a supposedly German car (made in Brackley, UK) driven by a supposedly German driver (who also holds Finnish passport).
His decision leaves Mercedes with the thorny and costly task of filling an empty seat at a time when the strongest drivers are already under contract with competing teams. The most recent rumours point to two-time champion Fernando Alonso – which would represent a puzzling outcome for many as he affirmed to be committed to McLaren-Honda.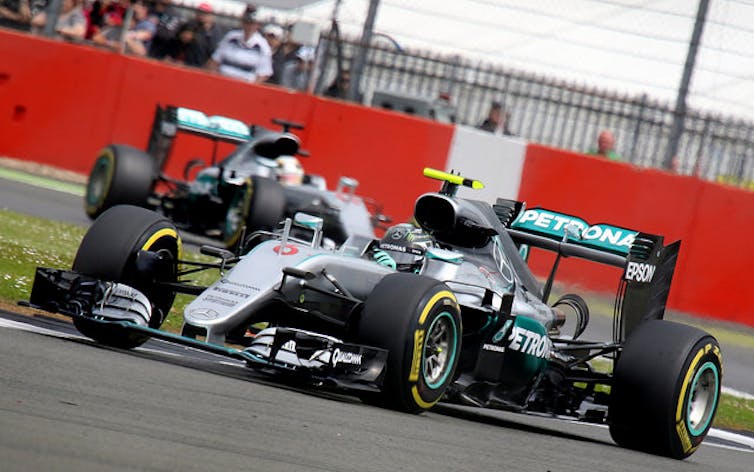 Cornered
Rosberg has publicly explained that he now needs to prioritise his personal life and the family that supported him through a painful struggle to achieve a childhood dream. But still the shock has been palpable. Most speculation after his announcement has focused on the bruising tussle with his team mate and rival Lewis Hamilton, who was progressively eroding the points gap as the season drew to a close.
In the midst of all this soul searching, research I am conducting at Cass Business School with Simone Santoni, Gino Cattani and Alessandro Marino shows Rosberg's decision should not be surprising at all.
Organisations increasingly believe that equipping talented employees with comparable means and setting them into an internal fight will enhance their individual performance and thus increase returns for the entire organisation. But this might be true only in the short term. Such a strategy will offer long-term return only with drivers who can cope with such pressure, while it might push the other to move to another team with less pressuring conditions and internal fights.
In our study we are exploring the conflict arising in teams with high-status individuals – we identified their effects on individual performance and inter-team mobility (that is, the probability of a driver to move to another team).
Road hogs
As it turns out, Formula One is a pretty good source of evidence in this area, thanks to the fairly common practice of fuelling antagonism between two high-status drivers in the same team. Data from 1981-2015 show that this can backfire.
Besides the most egregious situations, when teammates stop collaborating and occasionally drive each other off the track (such as between Rosberg and Hamilton in the Belgian Grand Prix of 2014, putting drivers into direct competition can significantly increase the chances of the drivers leaving the team. Rosberg's decision to leave F1 after a championship represents an extreme case. Yet, there are precedents. Before him, Mike Hawthorn, Jackie Stewart and Alain Prost retired immediately after securing a world title (not necessarily for the same reasons as Rosbeg). Nigel Mansell also left F1 after winning, but continued racing in Indycar.
However, the most common effect of intra-team conflict (no matter who comes out on top or the car's ability to compete) is that one of the two drivers will move to another team where chances of intra-team conflict will be lower. The head-to-head conflict between Alain Prost and Ayrton Senna at McLaren (1988-1989), or more recently between MotoGP drivers Valentino Rossi and Jorge Lorenzo at Yamaha (2013-2016), offers the most likely explanation for one of the two walking away from the team. In both cases, this happened despite having a competitive vehicle. This is further proven by the fact that in 1993 Prost, for example, placed a contractual veto on Williams to stop them hiring Senna as his teammate.
Braking point
Fans struggle to understand why Rosberg would go for retirement now, turning down the most competitive car in F1 and the chance to defend the title. But these factors can work in the opposite direction to that which you might expect.
First, in organisations pressure for future performance is usually determined by prior performance expectations. Through our F1 research we infer that, by winning the world championship, expectations on Rosberg would increase rather than decrease, and so would job pressure – he can't improve his ranking, only match it, after all.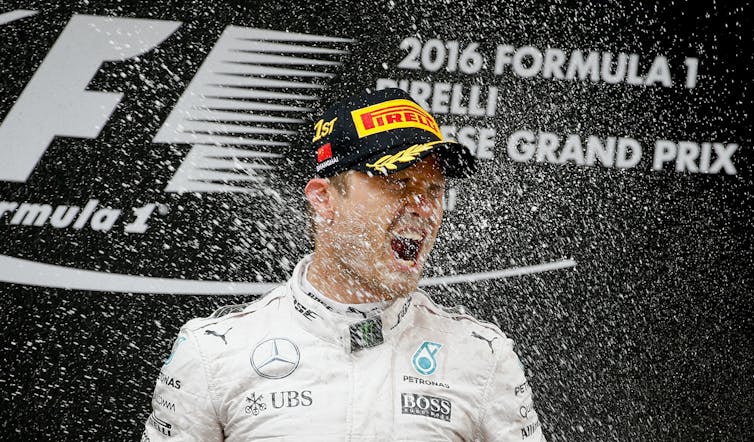 Secondly, higher stakes correspond to higher stress. By competing with the best car, Rosberg is effectively forced to fight for the championship again – there can be no honourable failures or plucky 5th places in such a dominant Mercedes. In other words, the likelihood of facing another incredibly stressful season is higher, particularly when the other teammate is likely to continue as a direct and powerful competitor. When both top drivers race in the same car the skill gap between drivers is more evident, which sharpens criticism of the laggard.
There is one final and important point. Much has been made of Hamilton's tactic of slowing up the final race of the season in an attempt to engineer a more difficult race for Rosberg. There are questions of the ethics in that, but for our purposes it showed something more worrying for Rosberg. When his team mate felt able to openly ignore team orders it demonstrated that the team has little or no real control over his conduct.
It meant that Rosberg would be heading into the 2017 season with little or no confidence in the ability of Mercedes management to soften the internal competition he fears. Whoever is going to squeeze in the Mercedes seat next year had better have broad shoulders.