YouTube channels belonging to American content creator Ruby Franke were recently scrubbed from the site after the YouTuber was charged with child abuse. Franke was known for making parenting videos on her YouTube channel, 8 Passengers. Her videos frequently featured content on the family and her six children.
Police in Utah said the charges were laid after Franke's 12-year-old son climbed out of the window of a home and went to a neighbour to ask for food and water. Police said the boy and his younger sister were found emaciated and required hospitalization.
As blogs and live journals gather internet dust, vlogging has emerged as a new source of intimate entertainment, and for creators, potential income. However, they also raise serious questions about exploitation and the privacy rights of children.
What is vlogging?
Vlogs are videos, usually published through social media, that share the creator's personal thoughts and experiences. Family vlogs like Franke's are a popular form of this medium, where parents take viewers into their homes. The content might involve taking viewers along on the family's daily routine. Family vlogging channels upload videos sharing significant milestones, morning routines and preparing for school.
Many might feel uneasy about content creation that showcases private family life. However, at the same time, vlogs might offer families agency and alternative means of making ends meet at a time of stagnant wages and soaring living costs.
Thinking about vlogging as a kind of social reproduction allows us to think through the double-edged sword of content creation. Social reproduction refers to the labour of lifemaking: the day-to-day work of care, education and sustenance. Feminist theorists use this term to think about the ways in which caring labour supports and shapes our social, political and economic world.
Social reproduction is "the fleshy, messy and indeterminate stuff of everyday life." It involves the responsibilities and relationships involved in maintaining daily life.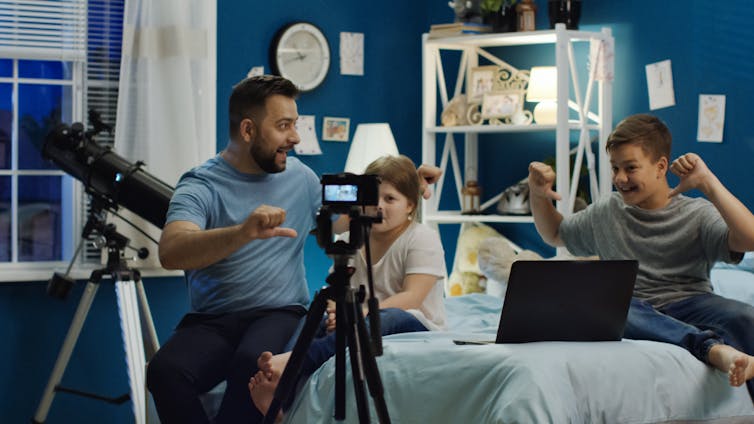 A response to the pressures of parenting
Family vlogging did not develop in a vacuum. Instead, the trend towards "mumpreneurs" emerged from within a care crisis. The cost of living is rising, wages are stagnating, and government benefits do not provide the support families need. Parents — and mothers in particular — are facing significant pressures when it comes to caring for children and the household.
There has been a rise in gender equity in the workforce, however there is still huge inequity when it comes to work in the home. Women are working unprecedented (paid and unpaid) hours, and are often being told they are failing at both.
As a response to these pressures, mothers developed their own online communities to express the highs and lows of parenting. These communities began as "mommy blogs," but have increasingly moved to vlog format over the years.
Family vlogs can offer intimate counter-narratives to the expectations of parenthood. Mothers can share the anxieties and pressures they face and offer support to one another.
Commodifying families
However, there can be downsides to the trend. Many family vlogs are highly curated productions that can perpetuate ideas about what constitutes "good" motherhood, rather than challenge racialized, gendered and classist ideals of motherhood. In this way, vlogs are less about connection and more about commodification.
The implications of this monetization are complex. Performing socially desirable forms of motherhood can reproduce racial, sexual and class-based exclusion around who does and who does not count as a good mother. Dominant ideas of "motherhood" are shaped by heterosexual family structures, and there is a long history of surveilling and disciplining racialized parents.
YouTube creators depend on viewership and subscribers to monetize their content. They also use YouTube advertisements, sponsorships and brand deals to generate income. While some creators can make millions of dollars, most do not. Many are precarious workers with fluctuating incomes determined by YouTube's algorithm.
On the other hand, content creation allows mothers to rebel against economic insecurity by making their motherhood a source of income. While this offers a means of paying the bills, who benefits and who doesn't when a certain version of the family is commodified?
Kids and clickbait: What is the law?
Exploitation is twofold for family vloggers. Firstly, in the United States, parents are considered responsible for protecting their underage children's privacy information and consent. Many influencers live or move to the U.S. for creator funds and better networking opportunities. This can become an issue when parents exploit their children while also being in charge of providing consent.
Secondly, social media algorithms determine whether a video becomes popular on a platform, which prioritizes content that gains the most views.
The algorithms can change without warning, so creators never know if their content will remain popular. If family vloggers choose to stop showcasing their children on their channels, they might lose viewership and priority within the algorithm.
Existing U.S. laws are unequipped to handle this new form of child labour. The Coogan Act attempts to protect the income of child performers, but it does not account for the unique conditions of child social media stars.
Most recently, Illinois is the first U.S. state to pass a law to ensure child influencers featured in monetized videos receive financial compensation. The law will take effect in July 2024, and there is hope that other states will follow suit.
This is a good start, but it is not enough. Policymakers should also look at the steps France has taken to protect child influencers. In 2020, the country passed a law that gives children the right to be forgotten. This means that child influencers can request that the platform removes content featuring them without their parent's permission.
Laws need to include more than financial compensation for child influencers. There need to be regulations protecting children's privacy, rights to have content removed and preventing children from being overworked. There also needs to be a call for greater regulation and transparency of social media algorithms that control and manipulate what is profitable.
Whether it is entertainment, exploitation or employment, family vlogging is a reminder of the complex interconnections between care work and wage work. As the households of strangers stream across our screens, parents and lawmakers must think carefully about the impacts on families and children.