A year and a half ago I gave birth to my first child. A girl named Olive. I'm a writer and a writing teacher so, naturally, our friends and family gave us books.
One after another, we unwrapped picture books and added them to the slightly tattered collection salvaged from our own childhoods. In the early weeks of Olive's life, I spent a lot of time looking through those pages and thinking about how I wanted to raise her and what ethics I felt strongly about passing on to her. Maybe because I was already asking myself these questions, I noticed something in those books.
Very few featured strong, empowering girl leads.
The same thing was noticed by the authors of a new book called Good Night Stories for Rebel Girls (2017) and captured in an accompanying video that has since gone viral.
The video opens with a mother and daughter in a bookshop. Together they remove books from the shelf based on their representation of female characters. First, they remove the books with "zero male characters". (Three). Then, they remove the books with "zero female characters". (Seventy six).
Then, they remove the books where "females don't speak" (One hundred and forty one).
Next they ask, do these characters have dreams or aspirations? They remove all the books where female characters are waiting for a prince. No number is provided for these. No number is needed. The shelf that was still pretty full is now virtually empty.
The video ends with the young girl turning to a bookseller off camera and asking,
I'm interested in Mars … do you have any books about that?
Princesses and rebels
I'm a feminist. I'm not what I'd call an anti-princess feminist. I see no reason to pit myself against the princess as a person. Princess is, after all, a job like King or Prime Minister. I know there are feminist representations of princess characters in books for children (I discuss a few below) but overall, I, like many feminists, object to the princess as a fictional construct.
Why?
Because the princess common to children's literature is virtually always seen through the lens of her desirability, her romantic contribution and subsequent morality. She works best when she makes the prince his best possible self. When she fixes him. Over time, this princess may grow, new stuff gets added in and old sexist stuff gets carted out, but she's still locked to her male counterpart. She's defined by her "love" story. This construction is used as a way to package girlhood (and womanhood too), and in that packaging, the princess creates limits for real girls.
But girls are interested in Mars. Where are the books on Mars?
Halfway through the Rebel Girls video we are introduced to the authors of Good-Night Stories for Rebel Girls, co-founders of Timbuktu Labs, Elena Favilli and Francesca Cavallo. They say they wrote the book as a response to bedtime stories where the female characters had no agency. Its 100 stories are about real women who did extraordinary things.
There aren't any pretty pink princesses in this book, but queens are represented. We read about Nefertiti, Hatshepsut, Yaa Asaantewaa, and Elizabeth I. Inventors, olympians, activists, artists, spies, surgeons, scientists. There are women you would expect to see: Frida Khalo, Jane Goodall, Maya Angelou, and Rosa Parks.
There are women I'd never heard of like the Irish "pirate queen" Grace O'Malley, the Nobel Peace Prize winner Wangari Maathai and the 19th Century physician and feminist Mary Edwards Walker. There are also contemporary girls and women like gymnast Simone Biles, sailor Jessica Watson and dancer Misty Copeland.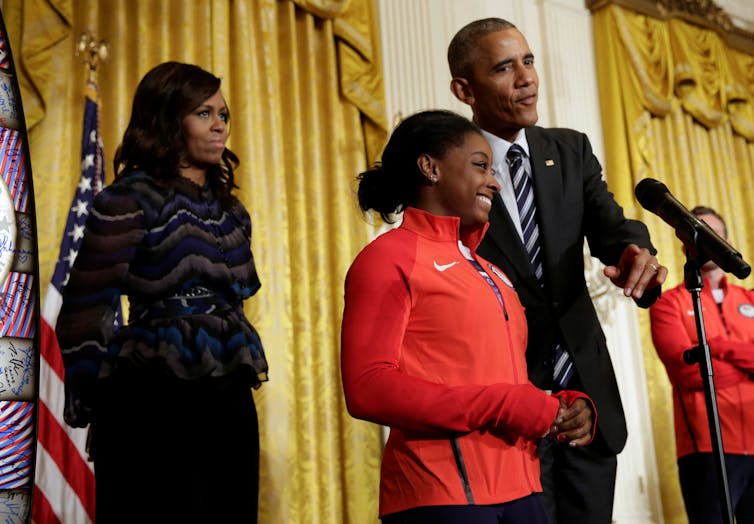 There are a few women missing. I wanted to see feminist Gloria Steinem or former President of Indonesia, Megawati Sukarnoputri. I'd have liked an Australian woman included, like former Prime Minster, Julia Gillard, feminist writer Germaine Greer or author Miles Franklin.
But there's still time and, no doubt, another edition on the horizon.
As a first step, Good Night Stories for Rebel Girls accomplishes what it sets out to do. It takes the frame of the bedtime princess story and populates it with champions, thinkers, artists and activists, but as a social artefact, the book represents so much more. It was funded through Kickstarter to the tune of one million dollars, breaking Kickstarter's record. Favilli and Cavallo originally set out to raise $400,000 to print 100 books but interest soon swelled.
Since Olive was born, I've spent countless hours scouring feminist picture book lists online, stalking A Mighty Girl and Amy Poehler's Smart Girls on Facebook for book recommendations, asking friends, booksellers, googling, and, overall, I've been pleasantly surprised by the number and quality of newish picture books out there for the budding feminist.
Here are some of my favourites…
Feminist princess picture books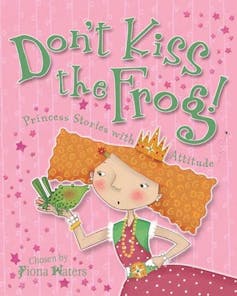 I worked as a bookseller for almost 20 years and if there was one thing I heard daily from mothers, it was that they wanted something other than passive Disney princesses to give their daughters. In Don't Kiss the Frog (2013) by Fiona Waters, Rapunzel would really like to cut off her locks and dye what's left blue. In The Princess and the Peas (2013) by Caryl Hart and Sarah Warburton, "princess" is a phase, a disease. Ordinary girl, Lily-Rose will not eat her peas and so is diagnosed with "Princess-itus". She gets sent to a castle where she trains and works - day in and day out - at being a princess.
Meanwhile, in Ian Falconer's Olivia and the Fairy Princesses (2012), the fashionable, eccentric, Chanelesque Olivia questions what a princess actually is and why she's always dressed in pink, tiaras and fairy wings. Olivia also confronts the "whiteness" of this aesthetic by dressing in princess costumes from around the world and asking why the default for princess isn't one from India, or China. In the end, Olivia decides she doesn't want to be a princess. She'll be a queen instead.
Lots of other girls in contemporary picture books come to a similar conclusion as Olivia. Some don't even see the argument as relevant, or part of the story. These girls are often inventors or scientists.
Feminist science and inventor picture books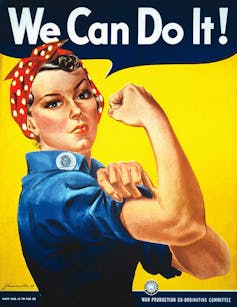 Leading the charge here are Rosie Revere Engineer (2013) and Ada Twist, Scientist (2016) by Andrea Beaty (illustrated by David Roberts). In Beaty and Roberts's series, Rosie Revere is an aspiring inventor and niece of the real Rosie the Riveter. Her classmate, Ada Twist, is a gifted if somewhat mess-making scientist. Another notable book in this category is The Magnificent Thing (2014) by Ashley Spires.
These books position science and inventing as central to the story. The lesson of Rosie Revere Engineer is not that girls should invent, but that you should never let mistakes or failures keep you from inventing. The lesson of Ada Twist, Scientist is not that girls should be scientists, but that parents should accept their children for who they are, no matter how messy it is.
These books don't argue that girls should be inventors and scientists: they suppose they already are.
Feminist activist picture books
The next category arming young girls with heroes are stories (mostly non-fiction) about activist girls, such as the unstoppable Malala Yousafzai. There's Malala: Activist for Girls' Education (2017) by Raphaele Frier and illustrated by Aurelia Fronty, Malala Yousafzai: Warrior of Words (2014) by Karen Leggett Abouraya, illustrated by L.C Wheatley, and a bunch of others detailing her extraordinary story.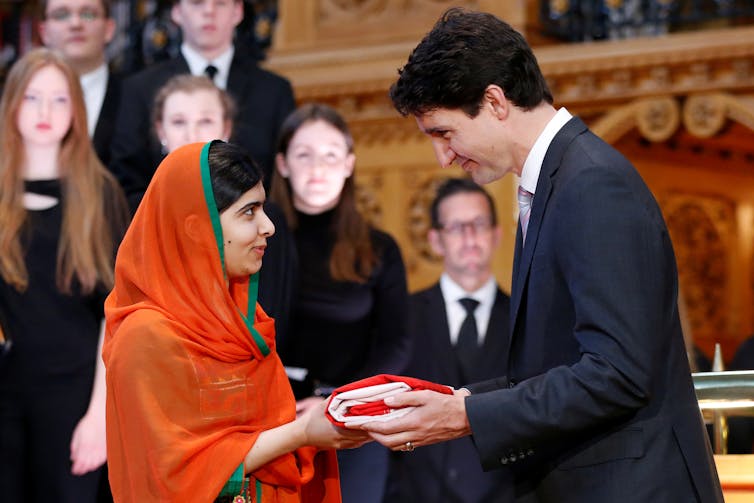 Books about broader activism (such as conservation, segregation, the right to vote) featuring girls or women include One Plastic Bag; Isatou Ceesay and the Recycling Women of Gambia (2015) by Miranda Paul and illustrated by Elizabeth Zunin and The Youngest Marcher; The Story of Audrey Faye Hendricks, a Young Civil Rights Activist (2017).
Feminist political picture books
There is power in the political picture book to reveal the marginalised stories of women in politics, but only space in this article to mention a few. So I'll start (of course) with Hillary (2016) by Jonah Winter, a biography of Hillary Rodham Clinton. Winter has had a number of political picture books published, including one about the work of Gertrude Stein and Alice B. Toklas, and Hillary's daughter Chelsea Clinton has also written a picture book called She Persisted. According to a recent tweet from Clinton, it is about "women who didn't take no for an answer".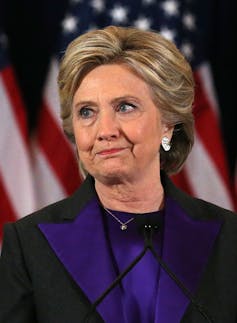 My favourite in this category is, I Dissent: Ruth Bader Ginsburg Makes her Mark (2016) by Debbie Levy and illustrated by Elizabeth Baddeley. I Dissent uses the Notorious RBG to introduce ideas around working mothers, persistence, shared domestic responsibilities and stay-at-home dads. The book explores the language of dissent while showing the (completely lovable) liberal US Supreme Court justice in her real life, thereby positing the girl with a voice as something special, but nonetheless natural.
We can't talk about political picture books without also mentioning Madam President (2008) by Lane Smith. This book follows a little girl (in a flared pantsuit!) as she imagines how she would preside over her country and develops the qualities she will need for the job. Qualities like calmness and wisdom, diplomacy and humility.
Feminist non-fiction/history/biography books
One of my favourite picture books in this category is Amazing Babes (2013) by Eliza Sarlos, illustrated by Grace Lee. Each page introduces us to a famous woman from history with a line such as, "I want the vision of Miles Franklin" or the "compassion and commitment of Mama Shirl". It also includes unusual women such as fashion blogger, Tavi Gevinson.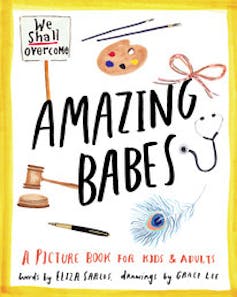 If you want to know more about any of the women in the book you can look them up in the index pages (Hedy Lamarr, I discovered, was an inventor!) This book speaks to a long history of women, and its framing device allows for a clear and deep reading of why each woman is important, and what modern girls can take from their lives. It only has one line per page/per illustration and uses repetition throughout, so it's great for younger readers.
Another recent series Little People, Big Dreams, brings together a writer and illustrator to tell the story of a famous woman. There are six books in the collection - about Frida Kahlo, Marie Curie, Coco Chanel, Agatha Christie, Maya Angelou, and Amelia Earhart - with three more to be published later this year.
A few months ago, meanwhile, I stumbled across a list that introduced me to a treasure trove of recent biography picture books that amplified, uncovered or exposed the stories of women whose work had changed the world.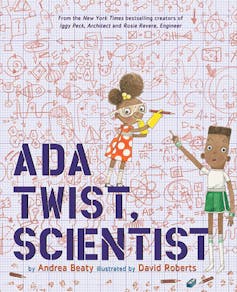 These include books about scientists like, Ada's Ideas: The Story of Ada Lovelace, the World's First Computer Programmer (2016) by Fiona Robinson, Swimming with Sharks: The Daring Discoveries of Eugenie Clarke (2016) by Heather Lang, illustrated by Jordi Solano and Rachel Carson and Her Book That Changed the World (2014) by Laurie Lawlor, illustrated by Laura Beingessnerr. There are also several great collection books for older readers, such as Women in Science: 50 Fearless Pioneers Who Changed the World (2016) by Rachel Ignotofsky, and Fantastically Great Women who Changed the World (2016) by Kate Pankhurst, a descendant of suffragette Emmeline Pankhurst.
How does Australia fare?
Australia doesn't have the same number of overt feminist picture books as, say, the US but that doesn't mean we don't have empowering books for girls, about girl characters.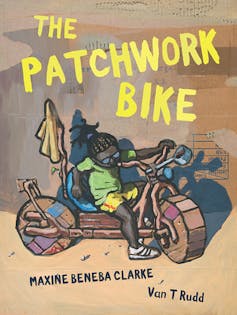 My favourite 2017 CBCA shortlisted book The Patchwork Bike (2016) by Maxine Beneba Clarke and illustrated by Van T. Rudd is a glorious picture book about a girl (and some other kids) living on the edge of the no-go desert. Together the kids build a bike from scraps, while Clarke and Rudd build a story about freedom and creativity and inventiveness.
Another favourite of mine is Molly and Mae (2016) by Freya Blackwood and Danny Parker. This is a story about two very different little girls who meet, become friends, and fall out during a long train ride. It's a sincere and very realistic look at the often complex relationships and power dynamics between girls, set against a magnificent (moving) Australian backdrop.
My absolutely favourite girl picture book hero is Aaron Blabey's Sunday Chutney. Stylish, outgoing, funny, resilient and creative, Sunday sometimes feels out of place, and struggles when she has to move and go to a new school. But Sunday has a powerful weapon in her confidence and wry sense of humour.
Finding your own rebel girl
Good Night Stories for Rebel Girls is not just a book. It's a protest. We wanted it, we funded it, we saw the gap and refused to leave it alone. But the best part of the book, and what really sets it apart from the others I have mentioned, is the last two pages before the acknowledgements. One says "Write Your Story", the other, "Draw Your Portrait".
The book invites girls to write themselves into history. To be visible. To be seen. To have their wisdom heard.
I look forward to reading the story my daughter will write in this book one day, and seeing how she will represent herself. I won't know what kind of rebel Olive will want to be for a few years yet, but until that day I'll read her these stories, and urge every mother to do the same.
Sleep well, girls.