Editor's note: Today, on Trust Me, I'm An Expert, we hear from Clare Cooper, design lecturer at the University of Sydney, on how futuring techniques can help us think collectively about life under a drastically hotter climate. Her accompanying essay is below.
---
Australians, no matter where we are, are coming to acknowledge that our summers – and our autumns, winters and springs – are forever changed.
We are, bit by bit, reviewing our assumptions. Whether we need to radically rethink our calendars, or question where and how we rebuild homes and towns, we face a choice: collective, creative adaptation or increased devastation.
How might this time next year feel - anxious, hot and sticky? How might it smell - like bushfire smoke? How might it taste - would seafood and berries still be on the menu in future summers as our climate changes? (One of my favourite placards at a recent climate rally was "shit climate = shit wine").
When we think about this time next year, are we freaking out, or are we futuring?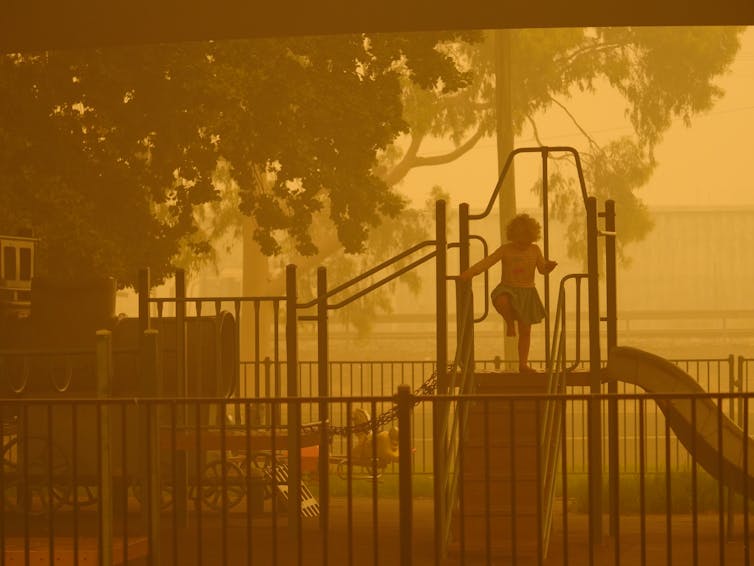 ---
Read more: Why we should make time for remembering the future
---
Collaborative futuring in a climate crisis
"Futuring" is sometimes called futures studies, futurology, scenario design or foresight thinking. It has been used in the business world for decades.
Futuring means thinking systematically about the future, drawing on scientific data, analysing trends, imagining scenarios (both plausible and unlikely) and thinking creatively. A crucial part of the process is thinking hard about the kind of future we might want to avoid and the steps needed to work toward a certain desired future.
But futurists aren't magical people who sweep in and solve problems for you. They facilitate discussions and collaboration but the answers ultimately come from communities themselves. Artists and writers have been creatively imagining the future for millennia. Futuring is a crucial part of design and culture-building.
My research looks at how futuring can help communities work toward a just and fair transition to a drastically warmer world and greater weather extremes.
Collaborative futuring invites audiences to respond to probable, possible, plausible and preposterous future scenarios as the climate crisis sets in. This process can reveal assumptions, biases and possible courses of action.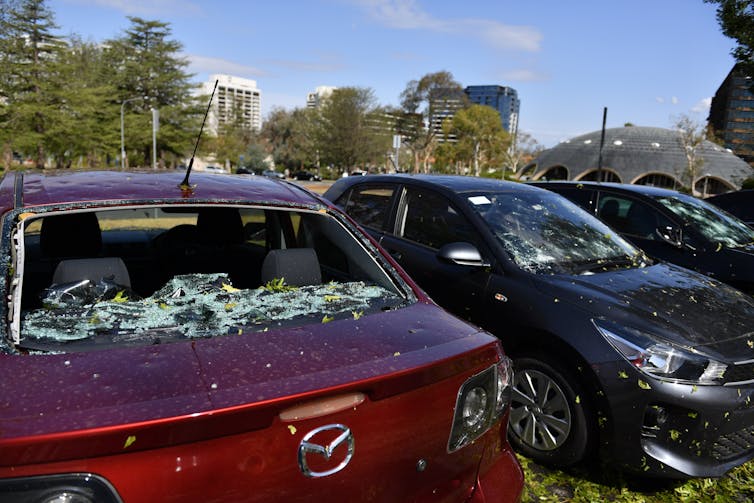 ---
Read more: How we forecast future technologies
---
Getting creative
Futuring is not predicting futures.
It's a way of mixing informed projections with imaginative critical design to invite us to think differently about our current predicaments. That can help us step back from the moment of panic and instead proactively design steps to change things for the better – not 20 years from now, but from today.
If you peeked into a futuring workshop with adults, you might see a lot of lively conversations and a bunch of post-it notes. For kids, you might see them making collages, or creating cardboard prototypes of emerging technology.
You might have done some futuring today, talking with friends and family about changes you might make as it becomes obvious our summers will grow only hotter.
I've seen futuring occur at my daughter's school, where children are invited to imagine being on the other side of a difficult problem, and then work out the steps needed to get there.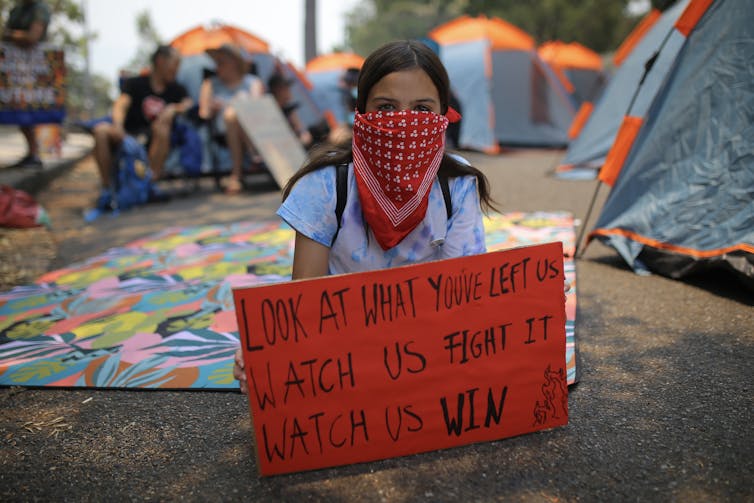 ---
Read more: 'This situation brings me to despair': two reef scientists share their climate grief
---
Futuring a just transition to a warmer world
When we are imagining this time next year, are we limiting our (mostly city-dwelling) thinking to how we avoid the conditions we faced in this summer?
For example, are we thinking about staying away from bushfire-prone areas, or buying air purifiers and face masks? For those who can afford it, are we thinking about booking extended overseas holidays?
Or are we challenging each other to think beyond such avoidance strategies: to imagine a post-Murdoch press and a post-fossil fuel lobby future? Can we imagine ways to respond to extreme weather beyond individual prepping?
Including a diverse range of voices, especially Indigenous community members, is crucial to a just transition to a warmer world. We can't allow a changed climate to mean comfortable adaptation for a wealthy elite while everyone else suffers.
Many of us have joined climate protests in recent months and years.
But more work needs to be done and bigger questions asked. What steps are needed to meet demands for public ownership of a renewable energy system: more support for those battling and displaced by bushfires? How do we work toward First Nations justice, including funding for Indigenous-led land management, jobs on Country, and land and water rights?
It is not enough to pin an image of our future to a wall and pray we get there.
Short term fixes in the form of drought or emergency relief won't address the fact that extreme weather events are not going away.
Responsible, useful futuring mixes equal parts of imagination and informed projections. It's not wild speculation. Futuring practitioners draw on scientific and social data, and weave it with the stories, concerns and desires of those present to find new ways into a problem.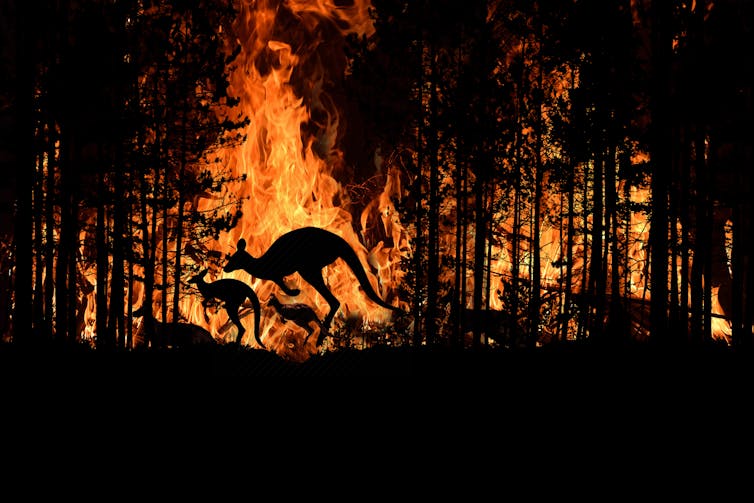 ---
Read more: What would a fair energy transition look like?
---
Speaking of catastrophe to avoid it
Former Labor prime minister Paul Keating last year criticised the Morrison government for what he saw as a lack of vision:
If you look, there is no panorama. There's no vista. There's no shape. There's no talk about where Australia fits in the world.
Prime Minister Scott Morrison's performance during the unfolding bushfire horrors – widely perceived as lacklustre – suggests growing thirst for bolder vision on dealing with "the new normal."
In their book Design and the Question of History, design scholars Tony Fry, Clive Dilnot and Susan Stewart argue that we should speak of catastrophe "in order to avoid it".
Polish-born sociologist Zygmunt Bauman wrote
prophesying the advent of that catastrophe as passionately and vociferously as we can manage is the sole chance of making the unavoidable avoidable — and perhaps even the inevitable impossible to happen.
We owe it to those worst affected by the climate crisis – and to ourselves – to dedicate time to collaborative futuring as we rethink life in an increasingly hostile climate.
The next time you're having a chat about this time, next year, are you collectively fretting or collaboratively futuring?
New to podcasts?
Everything you need to know about how to listen to a podcast is here.
Additional audio credits
Kindergarten by Unkle Ho, from Elefant Traks.
Not Much by Podington Bear, from Free Music Archive
Above Us by David Szesztay, from Free Music Archive
Pshaw by Podington Bear, from Free Music Archive
Podcast episode recorded and edited by Sunanda Creagh.
Lead image
Shutterstock