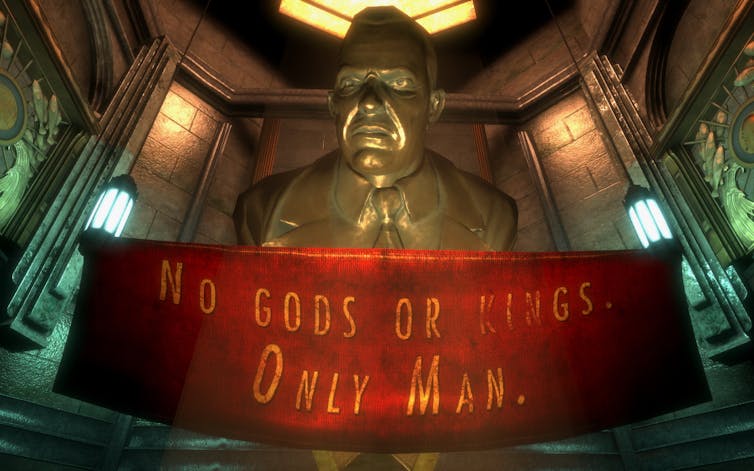 While in Berlin a couple of weeks ago, I had the great pleasure to be able to casually hang out with some of the developers from Yager, the studio responsible for Spec Ops: The Line. In 2012, I wrote a book about Spec Ops: The Line, and it was a revealing experience to be able to hang out with the people who made that game.
As it was just a casual, off-the-record chat over beers, I am not going to regurgitate any of the conversations here. Suffice to say, to me, as someone outside of development, they were absolutely fascinating. It was eye-opening to hear about the utterly mundane reasons parts of the game turned out the way they turned out. Things that myself and other players had projected layers of meaning onto existed, largely, because of technical hiccups or urgent deadlines.
The people I was talking to were, predominately, the grunts of the studio. Not the lead designers or producers or creative directors, but the ones making the game in the most literal sense: creating the models and typing the code and applying the textures. They were, predominately, exactly the kind of people that a game journalist or player such as myself rarely, if ever, is able to communicate with.
If a games journalist is interviewing a developer about a game, they typically only have access to the lead developers, the ones in charge. Usually, the journalist's access to these developers is through the publisher that is bankrolling the game. The dozens or hundreds of men and women actually making the game are hidden from the public behind the doubly thick wall of their employers and their publishers. We can't speak to them and, more often than not, their employment contract means they can't speak to us.
It's not something I had ever really appreciated before, and hearing these fascinatingly mundane stories about making games in a AAA studio was eye-opening. Nothing scandalous or corrupt or horrendous – just … mundane and everyday events leading to particular creative decision. It got me thinking about how we – players, critics, journalists – really struggle to appreciate that these games are created not just by the one or two people we see in a dozen pre-release interviews and profiles, but by dozens if not hundreds of people, each with some small say in what the final creative work will look like.
We know this is the case; we tweet about how long the credits are, but we don't really appreciate it. Instead, we talk about how Ken Levine made Bioshock Infinite or Todd Howard made Skyrim and that is that.
It's not a problem unique to videogames. In any creative form, as we instinctively try to picture the creator behind the artwork, and it's much easier as an audience to boil the author down to a single person: the director, the lead singer, the conductor. But this obscures the realities of how that work was produced and why it is the way it is.
Often, when we play a game and lament about an obviously terrible design decision in one stage and ask nobody in particular "Urgh, why would they design it like that?" the answer isn't that the creators were idiots, but something much more mundane such as: two level designers worked on different floors of the studio, or a post-it note fell off a monitor.
That doesn't excuse a poor design decisions, of course, but I think it is worth understanding and appreciating the very real and often straightforward reasons why something is the way it is: because this thing was made by a large team of dispersed and imperfect humans under actual, boring constraints.
Earlier this morning, this tendency to boil the entire creative output of a large studio down to a single individual was starkly clear in a press release about the closure of Irrational Games. Irrational, responsible for the Bioshock series, is headed by one of mainstream gaming's better known auteur figures, Ken Levine.
The press release, written by Levine, explains how the studio is closing down so that he can take a much smaller group of 15 employees to work on smaller games. The rest of the studio's employees will lose their jobs.
It's a very weird press release. Studio closures and downsizings are not rare in the videogame industry, but the idea that the studio would be shut, with almost everyone losing their job, because the creative lead feels like doing something new, is incredibly strange. Taken at face value, it implies that the many other people who created Irrational's games are irrelevant to the studio's creative output: just grunts that can be replaced when Levine gets bored of them, like sacrificing the servants when the master passes away.
Taken at face value, it's an almost shockingly arrogant megalomania, one that ironically plays into the exact labour and capital conditions the studio's games attempted to critique.
But it's a press release, so of course there is more to it than face value. My suspicion would be that publishers 2K are closing down Irrational for far more typical financial reasons; but in an effort to hold onto the valuable source that is Levine's auteur-ness for future products, allowed him to write this heartfelt letter about what he would like to do next.
The other employees are, again, hidden from sight. A couple of paragraphs are spent benevolently discussing how they will be assisted in finding new jobs (conveniently with no mention of the fact that such new jobs will inevitably require life-altering relocation to studios in other cities for many employees), but the main thrust of the release is "What Will Levine Do Next?", relying on the crux that its audience has long personified Irrational's creative output in Levine alone.
By taking advantage of the need to personify the creative output of the studio and promising new and exciting projects from the supposed auteur, the labour conditions that lead to many others losing their jobs is successfully downplayed.
And it is successful. Many games news outlets reporting on the closure are taking the press release at face value, mentioning the job losses briefly as sidenotes before moving on to an exciting anticipation of What Levine Will Do Next.
I don't think it is necessarily the job of journalists to fight for the industry's employees. That's what unions are for – or would be if the games industry wasn't so embarrassingly lacking in unions. Indeed, there's a very valid case to be made that games journalists and developers are already too chummy with a lack of critical distance between the two fields.
But there is a responsibility to read between the lines of press releases to find the "actual" story. But it's not simply a case of lazy journalism, either. Even if we tried to get the story from former employees, they would not be able to speak to us: either because of contracts they've signed or, much more simply, because they still want to find a new job in the industry. And so, they remain invisible to us.
The ease with which 2K and Levine are able to spin a studio's closure and the loss of over a hundred jobs to one of an auteur's exciting new venture reveals just how poorly we – journalists, players, critics – appreciate the full breadth of people whose labour creates these works.
But theirs are the only voices we will hear on the matter, and so the myth of the great creative auteur continues.