As the Labour party gathers for its annual conference in Liverpool, one question is being asked in every corridor – how can the wounds of the past year be healed?
It was only at the end of June that 172 Labour MPs, about three-quarters of the Parliamentary Labour Party, supported a vote of no confidence in Jeremy Corbyn's leadership. This seemingly decisive move, which sparked the second leadership election in a year, appeared to mark the point of no return for Corbyn's relationship with the bulk of his MPs. Several months of internecine and very public civil war followed.
Despite the destructive ill-feeling within his party, Corbyn proved a resilient figure. He has been buoyed by an influx of enthusiastic and loyal party members aligned to his Momentum campaigning organisation.
After re-election, he now sits more securely in place than ever as Labour leader. Even his most bitter critics will have to grudgingly accept this. But will he be magnanimous towards the MPs who have repeatedly attacked his leadership abilities and who turned their backs on him?
Some MPs had indicated they would consider returning to Corbyn's shadow cabinet if he was re-elected. Others firmly said they would not, including defeated challenger Smith and other prominent figures such as Smith's campaign manager and former shadow health secretary Heidi Alexander.
They have nevertheless called on Corbyn to take responsibility for instilling greater party unity and the leader would be wise to make positive gestures in this respect. One such conciliatory option to win them is the request by a swathe of mainstream Labour MPs for a return to MPs voting in shadow cabinet elections, which was abolished under Ed Miliband's leadership in 2011.
This would give MPs a more significant influence in party decision-making, although it is unlikely to be enough on its own to heal the rift. Signs of Corbyn retreating from his "bunker style" leadership approach may also need to be in evidence, as well as flexible concessions offered on contentious policy areas such as Trident and Brexit.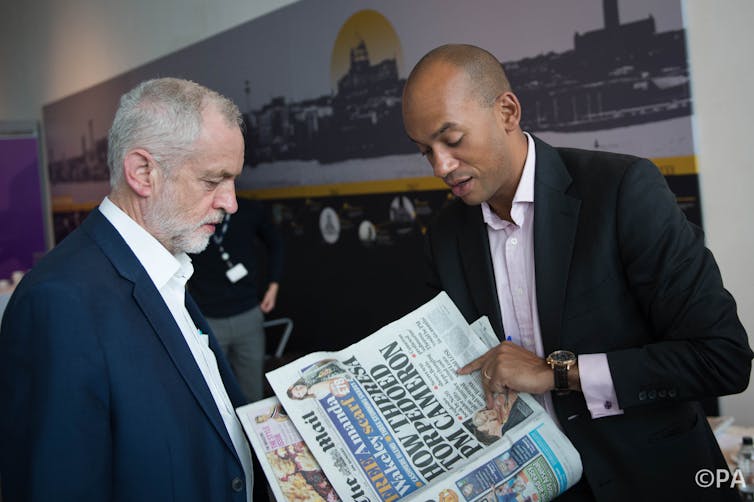 There may also need to be clearer indications that the re-validated party leadership is taking ongoing claims of online bullying and intimidation (by some of its members) more seriously.
In the immediate term, Corbyn's acceptance speech pledged to launch a national campaign against Conservative proposals to revive grammar schools. This has the potential to unify the party around a dynamic and contemporary political issue.
Making up is hard to do
However, longer-term tensions do remain. Corbyn's allies may view shadow cabinet concessions as weakening his power base among the inflated grassroots membership, which has been more loyal to his agenda than his own MPs have over the past year.
Indeed, Corbyn indicted that he wants the membership to have an enhanced role in more "democratised" party policy making – including shadow cabinet selection.
If Corbyn wishes to pursue this option instead of, or in addition to, giving MPs a say, a further impasse may be ahead. Such a move would probably provoke further intra-party tensions between MPs and ordinary members, and would likely lessen the numbers willing to return to shadow cabinet duties. Labour's ruling National Executive Committee discussed changing the rules at a Saturday meeting in Liverpool, deciding to postpone a decision until November.
In the meantime, Corbyn needs a team. Labour's front bench has been significantly under-staffed for much of the past few months, with several relatively inexperienced MPs holding multiple portfolios due to the scale of the opposition to Corbyn among his own MPs.
Restructuring and refreshing must be an urgent priority. Only with a full shadow cabinet can the Labour party function effectively as an opposition to the government.
Several big beasts, such as former leadership challenger Yvette Cooper and former shadow foreign secretary Hillary Benn seem out of place on the backbenches. Yet major practical obstacles impede their return. They may be willing to serve under Corbyn but would he offer them a role? And if he did, would he seek to offer them a lesser position because of their perceived disloyalties? One side of the other may need to just swallow their pride and make the first move, in the interests of getting something done.
Corbyn's rhetoric in Liverpool suggests that he wants to heal the rift, stating explicitly in his leadership election speech that he wants to "wipe the slate clean". Within hours of his re-election he was meeting various MPs to talk about how this could come about. They include arch critics such as Jess Phillips, who has been outspoken in her criticism of his leadership and consequently received abuse from some Corbyn supporters on social media.
Whether these talks translate into the emergence of a more wide-ranging shadow cabinet that uses a larger portion of the party's parliamentary talent remains to be seen. Much depends on how much the emboldened "Corbynistas" are willing to move on from the events of the past six months and also whether Smith supporters are willing to serve under someone they previously said was unsuitable for the leadership.
Both sides of this war need to forgive and forget. Labour Party unity, and the party's long-term political credibility, hangs by a thread.