In a report published this month by the Centre for Independent Studies (CIS), Simon Cowan advocates the downsizing or sell-off of ABC3 – the dedicated channel for Australian school-age children – as a budget "fix" for the Abbott government. But not only are his claims about wasteful duplication of content wrong, the supposed savings on children's television are based on flaky figures.
The CIS report argues there is:
no cogent reason to use taxpayer funds to compete with other taxpayer-funded broadcasters or duplicate content easily found elsewhere.
Content here refers to broad program types or genres, such as news, series, entertainment and education.
Looked at this way, the ABC and SBS may seem to offer similar programs. But this ignores the importance of diversity of entertainment and other content.
Entertainment isn't just animation but the popular "live action" genres such as drama, scripted comedy, game and reality shows that are increasingly demanded by audiences, as well as news shows for children.
These are not easily imported from overseas due to specific cultural nuances. Poor advertising revenues make it unprofitable for commercial networks to invest in a large range of children's content.
Cowan's argument also ignores diversity in the ways in which audiences are addressed. SBS and the dedicated Indigenous television service NITV speak to audiences as citizens from particular identity groups. In the case of ABC3 and ABC4Kids, the lives of children from different gender and age ranges, and from urban, rural and remote locations are represented on screen.
As required by its charter, set out in the ABC Act, the ABC must reflect Australia's cultural diversity and contribute to a sense of national identity. Such programming is far from easily available elsewhere.
Australian content for children
Even before the introduction of television broadcasting in Australia, the 1953 Royal Commission on Television heard from parents and teachers worried about the threat of a glut of American programs on Australian screens and the effects of violence and commercialism on children.
This public concern about Australian children's content (as well as potential harms associated with advertising) has been repeated in a series of reviews of the Children's Television Standards, right up to the (largely shelved) recommendations of the 2012 Convergence Review.
The extra funding to establish ABC3 in 2009 made a target of 50% Australian children's content possible. This balance is not currently matched by any of the commercial or "free" internet platforms. Sadly the introduction of digital television and weakening regulation on the networks has seen an overall decline in the proportion of Australian content on commercial digital television.
Internet content isn't free
Simon Cowan argues there is a glut of free children's "educational and entertainment material" online, which means ABC television for children in its current form is not needed.
The assumption that professional quality internet content is free needs to be carefully considered. If illegal downloads are excluded, the availability of linear entertainment content (streamed video) and supposedly "free" games and apps are dependent on the business models of broadcast or subscription media enterprises, whether commercial or public service.
That means advertising, paid subscriptions or taxpayer subsidies.
To give an up-to-the-minute example, children's television network Nickelodeon Australia offers this video segment from content available in full only to subscribers, and this is one of Nick's free games.
The "free" content is exclusively of North American origin and is preceded by "must-watch" advertisements for energy-dense-nutrient-poor foods and toys.
Quality children's programming online or on-demand is either located behind a subscription paywall that excludes three quarters of Australian children, or is provided as a catch-up service by the public broadcasters.
The ABC's iView is the clear leader in this area of children's content. Only Network Ten's Tenplay currently makes its Australian children's programs available "free" as streamed video.
Will tweens watch Giggle and Hoot?
One of Simon Cowan's budget fixes suggests consolidating preschool- and school-age programming on one channel, freeing up ABC3's spectrum for NITV.
Such a recommendation flies in the face of substantial industry research that shows successful children's channels must be "destinations" branded for specific age groups.
Put bluntly, older children refuse to watch channels whose content is perceived as babyish. A careful look at the services provided by Disney, Nickelodeon, PBS, the BBC, and – more recently – DR (Danmarks Radio), shows separate channels operating for preschool and school-age children.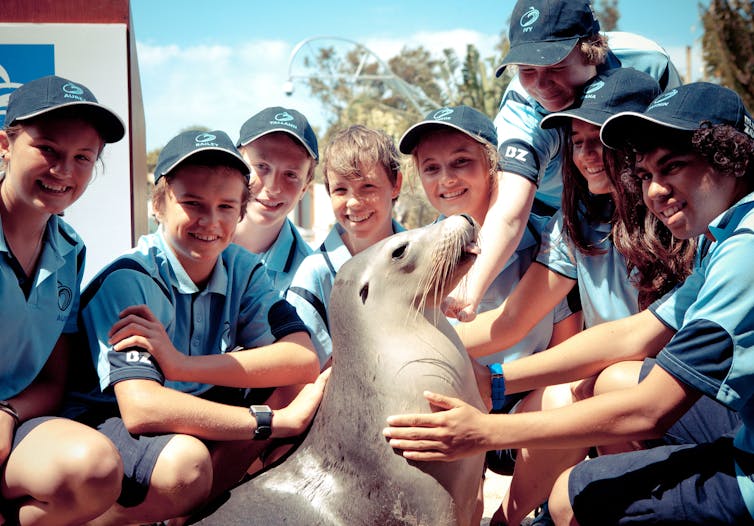 The separation of schedules for ABC4 (which operates on ABC2's spectrum during the day) and ABC3, which broadcasts up to the 9pm watershed, supports family routines such as "bedtime" for younger children. It also allows strategic placement of age- and gender-targeted programming.
ABC4 Kids is aimed at parents caring for young children as well as those children themselves. The later evening programming on ABC3 is aimed at a teenage group. It is hard to see how merging the two channels could address the needs of such a wide range of audiences.
How much are children worth?
In her 2010 book Valuing Children, Professor of Economics Nancy Folbre invites us to "rethink the economics of the family" and to see spending on children's development as investments in the workers, carers and taxpayers upon whom the economies of the future depend.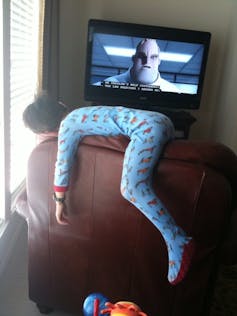 The CIS report, meanwhile, aims to relieve future generations of the inherited "tax burden" of wasteful public spending. Even without Professor Folbre's re-evaluation of costs and benefits, the projected savings outlined by Simon Cowan – up to A$100 million per year – do not add up.
While ABC4 Kids and ABC3 may broadcast "up to one third of ABC's programming" – as Cowan contends – this does not mean they account for 33% of the ABC's budget.
According to research on the new channel, triennial funding to establish ABC3 was below A$20 million a year. That's approximately one-fifth of Cowan's highest projected figure (A$100 million). Allowing for savings from acquisitions of preschool programs would be unlikely to amount for the rest.
ABC3 does not double-up on children's content that's available freely on SBS or online. Collapsing it with a preschool brand is very unlikely to appeal to either age-group. Savings could of course be made by axing the channel.
But the burden of tax debt may need to be offset against the value of investing in the development of those young people who will shape the health and prosperity of the future.