Decades of gentrification in London and other European cities (including Paris, Barcelona, Rome and Istanbul) have enacted a form of social cleansing. This has pushed away low-income and marginal residents, divided the rich from the poor, and generated inequalities among citizens.
The Hammersmith area, where the Grenfell Tower is located, has been gentrified. This previously working-class area has been transformed into a vibrant middle-class neighbourhood. Just a few residential social housing tower blocks remain.
As a cosmetic measure, the Grenfell Tower was refurbished in 2014. The choice of cladding material that appeared to fuel the fire is now subject to scrutiny, but with no understanding of the social dimensions of the building's design regulation and safety measures.
Repeated warnings from the Grenfell Tower residents that this was a disaster waiting to happen were ignored.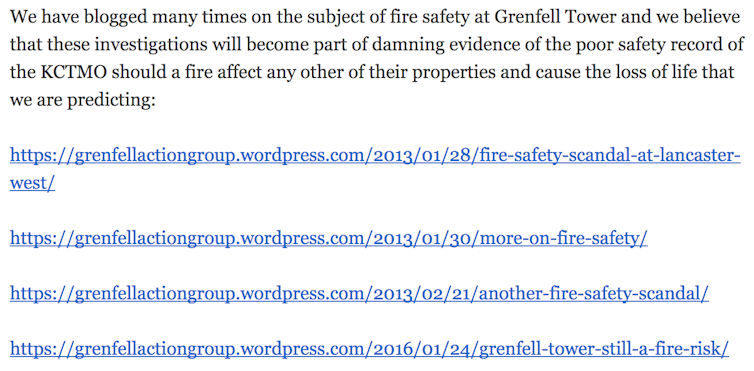 There has been an outpouring of grief and anger from the affected community and beyond and tensions remain high. While certain elements of the media rebuke those seeking to hold the ruling class accountable, it is important to emphasise a simple truth: disasters are socially – and politically – constructed.
Root causes of disaster
Disasters are often misunderstood as "natural", or simply assumed to be extreme and tragic events.
This view draws on a century-old paradigm that puts the blame on rare and inescapable natural phenomena, an "act of God", or technological breakdowns that lie beyond the everyday social fabric.
But there is nothing natural about disasters; disasters usually have root causes of vulnerability that we don't speak about and that reflect the day-to-day make-up of society – inequality, poverty, political ideology, class and power relations.
These root causes are similar in London, New York, New Orleans, Port-au-Prince and Manila – a few of the world's cities that have been stricken by major disasters in recent times.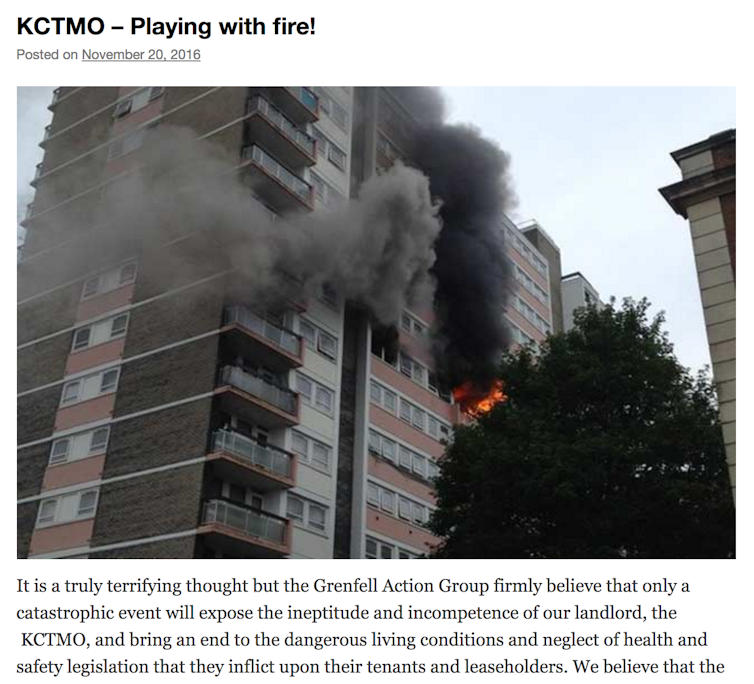 Disasters as experienced today are often rooted in the historical development of societies. The impacts of colonialism, slavery, military conquest and discrimination based on class, gender, race and religion are visible today.
Billions of people around the world, in both wealthy and less affluent countries, are at this moment suffering under structural injustices. As demonstrated at Grenfell Tower, this is a recipe for disaster.
Structural injustice creates vulnerability
This disaster is quite a shock to British society. Although the contributing sociopolitical drivers (while sometimes not explicitly discussed) are perhaps more visible on this occasion, having struck a centre of wealth and power in London, we need to recognise that injustice lies at the core of almost all disasters.
At the Grenfell Tower and around the world, the poor and the marginalised suffer the most from disasters.
This injustice is not an accident – it is by design. There is no disaster that kills everyone in a particular locality nor one that knocks down all buildings in a single place.
Normally the resources to overcome the impact of natural hazards are available locally. The privileged have access to these resources while those at the margin do not.
Vulnerability to hazards, and related disasters, therefore mirrors how power and resources are unequally shared within societies. More often than not disasters affect people not because of a lack of knowledge about disasters, but because this knowledge is not applied.
Political decisions also put lives at risk. MP Chi Onwurah summarised appropriately when she wrote:
The residents of Grenfell were poor in a rich neighbourhood. They were those the market rejected, a burden on a borough apparently determined the rich should not pay to lift the constraints of the poor.
The British political class has failed to adequately represent the interests of its most vulnerable citizens for decades. That people are consigned to live in such conditions in a wealthy country is at best a betrayal of the vulnerable by the state. Some would call it criminal. It is not only the Tories who must swallow this bitter pill.
Cities are battlegrounds
Cities tend to greatly magnify inequality. The Grenfell Tower disaster is a product of a deep societal divide in Britain, where wealth is increasingly concentrated among a small minority.
Gentrification is pushing already marginalised people out of sight and out of mind. This kind of urban development is a boon for housing market profiteers and supports the ruling class agenda, but neglects the needs of the most needy in society. Marginal people become resourceless, invisible to public policies, and disempowered in public life. This increases their vulnerability.
If cities are to reduce the risk of disasters like the Grenfell fire, we must focus on social justice in urban development. The benefits of development or redevelopment should prioritise the have-nots and provide dignity to people regardless of income or background. Cities that are able to provide opportunities for all citizens are also able to appreciate diversity rather than homogenisation.
The Grenfell Tower fire exposes the injustice of disaster, and this terrible moment must be learned from and acted upon. Pushing people to the margins and deeming them worthless is ultimately what causes them to perish.