It is easy to harbour a sneaking admiration for Macquarie Bank and the relentless ingenuity of the "millionaires' factory" in finding new ways to make money.
"People are our most important asset" is an oft-uttered motto of Australia's best-known investment bank and it is certainly true. The bank even appears to be quietly clipping the ticket on a generation of former executives by taking a trailing fee on their superannuation.
This is a cautionary tale. If this fee grab catches financially savvy Macbankers by surprise, it surely serves as a warning for ordinary superannuants.
According to one former executive, who is in dispute with the bank over what he claims are unfair fees, he only found out about the trail when putting some questions to AMP, the funds manager.
They (Macquarie) took an undisclosed trail, provided no service, put me into insurance I couldn't claim against and didn't need, didn't ask or tell the insurer of my non-smoker status. Management fees more than doubled from 87.5 basis points per annum to 197.5 basis points. Insurance costs more than doubled from A$110 a month to A$240 a month.

They never disclosed any of that and they ended up doing the rollover ten months late, breaching my privacy along the way because they kept no books or records of their own on the rollover terms and amounts. What kind of financial adviser does that? Your former employer, that's who.
The bank declined to comment for this story, but a review of documents obtained by Dark Money suggests he has a point, or a number of points.
For those who might wish to check if they are being swatted unwittingly with undisclosed or barely disclosed fees on their investments, there appears to be one solid approach to take: ring up and ask.
The parliamentary inquiry into the banks, the Clayton's royal commission if you like, is now afoot in Canberra with big bank chiefs being questioned about assorted bank practices. One area for concern is the vertical integration of the big banks with their huge wealth management divisions downstream and the ensuing conflicts of interest.
Chief among these conflicts is the matter of high fees and fees not properly disclosed. The temptation for financial planners and asset managers to lump their clients into high-fee products, often at the expense of performance, throws up a number of conflicts, high fees being foremost.
At the centre of this conflict is the fact that the higher the cost of the product, the higher the fees – and, often, the worse the performance.
Investors who were tipped into a product prior to July last year, when the laws changed, are probably paying a trailing commission.
As the testimony of the former Macquarie executive attests, however, it pays to be aware of a number of other commission traps.
Does the adviser actually advise?
In this case, Macquarie was the nominated financial adviser and received a trailing commission of 44 points in return. This is a fee that AMP only pays to registered financial advisers, but it was never disclosed.
There was a quid pro quo here as Macquarie was appointed adviser by AMP, according to instructions from Macquarie as opposed to the client.
As adviser, however, it appears to have given little or no ongoing service or advice. If there was, it would have been unlikely the client would have been put into an insurance product that he could not claim against (as he was retired).
Further, the client was a non-smoker but, by default, was deemed to have been a smoker and was therefore charged more. This was to the benefit of the adviser and product provider, but certainly not to the client.
The commissions amounted to roughly A$6,000. In itself this is not a huge amount, but if the same type of deal applies to many hundreds or thousands of ex-employees, then this has been a fine earner for the bank.
The irony of Macquarie touching up its former staff shines through. No doubt the bank has legal advice upon which it relies to justify the hidden commissions. Yet it remains a grey area – there are provisions in the law that require reasonable disclosure of fees to the client.
Of course, Macquarie is just one player in this market. Australia's superannuation market is now well above A$2 trillion in total assets and fees are well north of A$20 billion. As such this is the nation's premier gravy train of commissions.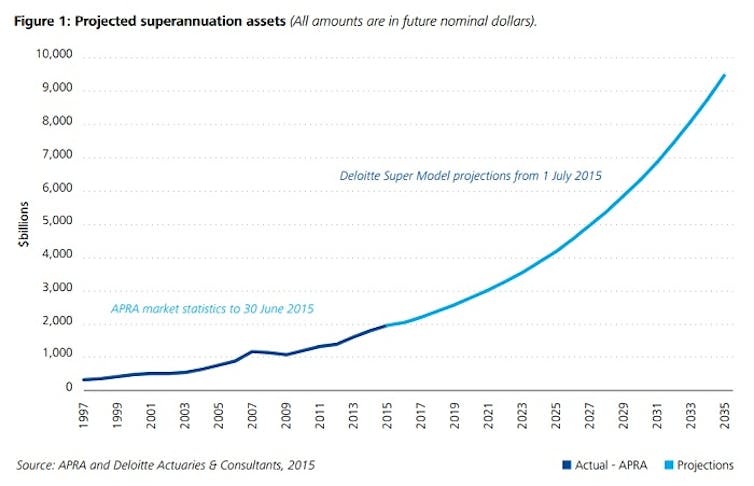 A report by Deloitte projected this superannuation pool to double to A$4 billion in ten years and reach A$9.5 billion by 2035. It serves as a great contributor to the nation's wealth, but the hordes of hangers-on who are paid large sums for doing little in the way of service will only weigh upon the efficiency of this enormous pool of wealth when it comes to reinvestment and future generation of wealth.
---
This column, co-published by The Conversation with michaelwest.com.au, is part of the Democracy Futures series, a joint global initiative with the Sydney Democracy Network. The project aims to stimulate fresh thinking about the many challenges facing democracies in the 21st century.