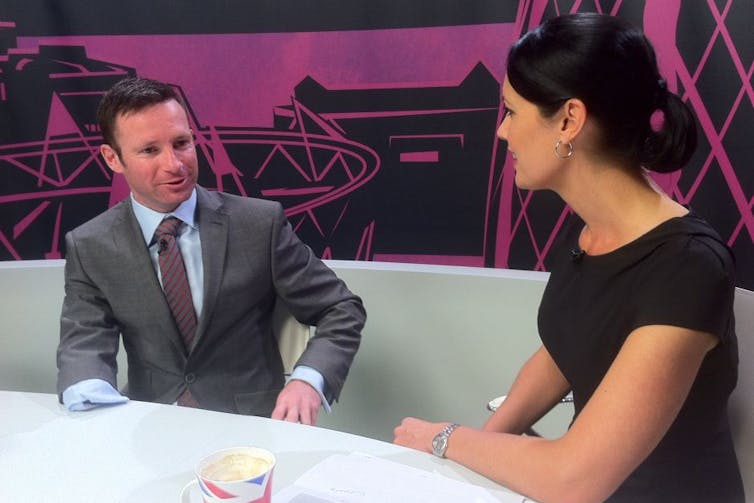 The ABC has come up trumps both in terms of the quantity and quality of its TV coverage of the Paralympic Games.
The quantity is evident in the amount of time devoted to the Paralympics. Sports fans are able to enjoy nine-and-a-half hours of coverage, much of it taking place during convenient time slots. There is an extended sessions from 4 to 8.30am each morning and another from 7 to 11 pm in the evening. There is also a slick one-hour highlights package from 6 to 7 pm.
As a result, more sports are now covered in depth. While perennial favourites, such as wheelchair basketball, are featured, the ABC coverage also includes unique and unusual sports such as goalball.
In this sport spectators are required to remain silent during play so the visually impaired athletes can hear and react to bells that are embedded in the ball. Last night there was a lively interview with the Governor-General, Quentin Bryce, who obviously regarded goalball as an intriguing sport.
The quality of the coverage is equally impressive.
It is good, first of all, to hear the voices of athletes. In addition to some well-conducted "door stops" at the end of events, there are studio interviews with athletes.
On Saturday night there was an extended discussion with the articulate Matthew Cowdrey and his coach who talked at some length about the Paralympics, his swimming program and his career outside sport. He is currently undertaking degrees in law and journalism at the University of Adelaide.
The program also included an interview with one of the best-known athletes at the Games, Oscar Pistorius, the gregarious South African blade runner (who also appeared in the Olympics).
The ABC team has obviously undertaken considerable research about the athletes about how they got to the Games, past achievements and even disappointments. This fund of stories makes the Games more personable.
The coverage also includes valuable explanation of classification categories through the use of diagrams of limbs and joints. They help explain why athletes with a variety of impairments, relating to mobility and even the absence of limbs, can compete in the same event and why there are, for example, 14 separate categories in swimming. Text below the diagrams commented on the effect of impairment on performance. The absence or part absence of a limb affects an athlete's balance in the water.
It was informative on Saturday to hear an extended discussion on access issues by Stella Young from Melbourne who is the editor of a website, Ramp Up — Disability, Discussion, Debate. She recounted that it had been thrilling for her discover that all London taxis are accessible whereas in Melbourne only some are. (She had often to wait for hours to order a wheelchair accessible taxi.)
While some of the London tube stations are not accessible, others are and her access to a train did not require another person. In Melbourne and Sydney by contrast accessing a train requires another person putting down a ramp.
However, what she appreciated most in London was the acceptance of difference. She commented that:
Being a short statured wheelchair-user, I often attract a lot of what I call Stare Bears in Australia. Most people react to me in some way or another, whether it's a subtle second glance or a full-scale gawk with a sneaky photo taken on a mobile phone. What I've noticed about London is that there's a distinct lack of Stare Bears.
Well done Auntie on such a comprehensive, insightful and interesting coverage of the Games. The Paralympics are far more difficult to cover than the Olympics. However, you've literally run rings around the commercial broadcasters that covered the Olympics.