Unless the federal government changes course, proposed legislation designed to amend Canada's criminal justice system will wreak havoc on law school clinics in Canada — and will actually worsen the administration of justice in our criminal courts.
First introduced in the House of Commons in March 2018, Bill C-75 is now before the standing committee on justice and human rights and then it will go back to the House for third reading. The proposed legislation seeks to amend Canada's Criminal Code.
Although the law was introduced to fix issues in the justice system like jury selection and preliminary hearings, the bill will, in some cases, create serious new issues, including for low-income people who use student law school clinics for access to legal representation.
Every law school clinic in Canada represents people in the criminal courts. They generally have low incomes. From our experience at Community Legal Services at Western Law, they cannot afford to hire a lawyer privately and are not eligible for legal aid (often because legal aid does not cover their particular issue).
In most cases, these are people who would have to self-represent if not represented by a law school clinic. We have observed that many have mental health issues, developmental delays or substance abuse issues.
Law students help these people by explaining the criminal court process, ensuring their rights are respected and advocating on their behalf in discussions with the Crown and in trials before the court. Being represented can make a real difference in the outcome of their cases.
Limitation on the use of agents
There are three kinds of offences in the Criminal Code. The most serious offences are called indictable offences. Minor charges are called summary conviction offences. The third category of offences is called "hybrid" offences, because the Crown can elect to proceed with the charge as an indictable offence, or proceed with it as a summary conviction.
Currently, Section 802(2) in the Criminal Code authorizes the use of an agent in a criminal trial, stating "the prosecutor or defendant, as the case may be, may examine and cross-examine witnesses personally or by counsel or agent." Law students and articling students are considered agents, and can represent those charged with summary conviction offences under Section 802.1 of the Criminal Code.
Hundreds will have no representation
Bill C-75 is huge, totalling over 300 pages, and includes many significant reforms to the Criminal Code. Currently, the maximum penalty for summary conviction offences is six months in jail and/or a $5,000 fine. The bill proposes to amend Section 787 of the Criminal Code by increasing the maximum penalty for all summary conviction offences from six months to two years.
However, Section 802.1 limits the use of agents where the maximum penalty is six months. This is not amended by Bill C-75.
Increasing the maximum penalty to two years now means that Section 802.1 prohibits any non-lawyer from representing an accused, including law students. In other words, criminal practices in law school clinics will be wiped out. This means that hundreds of people will now have to navigate the criminal justice system without representation.
Having vulnerable people face their charges without representation is the unintended consequence of increasing the maximum punishment for summary conviction offences.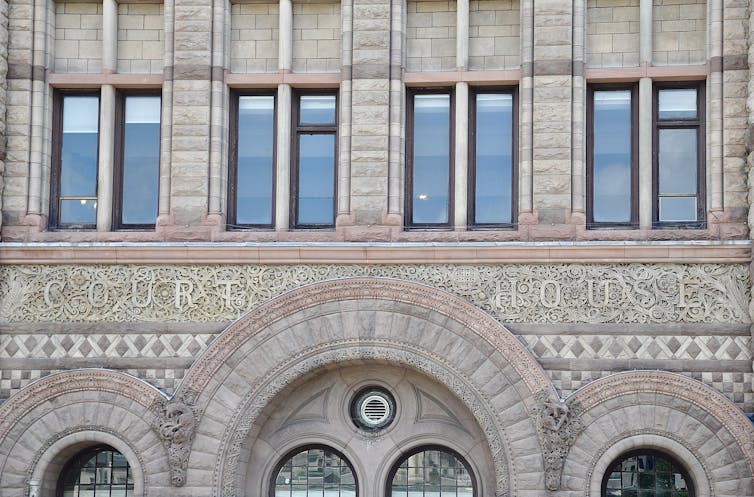 At no time has the federal government indicated that it intended to stop law students from representing accused persons. No evidence has been produced to show why this should happen. It appears to be an oversight on the part of the drafters of the bill.
However, the government has not given any indication it intends to fix its error by making an amendment to Section 802.1.
Vulnerable Canadians will lose representation
Here are some of the impacts of this oversight in Bill C-75:
Hundreds of the most vulnerable Canadians will lose representation in the criminal courts.

The administration of justice will be compromised, with more self-represented people in the already strained criminal courts (see the Equal Justice report, Canadian Bar Association).

Law school clinics are the "cradle" of the criminal bar. We believe the loss of clinic experience will adversely affect the future criminal bar.
Amendments are necessary
Under Section 802.1, the provinces may pass regulations authorizing law students to appear on criminal matters. To our knowledge, only a couple of provinces have done so.
But relying on individual provinces to fix an error by the federal government could lead to an unequal system across Canada. Furthermore, it will take time for provinces to pass any regulations, and force the shutdown of clinic programs. Bill C-75 created the problem; Bill C-75 should and can fix it.
The cleanest and simplest solution would be to amend Section 802.1 to exclude clinic law students and articling students from its effect.
There are other possible amendments. The point is that the government must come forward and assure the clinics it will amend Bill C-75.
Another benefit of law school clinics is that they provide valuable legal training for law students. After graduating law school, many of the law students involved in these clinics go on to practise in either a community legal aid clinic or in legal aid work (primarily in criminal law, family law and immigration law).
In our opinion, there is a real need for lawyers to practise in these areas as they have such a large impact on a people's lives.
In the meantime, Canadian clinics are left in limbo, not knowing if their criminal programs will be eliminated in a few months.
It's time for the minister of justice to publicly state she will support an appropriate amendment to preserve the law school clinic system.