I'm going to hazard a guess that you've found the conversation around changing the date of Australia Day a tad frustrating. There are plenty of loud voices offering different views, but it doesn't seem like there's much genuine engagement between the various sides. It has devolved into more of a slanging match than a healthy conversation.
As a philosopher with an interest in how we argue and disagree with each other, and how those arguments and disagreements often go off the rails, I'm interested in understanding why this particular debate has proven so problematic, and whether there are ways to steer it towards more constructive territory.
---
Read more: Why Australia Day survives, despite revealing a nation's rifts and wounds
---
Who we are
One of the biggest difficulties with talking about something like Australia Day is that it's intricately tied to our identity – particularly our social identity.
We aren't just isolated, autonomous individuals. We are social creatures who form into groups. In turn, these groups provide us with narratives that help us understand our place in the world. They inform our values and tell us who our allies are (our in-group) and who our enemies are (our out-groups).
So being a "Baby Boomer" or "Millennial", a "Collingwood supporter" or "Broncos fan", a "Christian", "Muslim" or even an "atheist" connects us to other people we perceive to be in the same group. Similarly, Baby Boomers railing against Millennials, AFL supporters ribbing NRL supporters, and believers jibing about non-believers helps reinforce our identity in our chosen groups.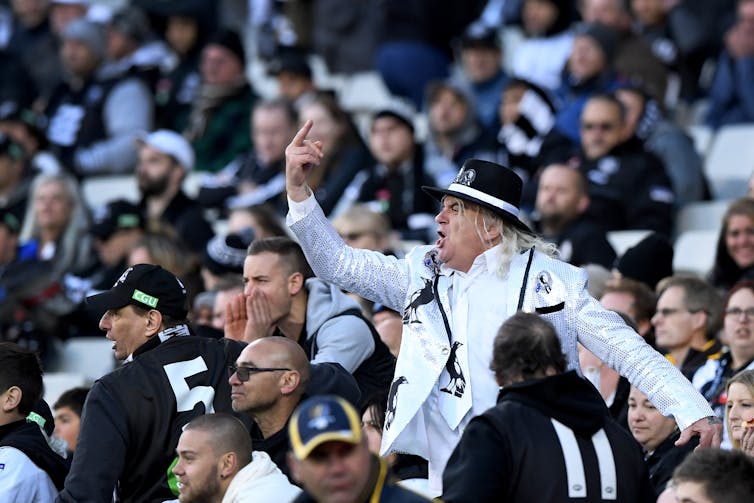 One core problem with the Australia Day debate is that there are at least two "Australian" identities involved who are talking past each other, and they each see Australia Day and January 26 in very different light.
Consider the identity expressed in this quote from former Australian Prime Minister Tony Abbott:
[…] it's hard to imagine a better Australia in the absence of the Western civilisation that began here from that date. […] How could any Australian's heart not beat with pride?
You could read this as Abbott emphasising a narrative of "Australia as a success story". And while he acknowledges in the article that "not everything's perfect in contemporary Australia" - referring to the disadvantage experienced by many Indigenous Australians - he still asserts that we, as Australians, should feel proud of what the country has achieved.
For Abbott, January 26 is a perfectly suitable symbol of "Australia as a success story", because he believes much of that success stemmed from the introduction of "Western civilisation" to this continent.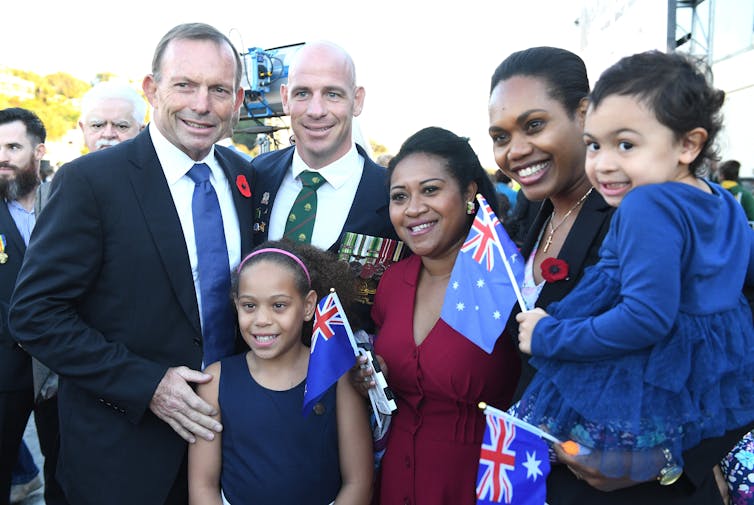 This brand of Australian identity also tends to be associated with a particular cultural and ethnic picture, one strongly informed by the country's colonial roots and its 20th-century post-colonial "coming of age".
That picture was formed in a time when a person's national identity typically overlapped with a relatively homogeneous ethnic identity. That has changed dramatically in the past 50 years, with nation-states like Australia being home to multiple cultural and ethnic groups.
---
Read more: Get yer hand off it, mate, Australian slang is not dying
---
This shift has put pressure on the idea that being "Australian" necessarily means being of Anglo or European descent, which is unsettling for many people. This is particularly because some of the cultures that are now becoming part of the Australian identity used to be out-groups that were used to help reinforce Anglo-European Australian identity.
The New Australia
Many Australians don't share Abbott's narrative, and their identity as "Australian" is significantly different to the one he has expressed. For them, "Australian" has a wider variety of meanings and cultural influences.
This view also often acknowledges the negative aspects of colonisation, such as the legacy of non-Anglo-European out-group exclusion (often in the form of racism), the destruction of Indigenous cultures, and the social disadvantage that many Indigenous Australians experience today as a result of "Western civilisation".
This doesn't mean they believe Australia is a failure or that they don't take pride in being Australian. But for them, January 26 in particular symbolises something very different than it does to Abbott, as expressed by journalist and Goori man Jack Latimore:
When it comes to the subject of 26 January, the overwhelming sentiment among First Nations people is an uneasy blend of melancholy approaching outright grief, of profound despair, of opposition and antipathy, and always of staunch defiance.
This causes a kind of dissonance in people with this perspective when January 26 rolls around. It's hard to celebrate the good things about Australia on a day that represents, to them, many of the bad things.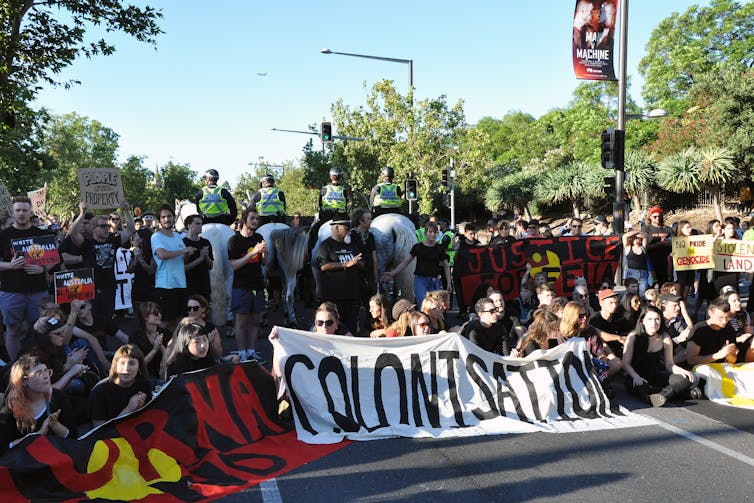 Thus the call has not been to eliminate Australia Day, but to move it to a different date that doesn't cause such dissonance, as expressed by social justice lawyer Will de Waal.
This is not to say that we should not show our pride in being Australian – we absolutely should. I just don't think we should do this on January 26. No Australian should celebrate on a day of mourning.
Political identity
But this discussion is further complicated by another dimension of our social identity. Consider this quote from former Labor leader and commentator Mark Latham:
As each year millions of Australians rally around Australia Day on 26 January as a chance to feel good about our country and its remarkable achievements, the Greens' leader Richard Di Natale has announced that one of his top priorities for 2018 is to "change the date".

In truth, the Left's grievance industry is now so comprehensive, so all-encompassing, they are triggered by every significant date on the calendar, from 26 January to Christmas Day.
Here Latham is not only referencing the positive aspect of his identity as "Australian", but he's also reinforcing his identity as "anti-Left". By casting aspersions on the Greens and their leader he is bucking up his own side by putting the other side down. This is typical social identity reinforcing behaviour.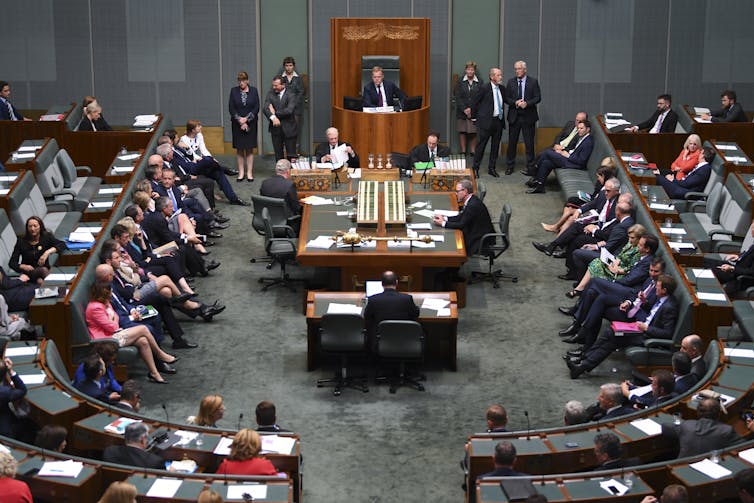 Thus the debate around Australia Day has also become a proxy for a wider conflict between two political identities, the Left and the Right. And this is where our social identity - particularly our political identity - can serve as a barrier to good conversations.
Turning it around
The good news is that there are ways to turn this conversation around and make it more constructive. It's not going to be resolved overnight, but it's probably a conversation worth having before the next Australia Day rolls around.
First, we need to remind ourselves that identity does matter. If we speak in a way that challenges someone's identity, they're likely to dig in their heels and get defensive. When that happens, the chances of having any constructive conversation evaporates.
---
Read more: What science communicators can learn from listening to people
---
One way to avoid this pitfall is simply to listen. Instead of starting by voicing and defending your opinions, try asking questions and listening to what others have to say. Ask them what "Australia" means to them, or what kind of Australia they'd like to live in and celebrate. Then acknowledge what they've said, even if you have a different view.
Listening is a powerful thing. Think about how good it feels when someone gives you even a few uninterrupted minutes to express what you think. By listening, you don't only have a better shot at understanding what the other person is talking about, but you're also signalling to them that you're willing to give them your time and attention to hear them out. Even that simple gesture can short-circuit the defence mechanisms that prevent deeper engagement.
If we can get a bit better at listening, then we can start having a more constructive conversation about what it means to be Australian and how we should celebrate it. And that sounds like a good conversation to have.