Most people would agree that living more sustainably is something to strive for. With £13bn worth of food being wasted each year in the UK and global temperature records being broken every three years, being green is more important than ever. But it's a lot easier said than done.
For the vast majority, trying to live a more sustainable lifestyle is restricted to the weekly recycling of bottles, paper, plastics and food waste. And consuming less also represents a tricky issue for governments when consuming more this year than last year drives economic growth.
An enduring issue remains: what actually is "sustainability" and what does "consuming sustainably" mean in the first place? As David Harvey has pointed out, it can mean almost anything people want it to mean.
In its simplest form, though, sustainable consumption asks that people consider the impact their choices (when it comes to buying things or using energy) will have on future generations' ability to make their choices. Sadly, the likelihood of the majority acting in this way is small. Most of their everyday consumption choices are made habitually or emotionally and not rationally. As Nobel laureate Daniel Kahneman noted, people are prone to think fast, driven by our habits and intuitions – and not slowly or thoughtfully.
Information overload
So: how can governments, NGOs – even businesses themselves – encourage people to consume in a more sustainable manner? Currently, the dominant logic is to provide people with more information so they can make more informed decisions about what they spend their money on.
While this may succeed for a minority, in this view information is assumed to be a precursor to changing people's attitudes and – in due course – their behaviour. The problem is that there is little evidence that information provision does this at all.
It's also problematic, as people suffer from information overload. Too much information can cause confusion and, if it's not relevant to them, people will simply ignore it.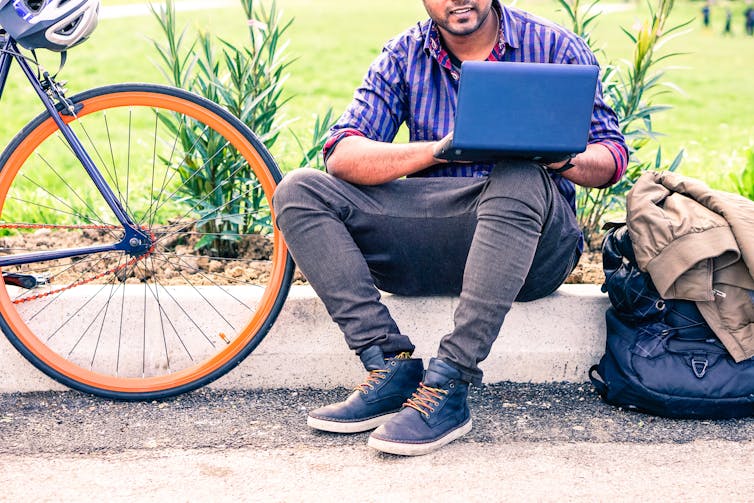 However, even people who've taken on board the sustainability message find difficulty in practising it. This finding emerged from data collected by one of our former PhD students Cristina Longo (now a researcher at the University of Lille's business school). To understand the trials and tribulations of trying to live more sustainably, Longo conducted an ethnographic study and embedded herself in the local Transition Network community, a movement that promotes sustainable living.
She spent two years hanging out with people already highly knowledgeable and committed to living a sustainable lifestyle. She attended talks and meetings, and participated in guerrilla gardening, taking care of neglected public spaces, before interviewing members of the community.
Our analysis of these interviews highlighted some major problems when it comes to living out sustainable values – even when you've got the best intentions. The paradox of sustainable consumption appears to be that the more you are aware of the issues at stake, the harder you find it to actually live out your values.
Dilemma, tension, paralysis
The more knowledgeable people become with regard to the myriad issues surrounding sustainability, the more this knowledge becomes a source of dilemma. For example, Tessa, a member of the Transition Network with a longstanding interest and understanding of sustainability issues, told us of her "green beans from Kenya dilemma". For her, green beans from Kenya were definitely a no-no, because of the food miles incurred in flying the beans over. However, she found the clarity she had on this position was undermined when she learned of the social and economic benefits of growing green beans for the local Kenyan farmers.
Also, for those already committed to sustainability ideals, not being able to live up to them becomes a source of considerable tension. Veronica, for example, recounted a story about a talk she'd given on reducing carbon footprints. Afterwards, she drove past a family who'd been at the meeting, who were cycling. Being confronted with not practising what she was preaching was very disconcerting for her. Irene, too, wants to eat locally sourced organic food whenever possible, but on her limited budget finds it expensive to do so. This existential tension that both Veronica and Irene experience is in large part self-inflicted.
We've found that the more knowledgeable people become, the more it can result in paralysis or the inability to act on one's sustainability ideals or goals. One informant Kate described a knowledge tipping point. As she accumulated more and more knowledge that she attempted to put into practice, she also experienced an awareness that her efforts would ultimately be unsustainable. Judith experienced something similar too but saw her failure – in her case to not buy anything shipped over from China – as part of an overall learning process.
Clearly, being a sustainable consumer is problematic and embedding sustainable ideals into everyday life is fraught with difficulties. Until society's obsession with growth is addressed at a much wider level, sustainable consumption remains a fantasy.