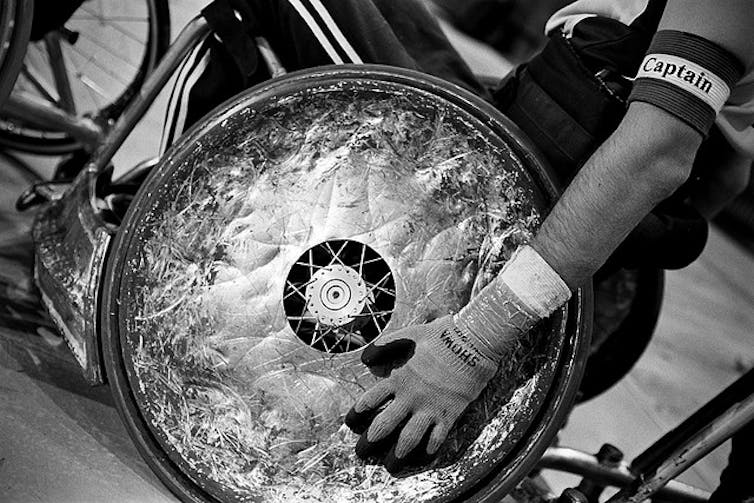 Day 3 of the Games had 16 sports in the program. There were 49 medal events in seven sports.
After today there are just four sports yet to start competition: Boccia; Road Cycling; Wheelchair Fencing; and Wheelchair Rugby.
Twitter
The #paralympics tag is producing some great current news and reflections. From yesterday I liked @BlueBaby67's tweet:
That's amazing blind GB footballer scores and runs to hug team-mate but hugs ref instead
and @GordonMacMillan's observation:
Amazing stat: Athens pre-sold 1,000 Para Games tickets. Beijing 5,000. London pre-sold 2.3 million tickets.
Kath Proudfoot
Kath competed in the women's discus (F35-36), a combined event for cerebral palsy athletes. This was one of the field events in which athletes from different classifications compete in the one event for one set of medals.
In such events the results are determined by a Raza points system (a mathematical formula is applied to each athlete's throw to calculate a point's score). At the end of her event Kath was placed fifth but due to a miscalculation in the system she was elevated to third place. She will receive her bronze medal on Sunday.
IDM Moments (Inspired, Dazzled, Moved)
On Day 3 the highlights for me were:
On Day 3 Australia won ten medals in four sports. The day's four gold medallists were: Evan O'Hanlon (Athletics); Michael Gallagher (Track Cycling); Joann Formosa (Equestrian); Blake Cochrane (Swimming).
Matt Cowdrey won a silver medal in Swimming.
The day's five bronze medallists were: Madelaine Hogan (Athletics); Brad Scott (Athletics); Jayme Paris (Track Cycling); Prue Watt (Swimming); Matt Levy (Swimming).
After three days of competition we are eleven medals away from Australia's 1,000th medal at the Summer Paralympic Games.
Previous instalments:
[Part 1](https://theconversation.com/Inspired,%20Dazzled,%20Moved%5D(https://theconversation.com/inspired-dazzled-moved-part-1-9214 )