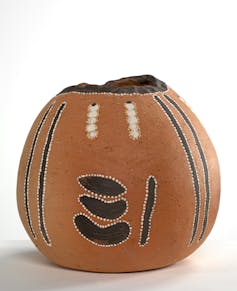 This article is an edited Warlpiri translation of "'Dreamtime' and 'The Dreaming' – an introduction". Read the English version here.
It's NAIDOC Week and the theme this year is "Our Languages Matter". The Warlpiri language is co-author Valerie Napanangka Patterson's mother tongue. Like most Australian Aboriginal languages, Warlpiri is threatened from multiple directions, including by the Australian education, health and legal systems, and the dominant culture's general apathy and lack of support for maintaining these globally endangered languages. Many have already been lost.
Even today in Australia linguicide persists. As recently as February 2016 the NT politician Bess Nungarrayi Price, whose first language is Warlpiri, was ruled disorderly by the NT Parliament and prevented from speaking Warlpiri in the House.
For the remaining Australian languages to survive, as Valerie Napanangka stated on ABC's Q&A on Monday, Australians need to work as a team, and that's what we've done in writing this article. To the best of our knowledge this is the first ever article written entirely in an Aboriginal language and published on a mainstream media outlet in this country. And Aboriginal languages really do matter - to all Australians. Language and identity are indivisible.
---
Jukurrpa-kurlu yapa-kurlangu-kurlu
Nyurruwiyi, ngajarra kalarlijarra tija warrki-jarrija Jeannie Herbert Nungarrayi-jarra kuurlurla Lajamanurla (1953-2014).
Linguist-wiyi kalarna warrki-jarrija, ngula-jangkaju kalarna principal nyinaja Lajamanurlaju. Ngulajangkaju 2002-rla, Nungarrayirliji yirri-puraja Jukurrpa, yangka Warlpiri-patu-kurlangu.
Kulalpalu-nganpa yapa Warlpiri-patu purda-nyangkarla manu milya-pungkarla kardiyarlu, yikalu ngurrpa-wiyi nyina jukurrpaku nganimpa-nyanguku. Nganimpa kalu-nganpa puta pina-nyanyi, yikalu nyina Jukurrpaku ngurrpa. Kajilpalu pina-jarriyarla jukurrpaku, kajikalu-nganpa pinangkulku milya-pinyi. Jukurrparluju kanganpa yapa jungarni-mani manu pina-mani nyiyakantikantiki.
Kulaka Jukurrpaju nguna nyurruwarnu-mipa, jalanguju kanganpa karri kuruwarri yapakurlangu. Jukurrpaju ngulaju Warlpirikirlangu; Jukurrpaju ngulaju yapakarikirlangu-yijala. Jukurrpa ngulaju nyurru-warnu tarnnga-juku kujakarnalu mardarni-jiki nganimparluju. Tarnngangku-juku karnalu mardarni Jukurrpaju. Nyampurlu walyangku ka mardani Warlpiri Jukurrpa.
Nyampuju yirri-puraja Nungarrayirli Jukurrpaju yapakurlanguju.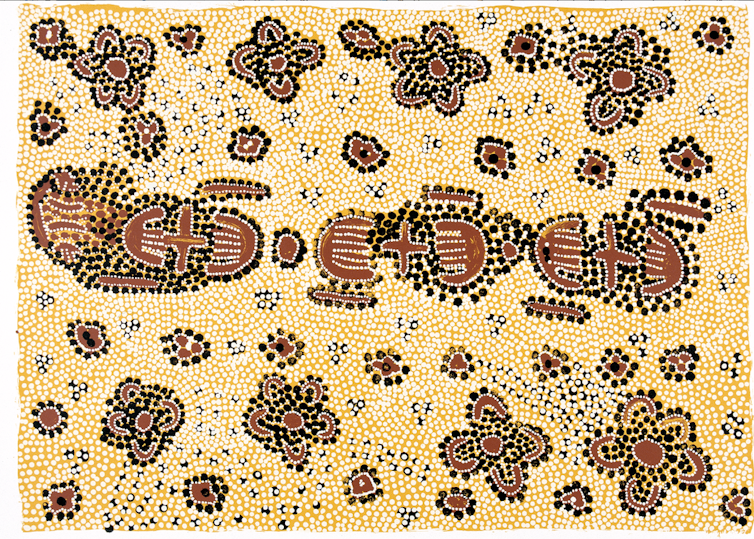 "Dreamtime" manu "Dreaming": nyiyaku?
Kardiyarlu kalu Jukurrpa ngarrirni "Dreamtime" manu "Dreaming". Ngurrakari-ngurrakarirli kalu mardarni kuruwarri warlalja.
"Everywhen": tarnnga-warnu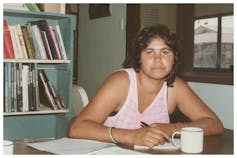 Jukurrpaju nyurru-warnu, jalangu-warnu. Kamparru-warnu-paturlu kalalu mardarnu. Jalangu-warnu-paturlu kalu mardarni-jiki.
Anthropologist-rli yirdingki W.E.H. Stanner-rlu kala-jana kardiyaku yimi-ngarrurnu nyurruwiyi 1956-rla yapakurlangu Jukurrpa. Ngarrurnu "everywhen". Yirrarnu pipa-kurra nyanungurluju, kuja: "One cannot 'fix' The Dreaming in time: it was, and is, everywhen".
"Kulalpa nganangku wurduju-mantarla kuruwarriji. Tarnnga-juku ka nguna. Jalanguju." (Valerie Napanangka Patterson, 2017)
Yirdikari-yirdikari Jukurrpa-kurlangu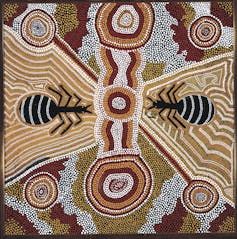 Jukurrpaju kalu yirdi-mani yirdi-kari yirdi-kari Yapangku jarukari-jarukarirli. Kardiya-wangurla-wiyi kalalu Yapa wangkaja jarukari-jarukari nyanungu-nyangu warlarlja, ngulaju panu, panu-nyayirni 250-pala-rlangu. Jaru warlalja kalalu wangkaja.
Kardiyarlu kalu Jukurrpa ngarrirni "Dreaming" manu "Dreamtime", kala kulakalu purda-nyanyi Jukurrpaju yapa-piyarlu, lawa.
Warlpirirli kalu ngarrirni Jukurrpa nyanungu-nyangurlu jarungku. Kakarrara-malurlu Yapangku, Yarrirntirli (Arrernterli) kalu ngarrirni Altyerrenge manu Altyerr (kujalu nyurruwiyi yirrarnu pipa-kurra Althira manu Alcheringa).
Karlarra East Kimberley-rla kalu nyina Kija-patu. Nyanungurrarlu Kijangku kalu Jukurrpa ngarrirni Ngarrankarni; panukarirli kalu ngarrirni Ungud manu Wungud jarungku Ngarinyinirli, nyanungu-nyangurluju.
Pilbara-wardingkirli kalu ngarrirni Manguny jarungku nyanungu-nyangurlu. Yatijarra-malurlu kalu panukarirli ngarrirni Wongar, yangka kujakalu nyina Arnhem Land-rla, kakarrarni-nginti.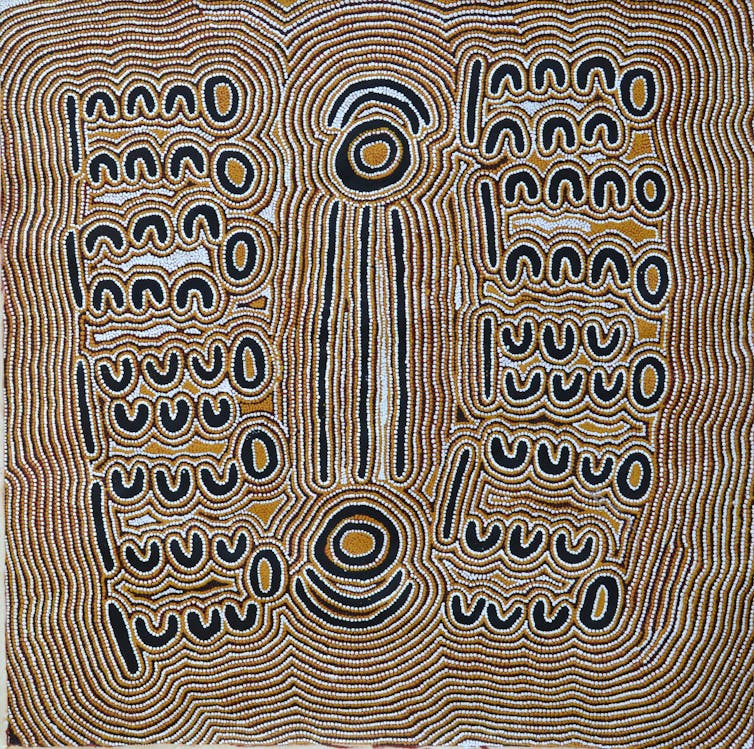 Yirdikari-yirdikari Jukurrpa-kurlangu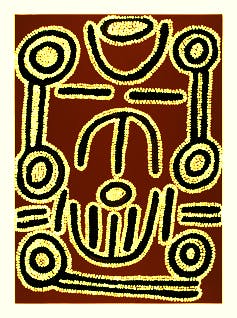 Warlpirirli kalu yirri-purami Jukurrpaju yimingki nyanungu-nyangurlu. Yirdi panu kalu mardarni yangka Jukurrpa-kurlanguju. Kamparru-warnu ngulaju kuruwarri. Kuruwarrirli kajana yapaku milki-yirrarni Jukurrpa-warnu. Kuruwarri nyanjarla kalu yapa pina-jarri Jukurrpakuju, manu kalu-jana panukariki milki-yirrarni Jukurrpakari-Jukurrpakari kujakalu kijirni malkarri-rlanguju manu puwarrilypa-rlanguju.
Yirdi panukari ngulaju pirlirrpa, yiwirnngi, kurruwalpa. Kajilparla yapaku jurnta-yantarla pirlirrpaju, kajika yapaju nyurnu-jarri. Pirlirrpa-kurluju ngulaju ka wankaru-juku nyina yapaju. Yiwirnngi karla nguna yapaku kuja palka-manu ngatingkiji, yangka kujarla miyalu-kurra yukaja kurruwalpaju. Yirdi panu kalu mardarni Warlpirirli Jukurrpakurlanguju.
Pina-jarriya Australia!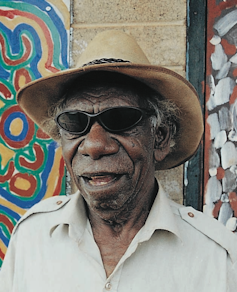 Yungulu Australia-wardingki-paturlu, kardiyarlu manu panukarirli, pina-jarri yapakurlanguku Jukurrpaku manu kuruwarriki. Jukurrpa-juku kajana nguna panuku yapaku, yangka Australia-wardingkiki. Kala kuruwarrikari-kuruwarrikari kalu-jana jarnku-jarnku mardarni warlalja-nyayirni, yangka kujakalu nyina ngurukari-ngurukarirla. Yapangku kalu purami nyanungu-nyangu Jukurrpa yangka warlalja yilpalu-jana pina-yungu kamparru-warnu-paturlu, nyurnu-paturlu, Jukurrpaku-ngarduyurluju.
Jalangu-jalangurlu yungulpalu kardiyarlu yampiyarla "Dreaming" manu "Dreamtime" ngarrirninja-wangurlulku.
Yungulpalu marda pina-jarriyarla yapakurlanguku yimiki. Yungulpalu Jukurrpa yirdi-mantarla yapa-piyarlulku.
NGULA-JUKU
Dedicate-mani karnalurla Pardipardiki
---
This article was co-authored by Valerie Napanangka Patterson, a Warlpiri woman who lives in Lajamanu, NT, and currently works in the Learning Centre.
This article was amended on July 5 2017 to restore a section inadvertently removed in the editing process.