Australian football star Besart Berisha recently flew to Kosovo's capital, Pristina, to play for the country where he was born. "For me, it's a very exciting time and I hope I have a great game," he told the press.
Set for March 25, the game – Kosovo against Iceland – is part of the first round of qualifiers for the 2018 FIFA World Cup. But it is much more than a simple football match. Sports diplomacy has been the most successful strategy implemented by Kosovo to garner international recognition.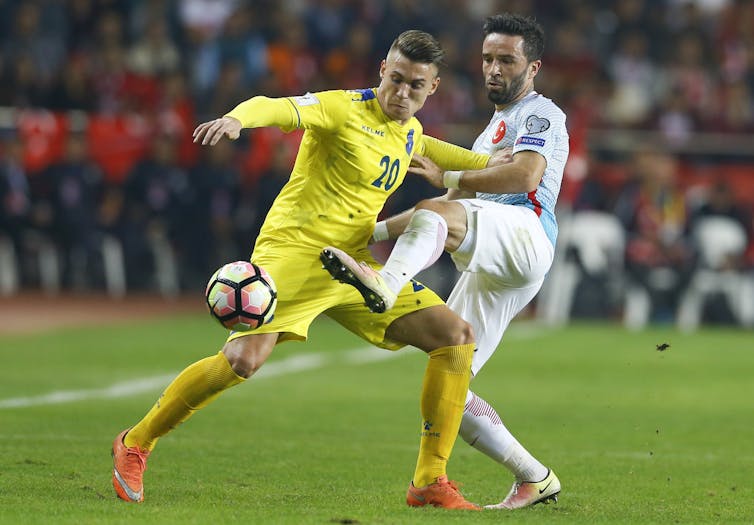 It's been nine years since Kosovo declared independence from Serbia, after Kosovo Albanians sought independence during the Yugoslavian wars. Existing tensions rose to a climax between Kosovo Albanians and Serbs, culminating in the Kosovo War of 1998 to 1999, which required UN intervention.
Kosovo's journey towards full international recognition is still going, with 114 UN member states recognising the country so far. Chinese and Russian opposition to recognise the country prevents Kosovo from becoming a member of the UN; recently, Russia reassured Serbia that it would not change its position.
Most countries that recognised Kosovo did so in 2008-2009. Since then, the supportive countries have been few, and the numbers of recognition have come to a standstill in past years – unless Serbia finally takes a stand to officially recognise Kosovo (which seems highly unlikely). Thus, the strategy of using sport as a tool of visibility and legitimacy allows Kosovo to claim its political existence.
Kosovo's branding strategies
To bypass this deadlock, the country has adopted alternative strategies. Its very active digital diplomacy led to its recognition by Facebook: users can now select "Kosovo" as their country of origin, while Serbia was the default option before. A 2016 Oscar nomination for a short film also created buzz.
Sport is also being actively used as a diplomatic tool. It wasn't incidental that during his congratulatory address to Kosovo on independence, US Secretary of State Rex Tillerson mentioned the country's FIFA membership and the Olympic title won by judo champion Maljinda Kelmendi as tremendous successes for the country. Participation in international sporting events is a symbolic way for a specific country to show evidence of its very existence.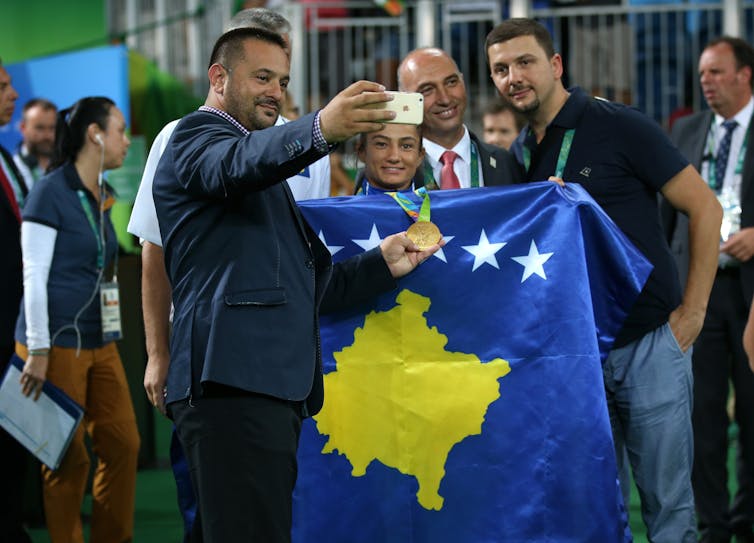 Who could deny that Kosovo existed when Kelmendi won the 2016 Rio Olympics title in judo before the world's eyes? Who can deny the country exists when its football national team is part of the 2018 World Cup qualifiers?
Taking part in an international sporting event makes it possible for a state – especially a young or small one – to get on the map, to accustom the world to seeing its flag and hearing its national anthem. In this sense, sport is a tool of soft power and an affordable way to be granted international symbolic recognition.
Croatia, Qatar and Jamaica, to name a few, are familiar with this process; athletics has given them a visibility far greater than their political weight in the world.
For Kosovo, the crucial decision came in late 2014 when the International Olympic Committee unanimously decided to admit the country as an official member, opening the way for other international sport federation to do the same. FIFA and the Union of European Football Associations (UEFA) followed in 2016.
In fact, Kosovo's path to FIFA membership started shortly after independence in 2008 thanks to Fadil Vokrri, a former Partizan Belgrade player who had represented the Yugoslav national team in the 1980s. He became president of the Kosovo football federation in 2008 and, acknowledging that his country wouldn't be granted membership before a majority of countries politically recognised it, advocated a step-by-step approach – from getting Kosovo into the international transfer system to allowing its teams to play friendly games, which FIFA did in 2013.
Football diplomacy
The Kosovo example embodies how political football can be. First, while high-profile members of FIFA were keen on accepting Kosovo, then-UEFA president Michel Platini was against the move, calling the case political.
Second, because Serbia and other countries, such as Russia, Greece and Spain, were opposed to FIFA allowing Kosovo even to play friendlies the league had to negotiate with both UEFA and Serbia to find a compromise.
That's why FIFA didn't allow Kosovo to play friendly games before 2013 even though it was technically possible. FIFA's president at the time, Sepp Blatter, insisted on negotiating an agreement with the Serbian federation instead of making a unilateral decision.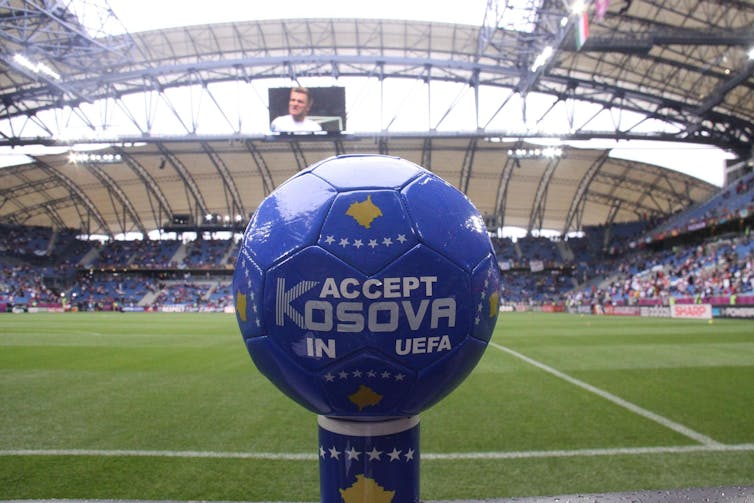 The game-changer seems to have been a 2013 Belgrade-Pristina political agreement, made off the record and signed under EU supervision. In it, Serbia pledged to stop obstructing Kosovo's path to international sporting organisations.
Still, Serbia continues to work against Kosovo's recognition in other international organisations such as UNESCO. When Kosovo recently applied to become a member it was rejected by 50 countries.
It is Vokrri's hope that the Kosovo national team will one day be a symbol of the country's civic identity that includes every citizen, regardless of nationality – Albanian, Serb or Roma. It could be, he told me in an interview, much like the Bosnian national team, which is now ethnically mixed.
For scholars seeking to learn about identity dynamics and inclusiveness in Kosovo, it seems there is no better tool than football.