Reviews by specially-trained pharmacists of the medication taken by elderly people have been funded by the federal government for over 15 years now. But a secret deal followed by a sudden announcement by the Pharmacy Guild means the service will now be limited.
In Australia, medicine-related reactions account for over a third of unplanned hospital admissions in older people. Taking the wrong medicines together, taking too high or too low a dose, or taking certain medicines when your kidneys are not working well can lead to ineffective disease management, toxic reactions, and, in the worst case, preventable deaths.
Older residents in aged care are among the most vulnerable. In her column in The Age early this year, former Howard government minister Amanda Vanstone described one such case where a new resident had been given a whole new regime of drugs (many of which treated conditions she didn't have) until a relative asked questions about it.
A timely medication review by a consultant pharmacist could easily have resolved the situation. And up to a couple of weeks ago, Australia had an excellent program of just such reviews.
We were doing so well, in fact, that our medication management services were the envy of the developed world. But that all changed when these services were capped through a back-room deal struck between the Pharmacy Guild of Australia and the Department of Health.
Medication review services
For more than 15 years, specially-trained consultant pharmacists – either independent or based in a community pharmacy – have been funded by the federal government to provide medication management services in aged-care facilities. More recently, they've also provided the service in people's homes.
The service was started as a response to high rates of inappropriate medication use in aged-care facilities, and research showing medication reviews could positively impact patient care. Medication reviews also improve the quality of medicine use, and reduce hospital admissions and adverse medication events.
They save money for both the health-care system (fewer hospital admissions and drugs being subsidised) and people too. One US study reported that 43% of residents of an aged-care facility spent less money every month on medicines after a medication review, with the average savings of US$30 per resident per month.
The review starts with a doctor referring a patient whose medication regime is then looked at by an accredited pharmacist. This pharmacist makes written recommendations to address issues such as duplicated drugs, interactions or adverse effects.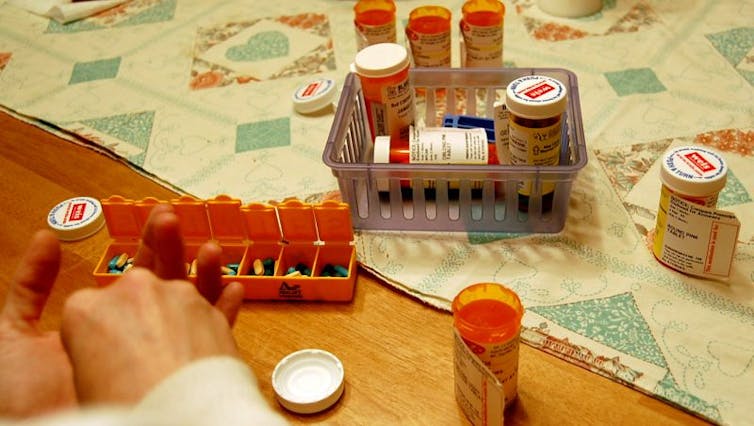 Currently, a pharmacist is given A$200 to perform a medication review in a person's home and A$100 dollars for a review in an aged-care facility.
As consultant pharmacists, we have seen firsthand what a difference this service can make. Sometimes, it's just simple things like finding a patient taking the same medication with different brand names. But we've also encountered serious interactions and adverse effects that, if left unaddressed, were highly likely to lead to significant harm or worse.
A big part of the review process entails listening to patient concerns, educating them about their medicines and disease states, and hopefully improving medication adherence. The latter is especially important because it's known to be a problem for people with long-term conditions, such as high blood pressure, diabetes, and respiratory disease.
Restrictions to a valuable service
Reflecting the value and high regard in which medication review services are held, demand has increased and the budget has started to run out.
The Government Pharmacy Agreement provides A$15.4 billion for five years to community pharmacies for dispensing and providing health services. Of this sum, A$122 million, just 0.8%, has been allocated for medication review services.
The outcome of the increasing demand was a surprise recent announcement by the Pharmacy Guild (not the government) that the number of medication reviews each pharmacist can undertake will now be capped to 20 a month. And there's now a minimum two-year interval between reviews.
Contrary to what its name suggests, the Pharmacy Guild doesn't represent the interests of the majority of pharmacists in Australia, of which there are more than 26,000. It speaks for its membership - less than 5,000 pharmacy owners – who derive little profit from medication review services.
In the very same press release that the medication management caps were broadcast, a brand new payment was announced; up to A$2,000 per community pharmacy for meeting two targets for electronic barcode scanning of prescriptions, which is routine practice in many community pharmacies already.
Accredited pharmacists and patient groups weren't consulted before either arrangement was made, nor were other professional organisations. The deal was made exclusively between the government and an organisation representing the sole interests of pharmacist owners.
If the government is serious about providing medication management services that make a valuable contribution to the nation's health, then the restriction on medicine reviews should be lifted. Otherwise, Australia's standing as a shining light in the field of medicines management will rapidly fade and vulnerable members of our society will be left without timely access to a much-valued service.