Teaching science involves far more than someone simply standing with a few sheets of paper or a PowerPoint presentation while learners diligently take notes. Meaning is made in science through many forms of communication.
American physicist and applied linguist Jay Lemke has shown that when scientists communicate and perform their work they rely on graphs, tables, gestures, mathematical equations and verbal language, whether spoken or written.
Some in South Africa have advocated for science in schools to be taught only in English.
But Lemke's work and other research shows that science as a field is particularly suited to being made up of different languages. In fact, using more than one language when teaching and learning science in schools can greatly enhance concept development - and that is the heart of science.
English dominates
There are 11 official languages in South Africa. English is only the fifth most commonly spoken of these.
A review in 2010 of South Africa's school language policies showed that 79% of learners switch from learning in their home language to using English as the language of learning and teaching for science and similar content subjects from Grade 4.
This switch happens despite international research which shows that it takes at least six years to become proficient enough in a new language to use it as the language of instruction, textbooks and assessment.
It would be nearly impossible for many people to imagine that an English-speaking eight or nine-year-old could learn science in isiXhosa after just three years of occasional tuition in that language. So why does the policy expect exactly this feat of children who don't speak English as a home language?
Science registers in African languages
The reality is that many South African teachers are not proficient enough in scientific English to use it exclusively for teaching. This means that the home language predominates in science lessons anyway. Things get really difficult for learners when they then have to complete written assessments in English after being taught concepts in an entirely different language.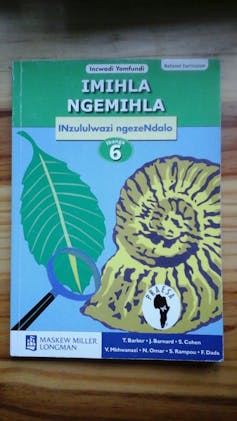 Everyone from school children to publishers and science professors is using a variety of South African languages, and not just English, to get science done. It is predominantly the everyday registers of these languages that are used to talk about what people are doing in experiments or to translate concepts in classrooms.
Researchers are increasingly seeing a science register being developed in African languages, especially when used in conjunction with other modes of communication like graphs, tables, diagrams and mathematical equations. The development of these verbal science registers echoes the process followed when Afrikaans became a vehicle for science during the last century.
In a Grade 6 isiXhosa science textbook you'll find entirely new terms coined just for the subject - like umbane ongashukumiyo for static electricity. In other cases, words or terms are borrowed from other languages - ifotosintesisi is photosynthesis. Particular grammatical constructions become conventionally used, just as happens with an English science register.
This process is organic and happens at many levels simultaneously. But the development of a language's scientific register can get a huge boost if publishers produce textbooks in that language.
Science textbooks are being published in African languages. Examples include Maskew Miller's multilingual maths and science dictionaries, first produced in 2008; and PRAESA and New Africa Books' science and technology dictionary from the same year.
More recently, the University of Fort Hare in 2014 produced an isiXhosa-English science and maths dictionary. A particularly exciting example is Xolisa Guzula and Phiway Mbuyazi's forthcoming translation of Lucy and Stephen Hawkings' book, George's Secret Key to the Universe.
Multilingualism boosts concept learning
Concept development lies at the heart of science and teaching language. It is here that science registers in African languages hold their greatest power. When we contest and negotiate the meanings of scientific terms in different languages to select one or more to use in the science registers of that language, we deepen our understanding of the concept.
Studies done at the University of Cape Town have shown how economics students have deepened their understandings of concepts like "deficit" by debating the meanings of multiple terms in different languages to express a concept.
These students have an advantage over monolingual English speakers who may accept the English term at face value without truly understanding it.
A way to create new science
When languages are viewed as resources rather than problems, it paves the way for the thoughtful, planned and informed use of more than one language in science classrooms and textbooks.
We believe that using both home languages and English in science teaching will enhance meaning making, which will ultimately enrich children's learning of both science and these languages.
South African learners' many languages offer great potential for expressing accepted scientific meanings. More importantly, they can help to create new science that is inclusive of the indigenous knowledge systems so valorised in the country's curriculum.