It has been said that the line between good investigative reporting and inappropriate journalistic prying is never clearly drawn. Journalists usually complain long and hard when governments intervene to move the line. So they will not be impressed with what has happened this week.
In the shadow of the recent anti-terrorism raids across New South Wales and Queensland, the Abbott government has passed legislation (with Labor support) designed specifically to silence those who would seek to report particular anti-terrorism measures.
Government can impose blanket of silence
The relevant law emerges from the National Security Legislation Amendment Bill (No.1) 2014. This amends the ASIO Act 1979 by adding a new section 35P (amongst others) to extend existing state and federal prohibitions on the disclosure of information regarding policing for anti-terrorist purposes.
The amendment imposes substantial jail terms (five years) for anyone who discloses information relating to a "special intelligence operation" (SIO). That penalty doubles if there is evidence that the disclosure would endanger the health or safety of any person or prejudice the effective conduct of an SIO. The Senate accepted a Palmer United Party amendment that means anyone who publicly names an ASIO agent could be jailed for up to a decade, a ten-fold increase in the existing penalty.
There is no "public interest" defence. There is no defence that a journalist was not aware that an SIO was even in progress.
Laws designed to limit the reporting of such matters are not new. In the last decade each jurisdiction in Australia has passed legislation that limits publication of information about anti-terrorism orders, or other operations. For example, section 26P of the Terrorism (Police Powers) Act 2002 (NSW) gives the NSW Supreme Court (upon application by the government) power to suppress anything to do with a preventative detention order or prohibited contact order.
What is different about the latest legislation is that the silence "blanket" now applies across Australia without the need for a court order.
History of abuses makes case for transparency
Respected criminologist Peter Grabosky has contributed an interesting chapter on this subject in a forthcoming book, Unsettling Transparency. In his chapter he writes:
While hardly anyone would suggest that national security should be managed in an environment of complete transparency, there are many who suggest that citizens of a democracy are entitled to know about acts of questionable propriety that have been committed by their government on their behalf. And prospectively, it is important for citizens to be party to informed discussion about whether the policies that may lead to these acts are misguided or not.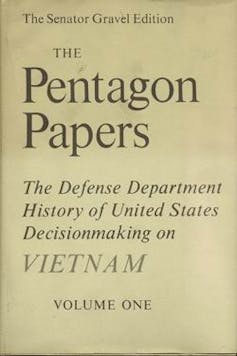 Professor Grabosky analyses five international cases of unauthorised public disclosures of national security information. He concludes that the real harm to the national interest in each of the cases arose not from the initial disclosures, but from the state responses. Richard Nixon's attempted censorship of the Pentagon Papers, for example, only invited further opposition to the Vietnam War.
The difficulty for any government that invokes a cloak of secrecy under the claim of "national security" is that it invites suspicion. Is the real agenda to conceal a blunder, to justify a violation of the law, or to pursue a political end?
Remember the famous phrase of Ronald Reagan? "If you knew what I knew." That rang hollow a decade later when the US government trotted out the same justification for the military pursuit of Saddam Hussein's alleged "weapons of mass destruction" in the absence of any overt evidence.
In our own corner of the world the tradition continues: on the grounds of "national security" the Australian government continues to refuse to discuss allegations that it engaged in eavesdropping on cabinet ministers of the government of Timor-Leste.
The need to speak truth to power
Into this debate come the journalists, those whose natural inquisitiveness aids their scepticism. Are there any ulterior purposes? Are governments exaggerating a threat in order to justify excessive countermeasures?
No-one is able to assess whether the claims are valid, and whether operations are a legitimate use of state power, unless the information is put under public scrutiny. Moreover, in the absence of reliable information, potentially damaging speculation is likely to fill the evidentiary gap.
So where do we go from here? One could suggest that media proprietors' barristers should head to the High Court and argue that the law violates the freedom of political communication implied in the Constitution, especially if disclosure does not pose a disproportionate threat to public safety.
The legislation, however, does not give any assistance in this respect. And, in the case of Lodhi (2006) NSWSC 571, the NSW Supreme Court held that suppressing evidence such as this was not an unconstitutional restriction on freedom of speech.
One could simply trust governments to do their job, and tell naysayers to desist. But we need to remember that, when officials are confident that they are not under scrutiny, it is not unfair (nor un-Australian) to suspect that some will exercise their power inappropriately. And to determine whether that has occurred we need transparency, not a wall of silence.
Governmental zeal, however justified by the pressures of the day, must be kept in check by the curiosity of a free press.