Parental leave for new mums as well as new dads was always going to be a potentially tricky sell. On top of prejudice, societal pressures and expectations, many people still believe a new baby is best being looked after by its mother, and some new mums may feel they have earned the time off.
This is despite the fact that a recent study shows a direct correlation between dads who are more involved and the stability of their long-term relationships with partners. The study looked at more than 13,000 mixed-sex couples and found that fathers who spend more time alone caring for their babies are less likely to separate from their partners.
But three years after the introduction of shared parental leave – whereby parents can share up to 50 weeks of leave (37 weeks of which is paid) if they meet certain eligibility criteria – its benefits are yet to be obvious to many parents. And my researchinvestigating the reasons why mothers may or may not want to share their leave with their partners suggests that some employers have failed to embrace and normalise shared parental leave in the workplace.
The research, which involved 756 online responses and 20 semi-structured interviews with parents found that, while most organisations now have policies on shared parental leave, only 18% of respondents heard about it from their employers.
'Complex and bureaucratic'
The findings reveal that many employers don't seem to understand how shared parental leave actually works. Many companies were unable to explain to their staff what shared parental leave is, or how it works – as Sarah, a 32-year-old mum explained:
I'm sure my HR department still don't understand what shared parental leave is, because there was so much confusion.
Participants also talked about HR policies being too difficult to understand. Though this may not be surprising, given the shared parental leave policy has been described as complex and bureaucratic. In my research only 11% of the survey participants said they understood their company's policy on shared parental leave pay. Companies also seem to be reluctant to share the policy widely within the company, as James, a 37-year-old line manager put it:
I like being helpful, but I don't think I'd necessarily say: 'Oh guys, I've just learnt something new. Here, do you know that you can take more time off, just go and have another child'.
This lack of employer awareness and communication then affects staff decisions and attitudes towards shared parental leave policy – making it less likely that employees will consider taking shared parental leave.
Social stigma
But there are other challenges that go far beyond what employer awareness and communication can resolve alone. This includes leadership and culture in the workplace, as well as the lack of role models for stay-at-home dads.
There are also issues around mother and child health after birth – some women aren't able to go back to work straight away due to complications. Then there is a cultural perception of dad still being the breadwinner of the family, issues around breastfeeding and the nature of the type of work mother and fathers do – including the impact that taking time off can have on careers.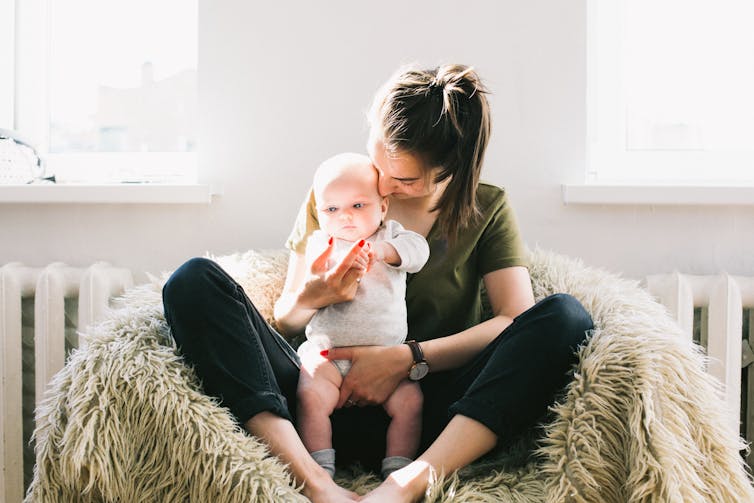 Another part of the issue is the fact that shared parental leave is paid at the statutory rate – this leaves it up to the employers to chose whether or not to enhance shared parental leave pay.
Shared parental leave pay is currently £139.58 a week or 90% of an employee's average weekly earnings – whichever is lower. But an employer may offer more. This is the same as statutory maternity pay – except during the first six weeks of maternity, pay amounts to 90% of whatever the employee earns, with no maximum.
So in this sense it could leave some families worse off, as the policy does not place legal obligations on employers that enhance maternity or paternity leave pay to do the same for shared parental leave pay.
Although some companies decided right from the introduction of shared parental leave to offer enhanced pay, many are yet to do so. And employees who can't get enhanced pay – but have access to enhanced maternity or paternity pay – may not take the shared option because of the financial cost. As 32-year-old Jade explained:
We both work for the NHS and are eligible for enhanced maternity and paternity pay … However, if we had taken shared parental leave, we would have lost the enhanced pay so would have been financially much worse off.
Redefining parenthood
Shared parental leave is a policy that is a milestone towards cultural change. It provides an opportunity for fathers to be more active in caring for their children and for mothers to have the opportunity of limiting the effect of caring responsibilities on their career.
But this policy and its intended aims cannot be achieved if employers don't engage with it and embrace it. This is important because if employers are not being proactive and passing the relevant information onto their staff, many will not know or push to know about shared leave.
What all this shows is that employers are key players on shared parental leave. And for society to truly benefit from the introduction of shared parental leave, more companies need to communicate effectively with their employees, enhance pay where possible and encourage staff to take advantage of the policy.