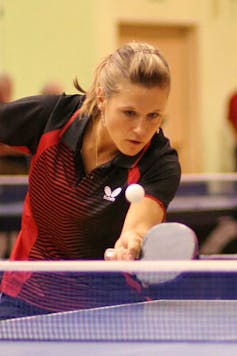 Two athletes who competed at the London 2012 Olympic Games, Oscar Pistorius and Natalia Partika will also compete in the Paralympic Games in London.
Oscar will compete in the T44 class in Athletics (400m, 200m, 100m and relay) and Natalia in the class 10 table tennis (singles and team).
Oscar's participation in the Olympics attracted a great deal of attention. Natalia received less publicity even though these were her second Olympics. In 2008, she and Natalie Du Toit became the first Paralympians to compete at both the Olympic Games and the Paralympic Games in the same year. Natalie Du Toit is swimming in this year's Paralympics in the S9, SM9 and SB8 classes.
Wikipedia has a fascinating page about athletes who have competed in the Paralympics and Olympics. Pál Szekeres won a bronze medal in fencing (team foil) at the Seoul Olympics in 1988 and, following an accident, took up wheelchair fencing.
He participated in five Paralympic Games (1992-2008) and won medals in all five Games. Pál is the only athlete to win medals at the Olympic and Paralympic Games.
George Eyser competed in the Olympic Games long before the Paralympic Games existed. In 1904 at St Louis he won six medals in a day (three gold, two silver and a bronze). What makes this achievement even more remarkable is that he had a wooden left leg. He won gold in the vault without the aid of a springboard.
There are no gymnastic events at the London Paralympic Games.