For refugees trying to reach Europe, a mobile phone is not a luxury. It is as important as the clothes on their back or even the boat they climb in to cross the Mediterranean.
Phone calls and messages are just a part of it – mobile apps, websites, social media, navigation tools and translation services, camera and audio recording all combine to make up a digital infrastructure that has become integral to any journey to Europe.
It is through phones that refugees learn about routes and the cost of transport. It's how they find out which borders are open and which are closed. Even before they make it that far, their phone might have saved their life by informing them about the weather conditions on a sea crossing. The general view is that they have three basic needs: a smartphone, food and water – in that order.
We interviewed refugees travelling to Europe between October 2015 and April 2016. One refugee told us how his wife was gravely ill at the Macedonian border and that he was only able to tell the border police that she needed urgent and very specialist attention – medical care that ultimately saved her life – thanks to a translation app on his phone. Another told us that if he had not had a mobile phone he would not have been able to call the coastguards to inform them that their boat was capsizing. He said 50 lives were saved as a result of that call.
On the move
Access to digital resources plays a crucial role in planning the different legs of the journey and offers a small level of control at a time when refugees feel their lives are full of danger. One group of Syrians, for example, told us that when they were passing through Serbia, trying to reach the Hungarian border by car, the GPS device prevented them being cheated by dishonest smugglers. They could check that they were on the right road and were able to stop the smuggler in the driving seat when they realised he was taking them in the wrong direction.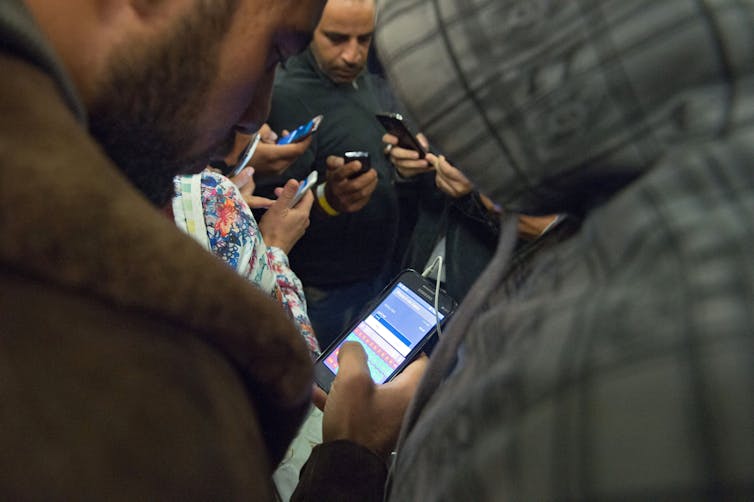 When they arrive in Europe, refugees also need to know how to find legal representation, make an asylum claim as well as find food and shelter. Their phone is the only way to do it.
Pocket-sized threat
Understandably fears about security and privacy are intense – particularly since there are very few legal options left for refugees trying to come to Europe. Governments are tightening and closing their borders so crossings often have to be made illegally, using fake passports.
The fear of being monitored forces refugees to go underground digitally. They use avatars, fake identities and closed Facebook groups to exchange information. But here they can also be exposed to misinformation put out by criminal gangs ready to exploit them. Some Syrians, we were told, have lost their family savings in this way. Smugglers advertise on Arabic Facebook groups such as التهريب إلى الاتحاد الأوروبي or "Smuggling into Europe". This exposes refugees to even greater risks and exacerbates an already dire humanitarian crisis.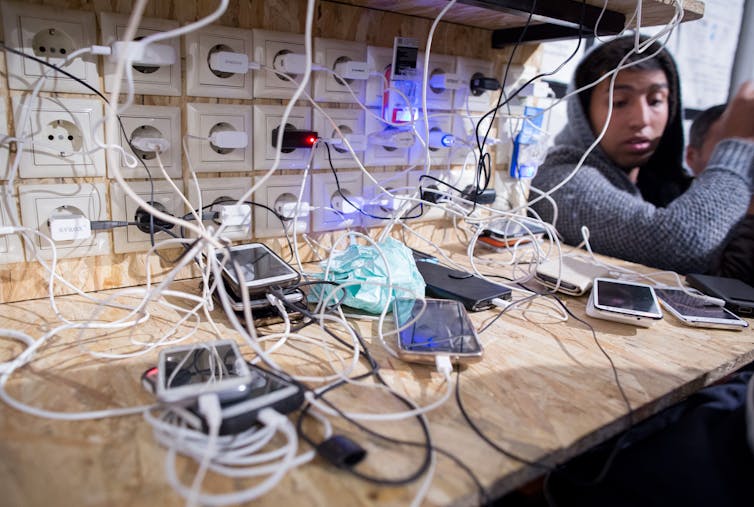 Despite being a fundamental necessity, phones can be a threat. The digital traces they leave behind make refugees vulnerable to surveillance by the people or governments they are trying to escape, who now use sophisticated tools for tracking the movement of groups using GPS apps. They can also monitor their social media interactions and networks. Smartphone use by refugees illustrates the twin dynamics of digital empowerment and surveillance in particularly extreme ways.
Camera phones also often contain images of the very violence and torture that led refugees to leave their homes and flee in the first place. These help when making an asylum claim but, in the wrong hands, expose refugees to even more danger.
Whatsapp is one of the most popular apps used by Syrian refugees for this very reason. It is encrypted, so messages can't be monitored. It is used to circulate vital information such as maps.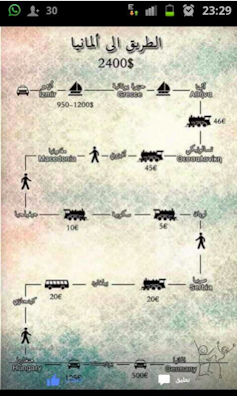 Place names are shown in Arabic, English and Greek and the means of transport and the cost of each leg of the journey is displayed. You can even see the currency you need to use at each stage of the journey.
Tapping into the network
At the time of our research, refugees were the subject of a huge amount of news coverage. News or information was primarily about them as powerless victims or smartphone-wielding "fake refugees". News or information was rarely for them. For all their arguments about handling the crisis, our research found that European governments and international news organisations are failing provide the information and news that refugees need to make their journeys and lives safer.
European countries should be providing reliable information and the news that refugees need about getting safe passage, their rights on arrival and what is (and isn't) on offer to them in Europe. This doesn't happen at the moment because states and news organisations fear being seen as encouraging irregular migration. The European Commission can help here by monitoring the quality, accuracy and credibility of that information.
Even if not all refugees have smartphones, 98% of people in Middle East and North Africa now use a mobile phone. They are an untapped resource for the European institutions that have not yet found ways of communicating with refugees. These are the devices we all use to get from A to B but, for a refugee, they could mean the difference between life and death.