In the first of three Conversation podcasts on the Western Australian election, we talk to Natalie Mast at the University of Western Australia, Premier Colin Barnett and ABC election analyst Antony Green.
Saturday's election potentially carries a hefty national punch.
The polls are running strongly against the Liberal government. If Colin Barnett loses, the federal Liberals will become even more jittery, although the defeat would be due primarily to state factors.
The election will also test the power of Pauline Hanson's One Nation as a disruptor, with the party set to win state upper house seats. Hanson is on the campaign trail all this week. Her latest provocative comments on immunisation, Vladimir Putin and Muslims – she said on Monday Muslims had changed Australian suburbs – continue to highlight the dubious deal the WA Liberals have done with One Nation on preferences.
The deal has alienated some among both Liberal and One Nation supporters. Barnett is anxious to keep maximum distance from Hanson, insisting the preference swap doesn't indicate any wider convergence.
He admits that while some people will be unhappy with the deal, "I think overall it will improve the Liberal Party vote. And can I stress there's no agreement with One Nation. I don't endorse their policies. I don't endorse their candidates and there is no agreement about any role in government about legislation or policy."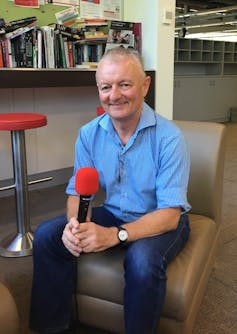 Barnett, who is promising – ambitiously, given the government's unpopularity – to sell 51% of Western Power, is highly critical of the way the national energy debate has gone.
After saying at a news conference on Tuesday there was no such thing as clean coal, Barnett told The Conversation: "Coal has relatively high levels of emissions. Higher quality coal tends to have lower emissions per unit of energy produced. In Western Australia we have had good long-term policies on natural gas and for a power station of an equivalent size, gas powered generation produces less than half of the emissions of coal.
"So if you want to clean up the energy system in Australia, it seems to me that the bleeding obvious thing to do is to make more use of natural gas in Australia," he said.
He says he watches "with bewilderment" the national debate on energy policy. "Australia, with its huge natural resources of coal, of natural gas, of uranium and so on, has got itself into an absolute mess over energy policy."