How do people feel about coal seam gas (CSG) in the regions where the industry is active? In 2014 we surveyed residents in Queensland's Western Downs region, at the end of a major construction phase.
According to our new survey, now that the industry has started operating, Western Downs residents have maintained their moderate or lukewarm views on CSG. And even though overall community wellbeing has remained similar, some aspects declined and some improved.
There was no single community view on CSG, with 68% saying they either "tolerated" or "accepted" it. A minority (19%) "approved" or "embraced" CSG and a smaller minority (13%) "rejected" it. Even though most people have a moderate or lukewarm view on CSG development, the 2016 survey showed that on average there was a tendency towards more negative views than in 2014.
While around half of residents thought their communities were resisting or struggling to adapt to changes (51%), the other half (49%) thought their communities were "adapting to changes" or "changing into something different but better". This is similar to how residents perceived their communities back in 2014.
However, there were pockets across the region where considerable proportions of residents indicated that their community was "resisting" or "only just coping".
Nevertheless, residents' perceptions of their overall community wellbeing in the Western Downs region were favourable and remained relatively unchanged between 2014 and 2016. This meant that residents still thought that their community was a good place to live overall.
Slightly more negative attitudes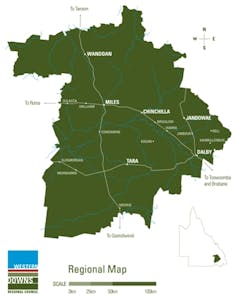 As in our 2014 survey, we conducted a telephone survey asking 400 people living in and around the towns of Chinchilla, Dalby, Miles and Tara about their attitudes to CSG, as well as their opinions on the wellbeing and resilience of their communities.
This time we surveyed 500 people as we also included 100 residents from the eastern Maranoa region for comparison, an area next to the Western Downs which has had CSG wells since the mid-1990s and has less intensively cropped farmland. It includes the towns of Roma, Injune, Surat and surrounding areas.
In both the 2014 and 2016 surveys people had mixed feelings about CSG development. However, attitudes tended to be slightly more negative in 2016 than in 2014 (see figure below).
Residents' overall feelings about CSG development in the region – such as being angry, worried, pleased or optimistic – also became more negative in 2016. They declined from 3.0 out of 5 in 2014, which reflected a neutral feeling on average, to 2.8 (slightly negative on average) in 2016. However, more than 10% of residents had extremely negative feelings about CSG in both 2014 and 2016.
These differences probably reflect people's previous experiences and current situations, individual needs and wants, and personal world views and beliefs about gas development. They include perceptions of community functioning, environmental management, trust and fairness.
When asked about how they saw their communities responding to change, only half (49%) thought their communities were "adapting to changes" or "changing into something different but better", which is similar to how residents viewed their communities back in 2014.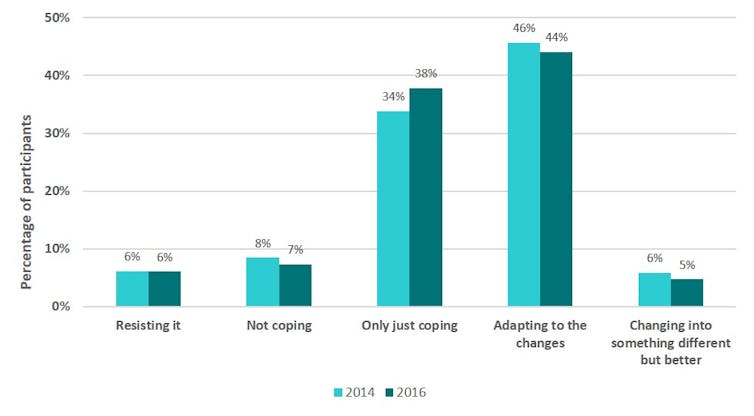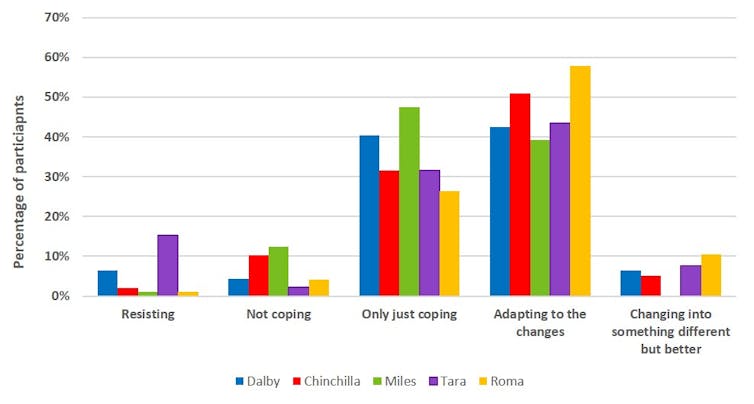 Creating a positive future
Overall community wellbeing in the Western Downs was favourable. But wellbeing in the neighbouring eastern Maranoa was higher than in the Western Downs. This suggests that while overall community wellbeing in the Western Downs is robust, it can be improved.
The biggest change in wellbeing from 2014 was the decrease in satisfaction in relation to jobs and employment opportunities. The biggest improvements were in roads and the quality of the environment (such as dust and noise levels).
Perceived management of the environment for the future also improved. However, residents were still dissatisfied on average with the management of groundwater in the region.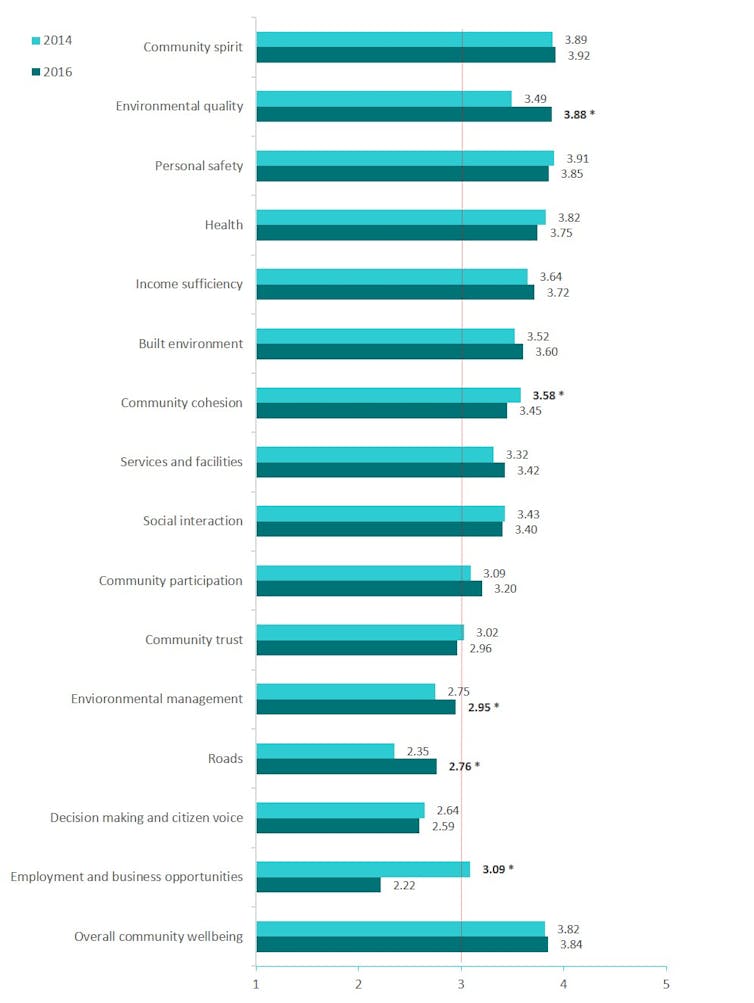 This report offers a valuable snapshot of the range of views that exist in a CSG community and how these have changed over time.
It highlights four key drivers for people to view their community as a great place to live: the level of services and facilities; the social aspects of community life; feelings of personal safety; and employment and business opportunities.
How can we help people cope with and adapt to CSG development? We identified several factors, including good planning and leadership, access to relevant information, trust, being listened to, and employment and business opportunities.
Other key drivers include good environmental management for the future, community commitment, and working together with government and industry to resolve problems and make the most of opportunities.
Making sure key aspects of community wellbeing remain strong, as well as improving processes for responding to changes associated with CSG development, will drive a sense of optimism and confidence about the future of these communities and others.