Would you pay A$9 for six mushrooms in inner-city Melbourne? Or A$4.50 for one small piece of broccoli or cauliflower in Sydney?
Probably not – but this is what rural Australians are being asked to fork out for their fresh produce.
Several studies in Australia have highlighted the disparity in the cost of healthy food between urban and rural areas in South Australia, Queensland and the Northern Territory.
Due to lengthy transport times, the quality of fresh fruit and vegetables deteriorates quickly, especially in remote Australia. The extra costs of transport, storage and handling of fresh produce are passed directly onto consumers.
Fresh fruit and vegetables are less available, more expensive and of poorer quality in rural and remote Australia. These areas are also among our most economically disadvantaged and residents generally have less disposable income to spend on expensive, healthier food options.
As a result, rates of diabetes, heart and kidney disease in rural and remote Australia are among the highest in the world.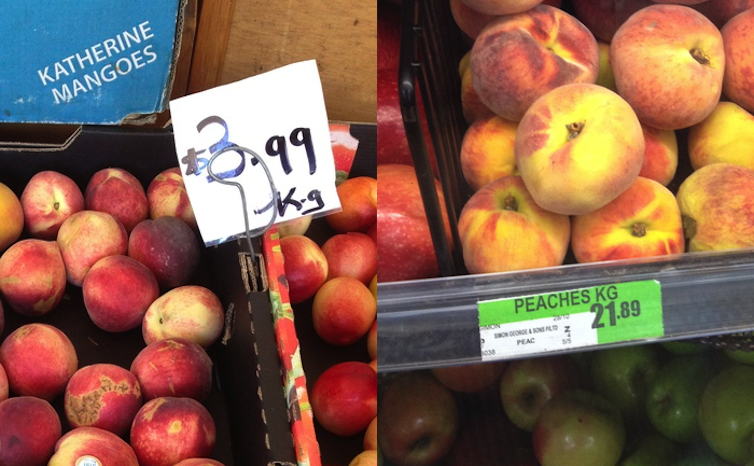 The economics of healthy eating
Individual behaviours are important. But largely, food purchasing preferences result from complex interactions between people and their socioeconomic environment, especially household budgets.
Evidence shows that people under financial constraints tend to preferentially choose high-energy, nutrient-poor food, to maximise their energy intake value-for-money. For example, foods such as rice, pasta and sweets are high in energy and relatively cheap. Fresh fruit and vegetables have high nutrient value but they cost much more for the energy they provide.
In one remote community in the Northern Territory, four foods – table sugar, flour, bread, and milk powder – provide about half the energy in the community's food purchases. Energy derived from fruit and vegetables is very small in comparison – 1% and 5% of food purchases respectively.
There is similar evidence from overseas. Wealthier people in the United States consume much more fresh fruit and vegetable in their diets than their lower-income counterparts.
It is also no secret that fast food restaurants preferentially locate their restaurants in low-income areas.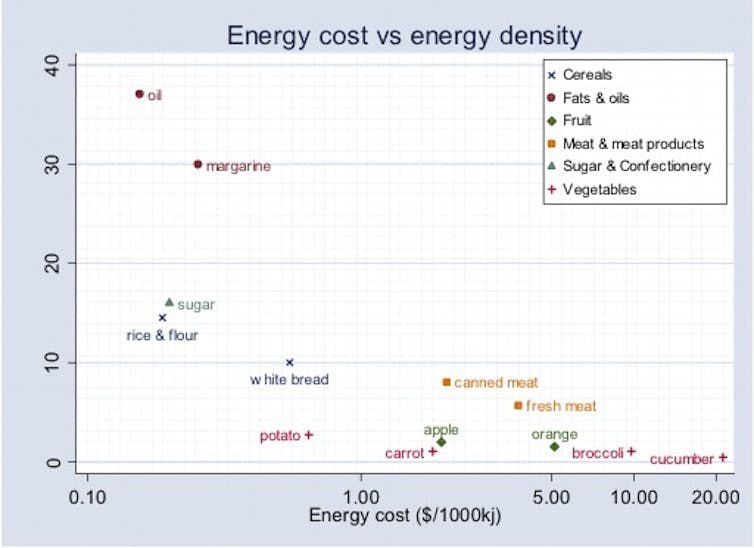 This in part explains why simply encouraging people in low socioeconomic groups to eat healthy foods is not an effective public health strategy.
Developing a solution
The availability of affordable fresh fruit and vegetables for all Australians must be a priority if we are to "close the gap" in health outcomes between remote, rural and urban Australians.
The only way to do this is to make fundamental changes to our food environments.
We need to develop incentives to reward healthier food choices and discourage unhealthy foods. And there is now evidence from multiple settings worldwide that differential taxation works.
Last month, Mexico introduced an 8% tax on fatty foods, and a one peso (approximately A$0.09) per litre tax on soft drink.
In the United States, San Francisco is proposing a similar tax. Revenue will be directed towards schools, nutrition, and physical education programs in low socioeconomic status neighbourhoods that are disproportionately affected by obesity.
In fact, a number of creative strategies that reduce the cost of fresh produce are already working in the US; childhood obesity in low income neighbourhoods has dropped for the first time ever.
Is there community support for similar proposals in Australia? A recent survey commissioned by the Obesity Policy Coalition found there was broad support for a soft-drink tax. Around two thirds of the people surveyed supported a tax on soft drink, if the revenue was used to help reduce the cost of healthy food for people on low-incomes.
Revenue from a sugar or fat tax in Australia could certainly be used to improve affordability and access to fresh produce in rural, remote and lower-income areas.
"Reducing the cost of living" is a popular catchphrase among politicans. Developing methods of taxation, incentives and subsidies to make healthier food choices easier would do exactly that.
It would help families lead healthier, more productive lives. It would also combat the epidemic of obesity and potentially reduce healthcare costs.
We must recognise that successful obesity interventions need to look beyond the individual and target economic drivers of dietary preferences.
As the new federal government considers its health policy priorities, now is the time for Australians to discuss strategies to improve the affordability fresh food.