For Liverpool supporters like me, Jordan Henderson was one of football's good guys. He was the club captain who fundraised for the UK's National Health Service during the COVID-19 pandemic and vocally supported Liverpool's LGBTQ+ community.
However, in July 2023, after 12 years at Liverpool, Henderson left for Al-Ettifaq, a club from the Pro League in Saudi Arabia, where same-sex relationships are criminalized. Henderson's weekly wage at Al-Ettifaq is reportedly US$900,000 — triple what he earned at Liverpool, the world's fourth richest club.
Some have labelled Saudi Arabia's investment in football as sportswashing. This describes a government's attempt to launder its domestic and international reputation through sport. It's often associated with Gulf states like Qatar, which hosted the 2022 World Cup, Saudi Arabia and Bahrain.
Henderson isn't the only footballer following the money. Some of football's biggest names now call the Saudi Pro League home. Cristiano Ronaldo got the ball rolling, signing for Al-Nassr in December. He's been joined by the current Ballon d'Or holder, Karim Benzema, who left Real Madrid for Al-Ittihad. Liverpool star Mohamed Salah has reportedly agreed to move to Al-Ittihad, however Liverpool have thus far not accepted a deal.
Brazil's Neymar signed for Al Hilal from Paris Saint-Germain (PSG). Al Hilal also offered PSG US$332 million for French superstar Kylian Mbappé.
Al Hilal's bid for Mbappé would have smashed the world transfer record; however Mbappé rejected the move. So did one of the world's best-known footballers, Lionel Messi. He chose to move to Inter Miami in the United States rather than accept a US$1.6 billion deal to join Al Hilal. But Messi will still earn US$25 million over the next three years as a tourism ambassador for Saudi Arabia.
Money outpacing morality
Via its Public Investment Fund (PIF), the Saudi monarchy has spent US$6.3 billion on sport since 2021. This includes buying English football club Newcastle United and creating LIV Golf.
But there's another aspect to the Pro League story. A super-rich newcomer is buying influence in a game whose profit-driven stakeholders, like FIFA, have faced repeated corruption scandals. The wealth and ambition of the Saudi project challenges Europe's stranglehold on world football. But it's the logical next step for a sport where money has outpaced morality.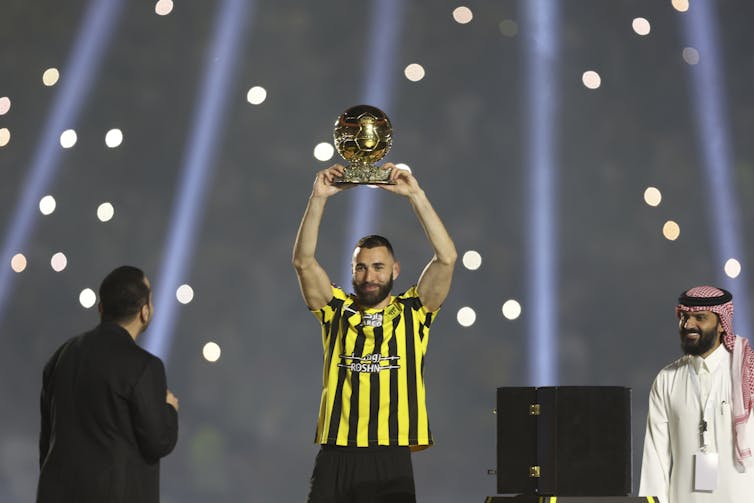 Sport is key to Vision 2030, Saudi Arabia's US$7 trillion project to diversify the country's global image and oil-dependent economy. The Saudi monarchy wants to host the 2030 or 2034 World Cup. It's pouring money into boxing, Formula 1 racing, golf and football.
In 2023, PIF took majority ownership of four Saudi clubs, Al-Ahli, Al-Ittihad, Al Hilal and Al-Nassr. Ronaldo's annual salary at Al-Nassr (US$200 million) makes him the world's highest-paid footballer.
Money talks, and sportswashing often works. Human Rights Watch recently reported that Saudi border guards killed hundreds of migrants along the Kingdom's border with Yemen. A Saudi-led military coalition has been accused of war crimes in the same neighbouring country. The Saudi government was responsible for the 2018 murder of journalist Jamal Khashoggi.
Amnesty International has documented the Kingdom's many human rights abuses, from its use of the death penalty to its treatment of migrant workers and protesters.
All that is unlikely to matter to many Newcastle supporters. Success on the pitch matters more than the politics of the club's owners.
A league that's here to stay?
As with Qatar's World Cup, the Saudi Pro League has provoked genuine ethical concerns. However, many in the Gulf states also point to the hypocrisy of Western criticisms that highlight human rights abuses elsewhere, while ignoring problems closer to home.
There is a neo-colonial element to the dismissal of Saudi ambitions that reflects Europe's long dominance of world football. Football is highly popular in Saudi Arabia and much of the Middle East, so why can't a league there rival the English Premier League or Spain's La Liga?
Saudi Arabia wouldn't be the first place where an authoritarian government has enriched domestic competition with overseas talent. Mussolini did it with Italy's Serie A in the 1920s. China's government did it with the Super League after 2004.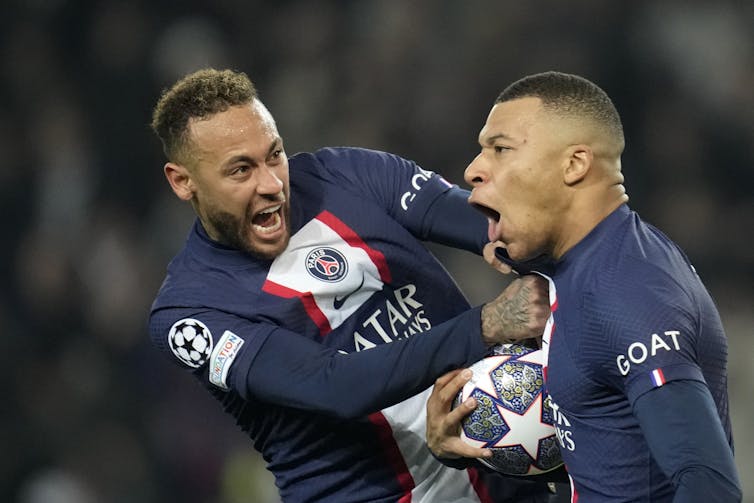 Henderson might have disappointed Liverpool fans, but focusing on a single footballer misses the point. Vast networks support Saudi sportswashing. Chelsea Football Club, once owned by Russian oligarch Roman Abramovich, is now 60 per cent owned by Clearlake Capital, a PIF-backed investment firm.
Boris Johnson's Conservative government approved of PIF's ownership of Newcastle United. Meanwhile U.K. weapons are sold to Saudi Arabia for use in the civil war in Yemen, which the UN estimates has killed 377,000 people.
The problem with the Saudi league isn't the league alone, or the unpleasant regime that bankrolls it. The problem is football and the economic structures that underpin it.
Football's vulnerability to sportswashing tells us a lot about how and for whom the world's most popular sport is run. It's not for the supporters, smaller leagues or most players. It's for unaccountable states, corporations and individuals.
There's a history of upstart competitions briefly challenging football's status quo, from Colombia's El Dorado league in the late 1940s to the Chinese Super League. The Saudi Pro League looks likely to have more staying power.
Many might be unnerved by Saudi Arabia's involvement in sport. However, the Saudi authorities are following the example set by football's governing organizations. They just have more money to exploit the greed and inequality that has seeped into football's DNA.