---
Read more: Comment écouter les podcasts de The Conversation ?
---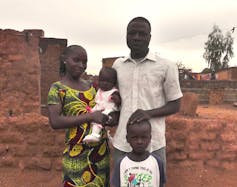 En 2016 environ 9 000 enfants vivaient dans les rues au Burkina Faso, en particulier dans les deux grandes villes du pays, Ouagadougou et Bobo Dioulasso. Ces enfants, livrés à eux-mêmes et débrouillards portent un nom : les « bakoroman ».
Comme l'explique l'anthropologue Muriel Champy, les bakoroman « s'insèrent dans différentes niches de l'économie urbaine et assurent leur survie au quotidien par le vol, la mendicité et les petits boulots. » En grandissant, quelques-uns viennent à leur tour en aide à d'autres enfants. C'est le cas de Saïdou. Ce jeune homme est peu à peu devenu son informateur privilégié sur le terrain, son assistant de recherche et son ami.
---
Muriel Champy, Faire sa jeunesse dans les rues de Ouagadougou Nanterre, Société d'ethnologie, 2022.
Références sonores et extraits musicaux
Entretiens avec Saïdou et Muriel Champy entre 2011 et 2020

Bara & Assif, FESTI 40 music festival, free music archive.

Burkina Faso sounds, Rubén Durán Rebato.

« Tiken jah fakoly », Les Audits.

« Sanza Koné », enregistrement de Charles Duvelle, 1960, archives du CREM-CNRS.

« Kôrô Joe », Ismael Isaac.

Snake in the Eagle's Shadow, de Yuen Woo-ping avec Jackie Chan.

« Jeunesse Wilia », Abdoulaye Cisse.

Jingle : « Boginoo duu » : voix chantée, vièle à deux cordes, Roberte Hamayon (collectrice), Mongolie, environs de Ulan Bator, population Khalkha, 1973.

Consultation publique en ligne sur le site du CREM. Archives sonores CNRS/Musée de l'Homme gérées par le Centre de Recherche en Ethnomusicologie (LESC UMR 7186, CNRS-Université Paris Nanterre) avec le soutien du ministère de la Culture et de la Communication.
---

« Secrets de Terrain » est un podcast conçu et animé par Clea Chakraverty, réalisé et monté par Vanessa Tubiana-Brun (CNRS Nanterre, MSH Mondes). Il est produit par The Conversation France et la revue d'anthropologie et de sciences sociales Terrain.
L'illustration « Secrets de Terrain » a été gracieusement accordée par le dessinateur Adrià Fruitos.