Climate change and extreme weather events are already impacting our food, from meat and vegetables, right through to wine. In our series on the Climate and Food, we're looking at what this means for the food chain.
---
During the recent heatwave in New South Wales, which saw record-breaking temperatures for two days in a row, 40 dairy cows died in Shoalhaven, a city just south of Sydney.
Climate change doubled the likelihood of this kind of record-breaking heatwave. And even the higher minimum temperatures we've recently experienced may soon be the "new normal" for this time of the year.
Farmers that already find it difficult to make a profit will need to adapt to these changing conditions, ensuring they mitigate the effects on their livestock. This could take the form of more shade and shelter, but also the selection of different breeds to suit the conditions.
What's happening?
Cattle are vulnerable to changes in rainfall patterns (variability and extremes), temperature (average and extremes), humidity, and evaporation. These climactic changes can affect livestock directly, and also indirectly through pasture growth, forage crop quantity and quality, the production and price of feed-grain as well as spatial changes in disease and pest distribution.
The greatest risks stem from extreme events such as heatwaves and droughts, as they are less predictable and much more difficult to adapt to than gradual changes.
Dairy cows are particularly affected by heatwaves, which can not only reduce milk production, but, as the NSW heatwave illustrated, cause illness or death. Further, the effects on milk production and the protein content of the milk can last for several weeks.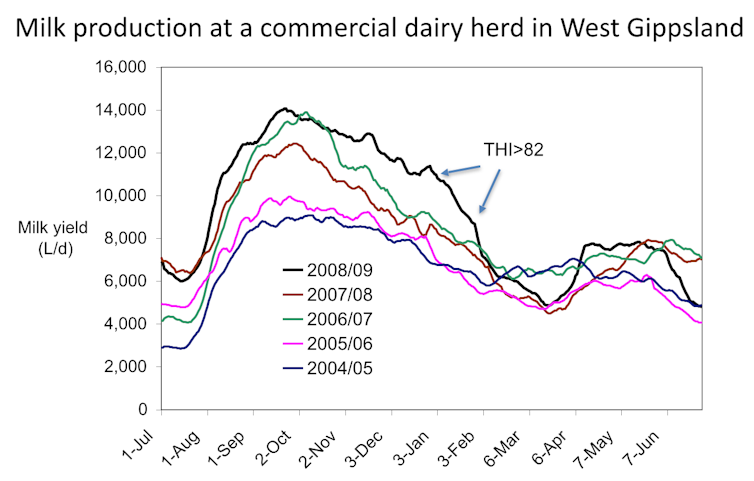 Similar to humans, instances of high relative air humidity and little wind worsen the negative effects of high temperatures on livestock. When this occurs, the animals cannot easily offload excess heat through transpiration. This is compounded when there is little or no cloud cover, as the cattle are exposed to more solar radiation.
Milk production is also impacted by night-time temperatures and the timing of the heatwave. When night-time temperatures are high, cows cannot offload excess heat. If a heatwave occurs after the cows' peak of lactation, milk production is less likely to recover and the impact is even worse.
The response of cattle to heat stress also depends on the breed. This can differ as a result of, among other things, differences in metabolic rate, sweating rate, coat texture and colour. Researchers have even identified a "slick hair gene", responsible for producing cattle with shorter, slicker hair that reduces their vulnerability to direct radiative heat. The full benefits of the slick gene still require more research as a strategy for animals to cope in future climates.
Sheep are generally less affected by high temperatures than dairy cows. However, heatwaves with temperatures beyond 40℃ can cause heat stress. Hot days may have short-term impacts on rams' fertility, and recently shorn sheep are at risk of sunburn if they are exposed to direct sunlight.
Factors that are unique to each individual animal, such as previous heat exposure and overall health and age, also play a role in how vulnerable they are to heat.
Mitigation
In the short run, farmers can mitigate the worst of these issues by providing high-quality water and shade (such as from trees, buildings, and shade cloth) in the heat, warm shelter in the cold, and by adjusting feed. During heatwaves, farmers can also adjust milking procedures and milk their cows very early in the morning or late at night. To provide immediate cooling they can also use sprinklers or misting systems. But care is needed to avoid simply increasing humidity around the animals.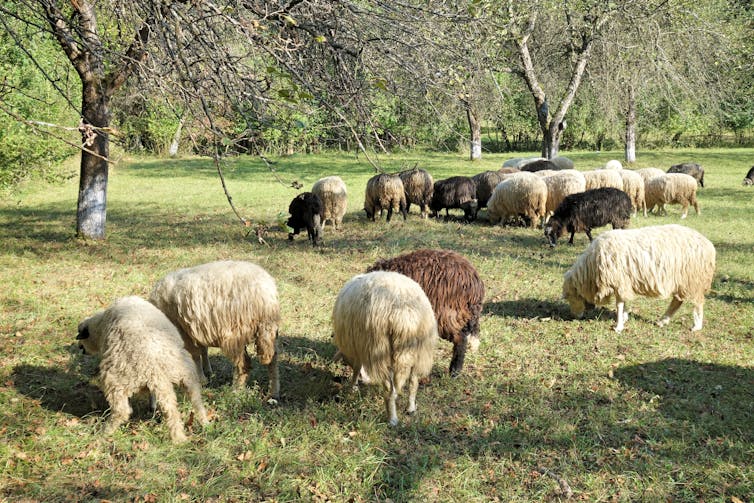 A more long-term option is to selectively choose breeds that are better adapted to higher temperatures (such as breeds with lighter coat colour or Bos indicus types or crosses). Unfortunately, breeds adapted to warmer climates, such as the Brahman, tend not to be high milk producers or to do as well in feedlots as the traditional British beef breeds, so there will be a hit to productivity.
As the impact of climate change isn't solely on the animals themselves, farmers will also have to adjust their work patterns and other aspects of their operations. To cope with heat, farmers themselves may need to consider working more during the cooler hours of the day. Farming both crops and livestock together can also provide a buffer against the impact of an extreme event. The combined production of wheat and wool is a typical example of spreading of risk on farm.
But for these strategies to really be effective, farmers need more information.
This includes accurate and timely forecasts of weather (temperature, rainfall, solar radiation) and heat (such as the temperature humidity index, THI) at daily, weekly and seasonal scales. Armed with this data, farmers and livestock managers can effectively plan and implement protection measures ahead of time.
A wide range of agricultural, climate and weather services exist. For example, the Bureau of Meteorology weather forecasts, seasonal outlooks of rainfall and temperature, and the current water balance and soil moisture information. There's also the the Cool Cows website, the Dairy Forecast Service and the Cattle heat load toolbox.
We also need more research into improving our understanding of the climate system, to develop risk management plans for industries by regions, and more accurate and reliable forecasts, so that farmers and livestock managers can make management decisions and ensure the wellbeing of themselves and their animals.