Cities are fizzing with opportunities to experience sex and sexuality. While sex usually takes place in private spaces, it is never really out of our minds. Unconsciously we "know" that it is taking place all around us at various times of the day. We are all arguably "street voyeurs" - deriving some level of sensual pleasure from observing "sexy" people we encounter in the city.
And we are continually reminded of it throughout the day. Cities are full of sexual imagery, from advertisements on billboards, buses and train stations to a more discreet, yet important, element of the urban landscape and economy - the sex shop.
It would be fair to say that most people think of sex shops as being sleazy, back alleyway outlets selling volumes of pornographic material to the so-called "dirty mac brigade".
Traditionally, they tended to be concentrated in somewhat peripheral locations within the inner city. But now they're opening in the suburbs.
Based on our ongoing research into the geographies and regulation of sex shops within metropolitan areas, the ever-growing presence of adult retailing in Australia would seem to suggest an increased sense of interest and participation in sexual adventure and liberation.
Some initial observations clearly highlight that adult/sex shops are varied, as are their target customers and geographical location
Put simply, the adult retail industry can be classified into three broad types: seedy and sleazy; corporate chain store; and high-end, bespoke. It is important to stress that these categories are primarily based on the visual aesthetic of adult/sex shops in terms of their overall shopfront design and condition.
Seedy and sleazy
The so-called "seedy and sleazy" sex shops are in the main independent retail outlets. They tend to be a predominantly heterosexual (and middle-aged) male space in terms of their staff and customers.
Products veer towards the pornographic, dedicating relatively large amounts of floor space to magazines and DVDs that cover an eclectic mix of consumer tastes and sexual orientations. Whilst adult toys and lingerie are available in these stores they are very much secondary products.
The blanked out windows, worn and dated condition of buildings and rough and ready signage screams seedy and sleazy to people passing by.
Geographically speaking, they are in marginal or peripheral locations within inner city or suburban areas. Generally they can be near light industrial areas or marooned along main roads and intersections.
Despite some shops having signage informing prospective customers that they cater for "him and her" it is difficult to imagine many women feeling welcome and comfortable in these retail spaces.
This is especially true of those shops that have viewing booths or "wank tanks" screening pornographic videos.
The corporate approach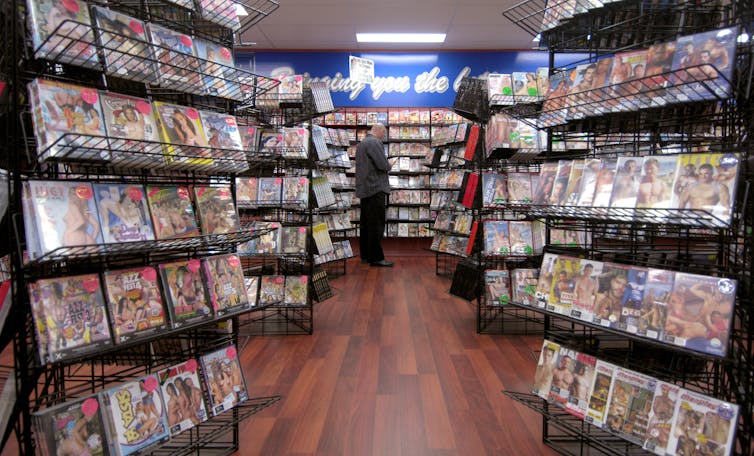 Conversely, men and women whether shopping separately or as couples, heterosexual, gay, bisexual or transexual, are much more likely to frequent corporate chain adult/sex stores such as AdultShop in Perth, ClubX and Sexyland in Melbourne, Adult World and Everything Adult in Sydney and Naughty But Nice in Brisbane.
Why?
First, these stores are effective in marketing and branding themselves as being like any other "normal" retailer. Clever and evocative shop front design, signage and colours coupled with younger, trendier, knowledgeable and predominantly female staff, create a much more welcoming space for customers.
Next, rather than portraying themselves as restricted premises or sex shops that are mainly about selling pornographic materials, the corporate chain sex shops have moved to promoting themselves as "adult lifestyle and sexual health" stores for the sexually curious, adventurous and liberated.
This is reflected in their product range and interior. The layout moves from being "soft core" as one enters the store with fun and novelty sex products, lubricants and lingerie on display. Then it becomes "hard core" further into the shop when the range of products becomes is revealed, with vibrators, dildos, butt plugs, cock rings, artificial vaginas, love beads, fetish and BDSM clothing and accessories (e.g. ball gags, paddles, whips etc) lining the walls and shelves.
Pornographic magazines and DVDs, if sold at all, are usually found at the very back of such stores and are sometimes completely hidden from view – apparently so as not to offend some customers!
The corporate chain sex shop is increasingly found in mainstream locations such as entertainment precincts in King's Cross in Sydney, Northbridge in Perth and Hindley Street in Adelaide. But they are also breaking through to some high streets and shopping centres – Honey Birdette have recently opened a store in the new Westfield Centre in Sydney.
The bespoke market
In recent years, new players have entered the adult retailing market offering consumers a high-end, bespoke option. These stores don't communicate that they are sex shops in the traditional sense, but rather position themselves as "erotic emporia" or "sensuality boutiques."
This new niche segment of the adult/sex retail sector is underpinned by a strong feminine philosophy in that a number of these stores are owned by female entrepreneurs.
Australian-based stores include d.vice, Honey Birdette, and Passionfruit. Internationally, Babeland (Seattle and New York) and Coco de Mer and Sh!, both London-based, have lead the way in offering a highly stylised shopping experience in terms of shop design, customer service and product range.
Designer brands of sex toys are de riguer. Vibrators and dildos in these stores are ergonomically yet oddly shaped, brightly coloured and tactile. The Lelo range of vibrators look more like Bang and Olufsen telephones than phalluses!
And, in terms of geography, these stores tend to locate in the hip and stylish parts of the city that are befitting of any high-end designer fashion store.
Sex shops are not merely spaces of perversion and pornography within the city. As the British geographer, Phil Hubbard, has noted in his new book, Cities and Sexualities, cities are simultaneously sites of sexual experimentation and liberation and regulation and control.
The number, type and location of sex shops (along with other forms of commercial sex like prostitution and strip bars) act as a barometer to society's changing attitudes towards sex and sexuality, and the state's preparedness to allow adults to explore their sexual desires.