The International Olympic Committee yesterday announced that Belarusian Nadzeya Ostapchuk, the women's shot-put champion at the London Olympics, had tested positive to metenolone on August 5 and August 6, the day before and of her gold-medal winning throw.
Ostapchuk was ordered to hand back her medal, disqualified from the event and all lower places in the event were promoted, giving Valerie Adams of New Zealand the gold.
What is metenolone?
Metenolone, usually called by its trade name Primobolan, is an anabolic steroid – a substance that mimics the effects of testosterone and dihydrotestosterone in the body – and is commonly used for the maintenance of both muscular strength and mass.
It is both highly prized and regularly used by both male and female athletes, as it is substantially less disruptive to the endocrine system (which produces hormones) than many testosterone-based steroids. Furthermore, metenolone can be made orally bioavailable – that is, it doesn't require injection.
There is no accepted therapeutic use for metenolone and, due to its scarcity, it seems an unlikely dietary or supplement contaminant, as is often the case with clenbuterol (the drug Spanish cyclist Alberto Contador was banned for using). As such, the appearance of metenelone is an enormous red flag and usually indicative of drug use.
While metenolone is an effective anabolic steroid, it also has quite a long half-life and is easily detectable, making it a curious choice of drug for an in-competition athlete. From a distance, it is impossible to speculate precisely why an athlete would choose to use it during such a heavily tested competition.
Recent suspicion
There were a few raised eyebrows on August 6 when Ostapchuk won the women's shot put. Welsh discus thrower Brett Morse expressed suspicion, suggesting on Twitter that Ostapchuk had doped. The tweet was deleted almost immediately afterwards.
Jean-Pierre Egger, coach of Ostapchuk's fierce rival (and now-gold-medal-winner) Valerie Adams, confined himself to a more cryptic but still pointed remark: "I would prefer to keep silent on this performance, if you understand me."
At first glance, it may seem unfair that this criticism appeared immediately after the gold medal was decided and before the failed test was announced, but this ignores three important factors:
1. Steroids work
Strength-based sports in the Olympics (such as weightlifting and field events) receive a substantial advantage from anabolic/ androgenic enhancement.
This can be seen very clearly in the all-time records in women's shot put. Only very rarely are the achievements of the "bad old days" of the late 70s and 80s approached. At that time, anabolic/ androgenic steroid use was much more common and less rigidly enforced. As a consequence, a medal or a record at a championship today can be secured with a throw nearly a metre less than the world record of 22.63m set in 1987 by former Soviet athlete Natalya Lisovskaya.
2. A dirty team?
This isn't the first trouble Belarusian throwers have had in recent years. Both Vadim Devyatovskiy and Ivan Tsikhan have returned positive tests recently in which their testosterone/ epitestosterone ratio (the frontline test for anabolic/ androgenic steroid use) was clearly indicative of drug use.
These tests were overturned on appeal due to handling errors with the samples, but this is no way constitutes an exoneration. Tsikhan in particular was banned from the London Olympics to avoid trouble for the Belarusian team as a whole, given retrospective testing uncovered anomalies in samples he gave in 2004 and 2005.
3. Suspicious improvement
Most damning of all is the noticeable improvement in Ostapchuk's numbers. Below, I have plotted most of her best throws from the past ten years of competition in blue, and her five throws from the Olympic final in red.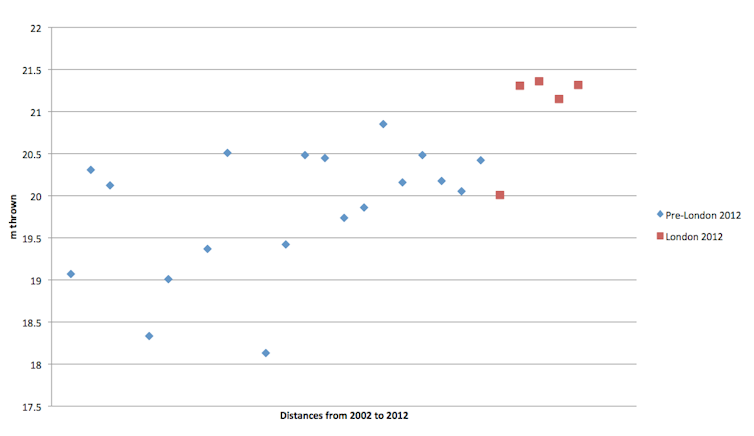 Generally, sudden or newfound success in this context is regarded with a great deal of suspicion. The margins within elite sports are simply not so fluid that they can be thoroughly trumped without something drastic changing.
Ostapchuk's Olympic throws are a full meter longer than those of recent years – an improvement of approximately 5%. This is an extraordinary increase, well above the heavily scrutinised five-second improvement by Chinese swimmer Ye Shiwen over her own personal best in the women's 400m medley. In that case Ye posted a time of 4:28.43 – an improvement of less than 2%.
At this stage we've got no way of knowing whether the accusations against Ye Shiwen are at all fair or accurate, but in the case of Nadzeya Ostapchuk it would appear that initial suspicions was well-founded.
Further reading: