Tasmanian devils in their prime are most likely to become infected with deadly facial tumour disease (DFTD), our research shows.
The findings, published today in Ecology Letters, contradict conventional wisdom that infection of relatively weakened individuals is commonplace in the spread and persistence of diseases.
Instead, it's the devils that enjoy the highest survival and breeding success who eventually succumb to the fatal disease.
DFTD has had a devastating effect on devil populations in Tasmania, with the marsupial carnivore placed on the endangered list in 2009.
So what is it that makes the fitter devils more prone to infection?
The devils in detail
DFTD is unique in that it is one of only a few known cases of transmissible cancer, where the deadly tumours do not originate from the host body.
The disease is transmitted into an individual when devils bite each other.
To track DFTD in a population, over ten years we repeatedly surveyed more than 500 wild devils, visiting the same field site at least four times per year.
This allowed us to study both survival and reproduction of the devils in the context of infection dynamics and tumour growth.
Our results add to our understanding of how DFTD spreads through devil populations, and reveal more details of how disease-induced evolution in devil populations (such as resistance to the disease) may be occurring.
We suggest the way disease is transmitted plays a key role in who gets infected.
It is the dominant devils who are more likely to engage in aggressive behaviour, such as during mating. This puts them at higher risk of biting an infected individual and thus becoming infected themselves.
So it's the devils who are otherwise very fit (in the evolutionary sense) that the disease takes out. These are the ones that have the highest survival and reproduction rates, before being killed by the cancer.
Impact on devil populations
So what does this say about the future survival of devil populations in Tasmania's wild?
Too often, a dramatic-looking disease such as DFTD leaves the impression that it must have detrimental effect on the overall population growth.
But this is not necessarily the case if diseased individuals had a chance to reproduce before they got infected.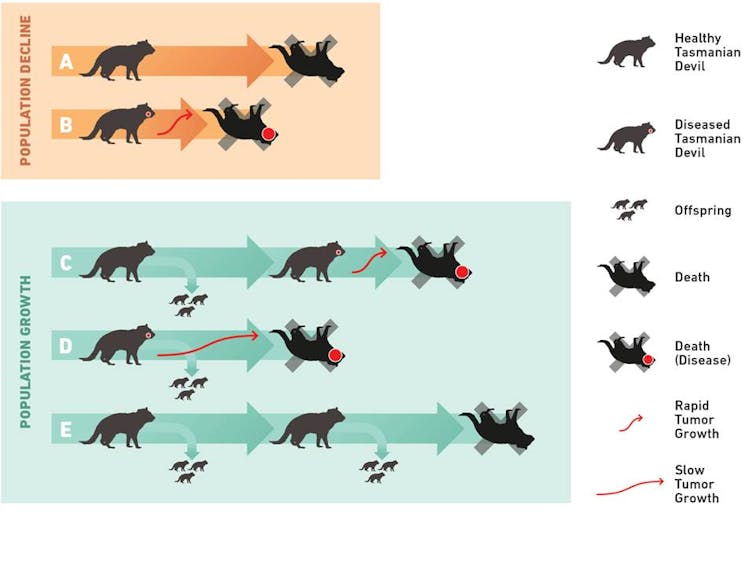 In the graphic (above) we can see that some devils may not reproduce because either (A) of their social status, or (B) if they get an infection early in life and rapid tumour growth results in death.
In contrast, devils who get the disease late in life (C) may have already reproduced earlier. In (D) devils may still get infected, but if the tumour grows slowly they may still have chance to reproduce before death.
As for healthy and dominant devils who don't get the disease (E), they may reproduce several times in their life.
Such details can be vital to understand the spread of DFTD and the outcome for Tasmanian devil populations.
It is the complex interplay of devil demography and disease dynamics that ultimately determines whether DFTD is a conservation threat for devils.
Infection decline
Our results also show a recent decline in the likelihood that devils become infected in this population. This could indicate some evolving resistance of devils to the cancer, as was recently shown by researchers from our team.
Alternatively, the decline in infection rate could have resulted from a reduction in the number of socially dominant devils, if these are responsible for most transmissions of the disease.
If adult devils with high fitness are those that become infected, the potential for selection for resistant animals would be limited.
This is because these individuals still contribute more offspring (and their genetic constitution) to future generations than those not infected and with little engagement in reproduction.
Devil conservation
Our findings could have an impact on some of the conservation strategies for devils, such as vaccination or translocation of devils to other areas.
For example, a targeted vaccination of socially dominant individuals would be more efficient than randomly picking individuals for vaccination.
If devil individuals from captive insurance populations were to be released into wild populations, the consequences for disease spread and population viability would be unpredictable without a better understanding of the role of social behaviour in disease transmission.
If introduced individuals distract existing social structure and more frequently engage in biting behaviour, they may favour the spread of DFTD.
If devils develop resistance to DFTD, the introduction of individuals from captive populations may dilute the natural selection process.
Our study suggest that DFTD appears to be selectively spread and does not affect all individuals in a population. Understanding disease transmission pathways is a prerequisite to aid conservation efforts to stop the spread of unwanted diseases.